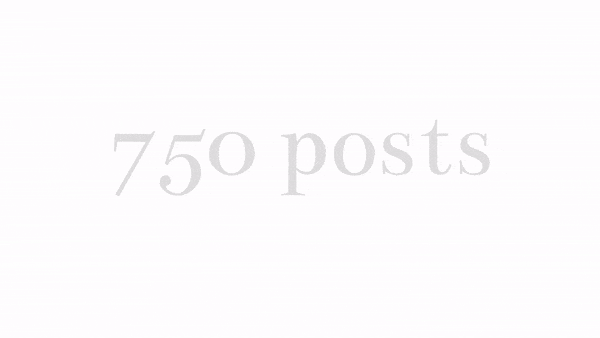 My WordPress dashboard tells me I've written 750 posts since I began this blog exactly thirteen years ago. At least one new post every week since 2009. I have a few thoughts.
Surprise and delight
If you had told me back in November 2009 that I would be posting on this blog every week for the next 13 years I would not have believed you. I'd be sure that I would have run out of things worth saying. Yet I am still writing weekly posts — over half a million words to date! — with a healthy set of new ideas biding their time in drafts.
Did I underestimate my creative ability? Could I not see that my lifelong curiosity would guarantee the ongoing discovery of new things to write about? Did my initial difficulty putting pen to paper convince me that I'd never be able to keep up the effort to write something new week after week?
Probably all of the above. Educated in a Victorian-era environment, I was taught that creative people were artists and poets, not scientists like me. As a lifelong learner, I've always been curious and asked questions, so it turned out I will always be learning new things about the world and myself, some of which may be worth sharing. And after struggling for four years to write my first book, it was natural to assume that writing would always be hard for me.
So I'm surprised and delighted that I still have something to say. However, whether I would have kept writing continually since 2009 depends on an additional factor.
Gratitude
In 2009, about a million new blogs were started. As far as I know, no one was blogging about meeting design. There weren't any obvious ways to let anyone know what I was writing about. Googling "meeting design" returned hits about meetings for designers. In 2009, this website received a mere 24,238 page views. Was I wasting my time?
Well, apparently not. The following year somehow brought in over 400,000 page views. The popularity of this website grew steadily, and it now gets about five million page views annually, putting it in the top one million active websites.  Not bad for a niche site on a topic that few people ever think about!
And this growth has come about from tens of thousands of folks who have visited, subscribed to, and linked to my posts. ~1,300 subscribers get an email whenever I post. Social media, especially Twitter, brings significant traffic. And search engines are no longer flummoxed by the concept that people want well-designed meetings.
I am so grateful. Grateful to you: my subscribers, the folks who share my posts, and the thousands of people who have purchased my books. Without your engagement, support, and continuous encouragement, I would have given up long ago.
And, of course, I'm grateful for the friendships that have grown between us, the in-person and online experiences we've had together, and the community that we've developed over the years.
Love
Speaking of community brings me to love. Yes, love. We don't talk much about love in the professional sphere. Isn't it a little unseemly? Expression of pleasure and happiness is okay, but being genuinely effusive about loving your work might be awkward.
And, sure, most of us—me included—have spent time or are still spending time doing work that we really don't fundamentally love. Which is a shame, even if it's virtually unavoidable.
I have been blessed with finding work that I truly love to do.
(No, not every minute of every day of course. Writing posts, for example, isn't always the most pleasant activity when you're driven to share something new just about every Monday morning.)
For the last thirteen years, designing and facilitating hundreds of events, writing books that have influenced how meetings are thought about and held, and sharing a growing body of (now) 750 posts have been a privilege and a pleasure!
I love what I've done, the community that has made it possible, and the possibilities of an unknown future.
What more could I want?
I love you all.