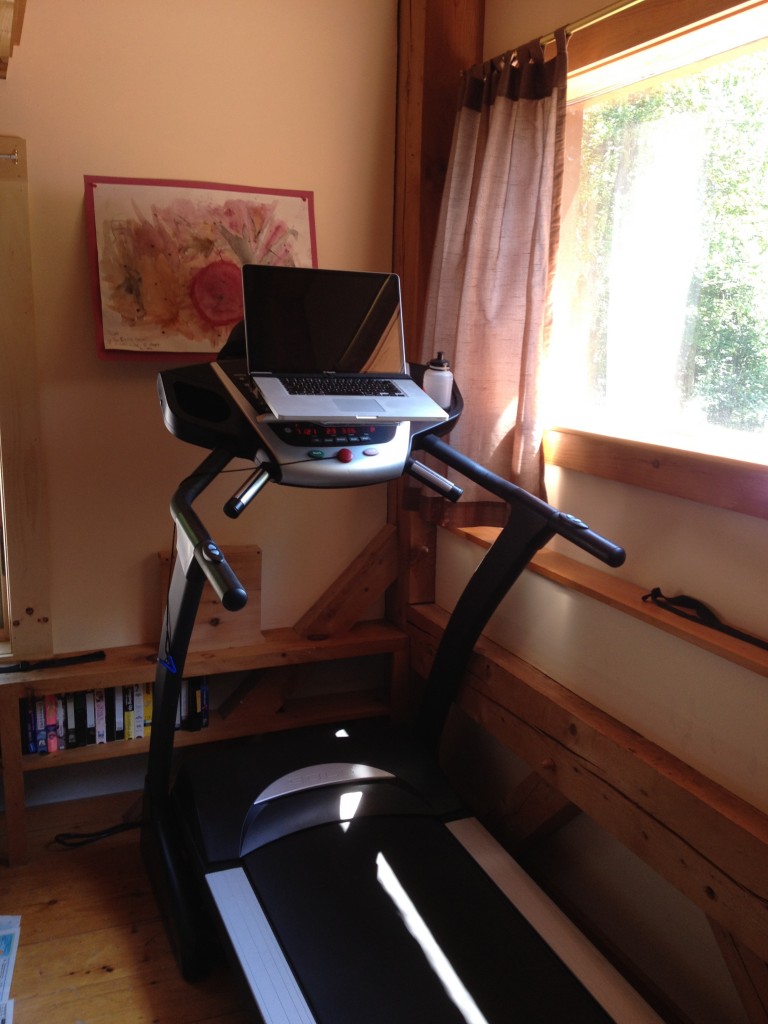 I'm always on the lookout for new ways to improve my productivity. My latest discovery, which is really working for me, is a treadmill desk (shown above). Here's why.
I've noticed that as I get older, regular exercise is becoming an increasingly important necessity for me to stay sharp and focused. (Here's a New York Times article on the positive benefits of exercise on the functioning of the brain.) Walking along some of the 60 miles of dirt road in my Vermont town is my preferred exercise activity (as well as stacking wood in the spring) but bad weather can make this onerous, so five years ago I purchased a Sole F80 treadmill and used it when I couldn't stand the thought of going outside. I didn't use it much—about 150 miles per year.
Over the last few years I've seen a growing number of articles about standing and treadmill desks. Standing desks do not appeal to me; if I'm thinking on my feet I like to be moving (I often pace around the room while on a phone call). But the concept of exercising while working intrigued me. I'm writing my next book, which involves cranking out 600+ words a day until it's done and I'd been having trouble staying focused on my writing while meeting my daily word count target. I didn't want to exercise all day, but I thought even an hour walking while writing daily wouldn't hurt.
Turning my treadmill into a treadmill desk
So a month ago I purchased a SurfShelf Treadmill Desk for the modest sum of $39.95.
Quite simply, this has been one of the best productivity investments I've ever made.
Writing while walking has turned out to be a fantastic way for me to maintain focus & creativity. I'm still using the 20+5 work sprint method that works so well for me, but the time on the treadmill flashes by and I'm eager to get back on the treadmill to write more. I have the Sole set at 1.7 miles/hour and an incline of 4%, creating a 2/3-mile walk and 100 calorie burn every twenty minutes according to the who-knows-how-accurate Sole readouts.
Walking to work
Currently, I use the treadmill for 3+ 20-minute sessions a day, equivalent to walking a couple of miles and burning 300 calories each day. Over a week, if I don't eat more, that translates to a weight loss of about a pound, though that's not my main objective. It will be interesting to see if I increase the number of sessions over time; I suspect I will.
The SurfShelf fits just about every treadmill, stationary exercise bike, elliptical trainers, and stair masters out there. I didn't have much problem installing it on my Sole, though I hung it lower than recommended so my keyboard wouldn't be too high and added a second horizontal strap from an old messenger bag around the vertical straps to cinch it in tight to the F80 faceplate.
Calling the SurfShelf a "desk" could be a little hyperbole as my 17″ laptop completely covers its work surface, leaving no room for anything else. That works for me, since I just want to write. But my large laptop does fit, and is held securely in place by a single Velcro strap that can be installed and removed in seconds. As you can see from the photo, on the Sole I've set the keyboard sloping forward; not ideal for typing all day, but perfectly comfortable for a few twenty minute periods with breaks.
Conclusions? As the Gizmodo SurfShelf review and the Amazon reviews indicate, I am not alone admiring this inexpensive gadget. If you have an underutilized treadmill—or can buy an inexpensive used unit—this could be a great way to increase your work productivity through increased focus and exercise. Who knows—maybe you'll even lose a few pounds too?