Peer sessions

Peer sessions, the heart of every peer conference, are the sessions generated by The Three Questions and peer session signup processes.
During peer session determination and scheduling the initial form of each chosen peer session—presentation, panel, discussion, workshop, simulation, tour or excursion—becomes clear. Sometimes the actual session strays a little from what was originally proposed; for example when a presenter discovers that there are two people present who have valuable experience to contribute, or an attendee is discovered to know considerably more than their fellow panelists. Peer sessions handle such straggling on the fly, with the help of a short printed handout given to each participant in advance—the Peer Session Primer. This handout gives attendees the information they need to participate in a peer session.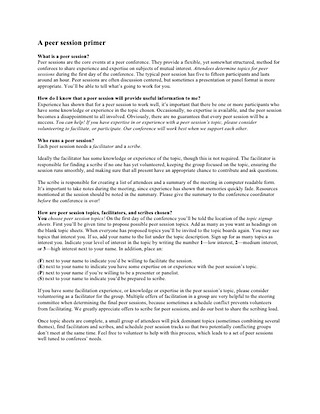 Although the mix of session formats varies from conference to conference, I have noticed that peer conferences tend to have a much higher proportion of discussion-based sessions than traditional conferences.
A peer session, whatever its form or subject, is informal. The number of attendees at any session is small, usually less than fifteen, encouraging a casual atmosphere. As a result, peer session presentations or panels are very different from traditional conference presentations or panels. Because topics are determined at short notice, no one attending a session expects polished speeches, thus providing an unthreatening environment for attendees who have discovered that they have something of value to share. In general, questions during the session are welcomed.
Every peer session has a facilitator assigned before the session takes place (for a presentation, the presenter is the facilitator.) Another handout, Peer Session Facilitation, gives session facilitators appropriate guidance.
Finally, it's important to capture what happens during a conference's peer sessions by creating a record of each session's activities and content. With more than one peer session taking place simultaneously, I recommend that a scribe be found for each session. The scribe is responsible for recording the names of people present (using a circulated attendance sheet) and creating notes on peer session content. The scribes' work can then be posted on a conference web site or private forum, together with links to any other resources mentioned during the session, for the benefit of all attendees.