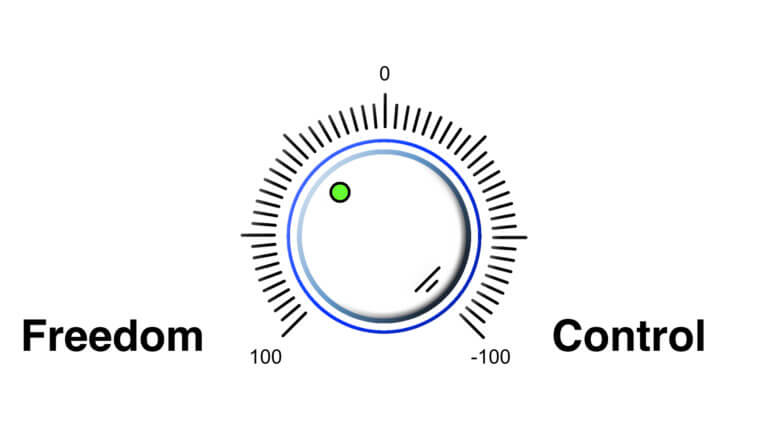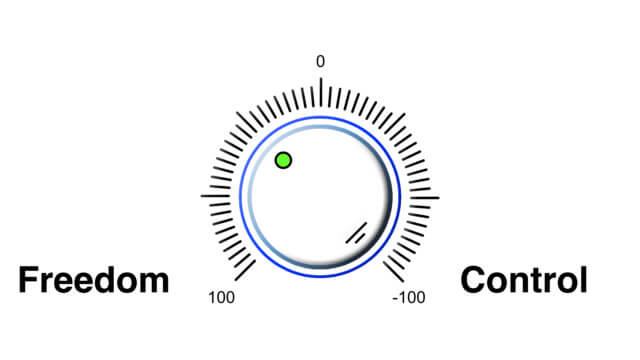 How can we design the optimum balance between control versus freedom at meetings? First, let's get one misconception out of the way. As I wrote in 2010:
The reality is that you never had control to begin with, just the myth of control. You've been kidding yourself all these years. Unless your constituency is bound to your event via a requirement to earn CEUs, members can withhold their attendance or avoid sessions at will.
—The myth of control
Note that I'm not suggesting meeting professionals give up any attempt to control what happens at their events. Maintaining control of vital logistics, and having and executing backup plans when unexpected developments occur are core requirements and responsibilities of our job.
It's when we try to tightly control every aspect of our meeting that our events suffer. Surprisingly, clinging to control is the easy way out. As Dee W Hock, founder and former CEO of VISA, put it:
Any idiot can impose and exercise control. It takes genius to elicit freedom and release creativity.

— Dee W Hock (@deewhock) August 9, 2020
"Any idiot can impose and exercise control. It takes genius to elicit freedom and release creativity."
—@DeeWHock
To "elicit freedom and release creativity", we need to recognize that participants are stakeholders in the event, rather than "just" an audience.
Why are they event owners?
"…participants are event owners because, to some extent, they control what happens next."
—Adrian Segar, Who owns your event?
Creating events that truly meet participants' wants and needs
In order to create events that truly meet participants' wants and needs, we need to provide three things:
Appropriate meeting logistics that meet participants' bodily and sensory needs.
Content and experiences that participants actually want and need.
Maximal opportunities for participants to connect around the content and during the experiences.
Our traditional work
The first bullet point describes the traditional work of meeting professionals. Our logistical designs control the environment that participants experience. They include flexible, support (plans B – Z) when the unexpected happens. In this arena we are in control through our careful planning, which includes resources for a wide range of contingencies.
Giving up control where and when it's not needed
To satisfy the remaining bullet points, we have to give up control. Why? To give participants the freedom to satisfy their wants and needs! To do this, participants need the freedom to choose what they talk about, whom they talk to and connect with, when it suits them. Our job is to support these activities as much as possible by providing appropriate:
Structure [participant-driven and participation-rich formats and sessions]; and
Resources [flexible physical and/or online spaces, facilitators, and a schedule that can be developed, as needed, at the event].
Notice that providing these improvements over traditional meetings doesn't mean that your meeting will turn out to be wildly different from what took place before. It's perfectly possible that your event will include sessions that look very similar to what you might have scheduled for a tightly controlled program. The difference is that your participants will have chosen these sessions and formats themselves, not you.
Instead of control versus freedom, choose control and freedom. Each assigned to the appropriate characteristics of your event.
That makes all the difference.
A bonus
For a discussion of control versus freedom in the context of event leadership, you may find this post useful…