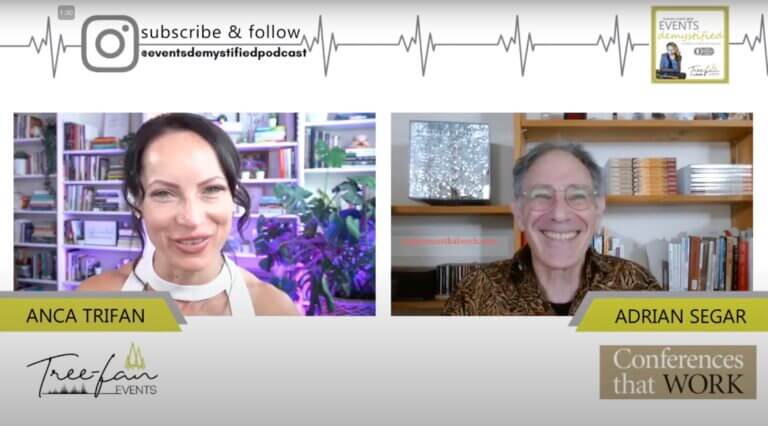 Yes! Just posted: Anca Trifan interviews me on her show Events:demystified. We talk about all kinds of things, with a focus on my work and thinking about participant-driven and participation-rich meetings and event design.
I think this is one of the best interviews I've done. Anca gets full credit for asking great questions and also taking the time to edit the interview. Thank you, Anca!
Here's her video and podcast for your viewing and listening pleasure. I've added a timeline below to help you jump to the bits that really interest you. (Though, actually, it's all terrific!)
Enjoy!
Timeline
MM:SS Content
02:00 Anca introduces me.
03:30 How Anca and I met.
04:30 What I've been doing since the COVID pandemic started.
06:00 On traveling to events, and my passion for what I do.
07:45 Behind the scenes: How I got into designing and facilitating participant-driven and participation-rich meetings.
11:00 What participant-driven and participation-rich meeting design means, and the core components.
13:45 Creating a conference program on the fly at the event. It sounds scary, but it works!
15:00 Why we need to have participant-driven and participation-rich meetings. Lectures are a terrible way to learn anything.
16:30 Online meetings benefit from these designs too.
17:00 Participant-driven and participation-rich meetings help people connect better.
17:30 Online has displaced the value of lectures at in-person meetings.
18:45 Participant-driven and participation-rich designs bring connection around meaningful content into the sessions.
19:00 How Ask me anything (AMA) sessions allow participants to choose what they want to discuss with an expert.
20:00 Are AMA sessions easy to run?
21:00 What motivates me to do this work.
22:45 My early experiences of traditional conferences.
24:30 Sponsor break.
25:30 On Tahira Endean's (excellent) book Intentional Event Design and my books' focus.
28:00 Some of the changes I've seen in events in the last dozen years.
30:30 "You never really had control of your event anyway."
31:00 "Are we moving from content-first events to connection-first events?"
34:00 The value of presenters (and stand-up comedians) who interact with their audience.
35:15 "I'm interested in creating meetings that change people's lives."
36:15 A piece of advice for event professionals.
38:15 A piece of advice for association professionals who are responsible for events.
40:00 Following me on social media (and how to say my name correctly 😀).