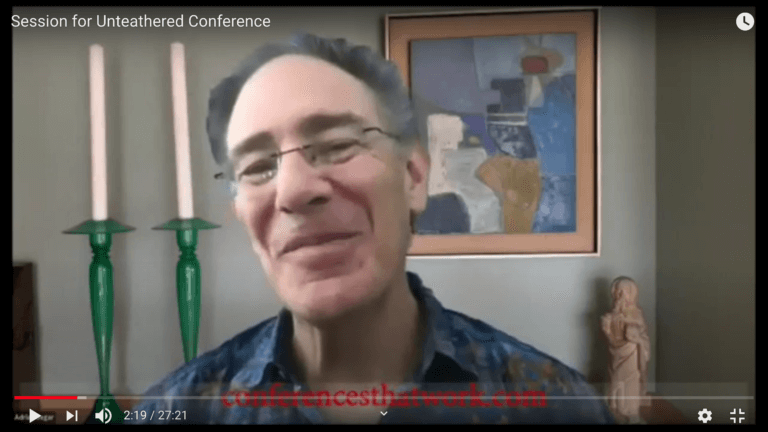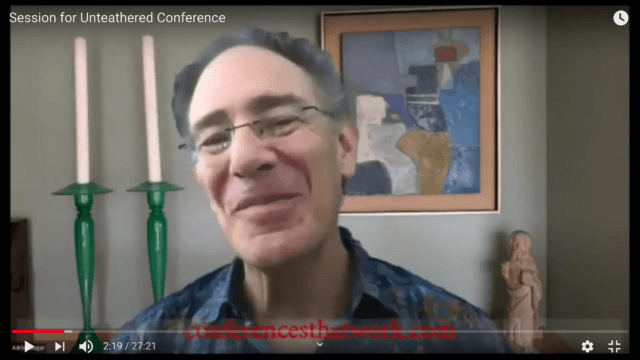 If you missed David Adler's & my closing keynote Leadership, Events, Shackleton, Survival, and Hope at Untethered2020, you can watch it at the end of this post. I've also included a lightly edited transcript, complete with timeline, so you can watch/listen/read as the fancy takes you.
David and I structured this session as an unrehearsed conversation, so it's a little rough — but I think that keeps it fresh! It includes plenty of short videos and images that illustrate the points we're making.
Leadership in Events transcript
[0:00] David Adler DA: So, welcome Adrian! We're here in front of this Untethered Conference; this is supposedly the end keynote, and I wanted to have a conversation with you.
This is a little bit of a mash-up of a couple of different concepts.
When I was a kid I did Outward Bound. I don't know how many people out there did Outward Bound. It was one of the things that completely changed the way I thought about the world.
I was in 11th grade and I did this 26-day Outward Bound course; my grades went from C's to A's following this course. There was something about what Outward Bound did. It was outdoor wilderness training, an amazing experience that gave me confidence as a kid. It has been one of the things that has driven me through my entire life, and has made me look at conflict and look at things I couldn't do and say oh my God maybe I can try that.
And it all comes down to that great Robert Kennedy quote:
"As he said many times, in many parts of this nation, those he touched and I still have to touch him. Some men see things as they are and say 'Why?', I dream things that never were and say 'Why not'."
And we are in this moment especially with what's going on in the world today where we have to dream about why not. How do we change things, how do we do things? So this Outward Bound thing was really incredible.
So I want to bring you [AS] in on this discussion. I guess you are one of the great innovators in meetings and facilitation, and I believe that facilitators — people that know how to be collaboration artists — are going to be what is really important in the event industry, in the meeting industry, in the conference industry going forward.
Why don't you say a few words about what are the things that you've developed over the years?
[2:18] Adrian Segar AS: Thank you David and thank you for the nice things you said about me. I just want to add that I always enjoy talking with you so much; I really appreciate being invited in on this conversation. As some people know, I'm interested in creating meetings that are the best possible meeting for each person involved. I realized that I needed to create meetings that became — in real time, during the meeting — as much as possible what the participants and the sponsors and all the stakeholders wanted, and that's driven my work ever since.
[2:59] DA: And you developed the unconference? And brought it into the popular culture.
[3:00] AS: Well, I can't say that I invented the word "unconference". Open Space was around, was developed right around the same time but Harrison Owen had the good fortune to write a book about it right away; so Open Space became synonymous with unconference. I didn't invent that word, and in some ways I don't like it because I think conferences should really be about conferring. And unfortunately, as we all know, at many traditional conferences there are still too many people talking for long periods of time, and everybody else is listening.
[3:40] DA: With that said I'm going to share my screen right now. One of the things I learned from Outward Bound, the lectures that we heard on the rock for the morning meetings that were so inspirational when you watched the ocean, were the lessons of Ernest Shackleton. He was the guy that was caught in the Antarctic and had to take his crew and make them survive. One of the things I heard was all these great lessons, and I realized that Ernest Shackleton really was what I call a collaboration artist.
Because you cannot be a leader today without collaborating in the best possible way and I'm sure you agree with that as well, right Adrian?
[4:18] AS: Of course, yes.
[4:19] DA: Collaboration arts are the key and are the future. This [slide] is just a little bit on Adrian and I. I want to go into what we'll learn from Ernest Shackleton. He did leadership through collaboration. And event organizers and meeting planners and conference planners are all collaboration artists. I wanted to talk about a program that I created called Collaborate America.
[4:47] Various speakers during the Collaborate America video:
"With Collaborate America we simply want to make artistic and smart collaboration a goal of everyone who purposely gathers people together, no matter what the reason. We want our culture to recognize collaboration artists the same way that they have celebritized culinary figures and the risk takers of the start-up world. We want collaboration artists to really be recognized."
"Artful collaboration might be our most critical resource going forward, in terms of the outcome of mankind. A collaboration artist knows how to bring people together, drive consensus, and enroll people in a common mission. Create ideas, and translate ideas into solutions."
"Imagine if artful collaboration were taught to children, and seen by them as one of the most important skills to have. And so we are at this event to honor and learn from some of the greatest collaborators of our generation."
"Artful collaboration not only represents an opportunity that is essential to our survival as a species; I think if you look at the level and the scope of the challenges that we're facing in the world today, how can we possibly solve those things without effective collaboration. The answer is that we can't — we all have a responsibility to do everything we can to build trust, build cooperation, and give people access to the brilliance that's in everyone's minds in the room."
[6:17] DA: So, I believe that future events need to be more valuable than ever, that we can't waste people's time with badly produced or badly facilitated events. You don't want to go to an event if it's going to kill your grandmother. So, with that said, I have this hypothesis that I want to share with you Adrian, and you can beat me up on it or you can fight it or you can tell me I'm full of it. But the idea is that leaders today need to be collaboration artists.
We're seeing that in our general leadership in the country today. I put a picture of a president on there because I think you need to have effective national leadership to solve problems. And I also believe that event organizers use collaboration arts as their number one skill. Yes, it's great to have great food & beverage and great design, but if people don't connect in the room and connect for a purpose then why are they there? And so I believe that event organizing in person or virtual is a key leadership tool so that we cannot think of our industry as superfluous but actually primary to help society.
Survival skills, like what we're about to go into with Ernest Shackleton, depended on collaboration and are dependent on the people that he's leading and the leader listening to other people. So with that I want to do a little bit on what Ernest Shackleton went through, in a very brief period. There's a lot of literature on what he did and I'm going to talk about some of the takeaways that have been around for a few years.
[7:52] AS: The only thing I would like to add is that behind collaboration ultimately is connection. We as human beings need connection in our daily lives, nearly all of us. The pandemic has brought this into sharp relief, and I see collaboration as the piece behind that. That's how you turn the desire for connection into the reality of the shared experience of the collaboration and connecting experience. And so collaboration is kind of a tool but it meets this fundamental need for connection — and at meetings, the connections are always around something relevant to people: topics, issues, challenges that people currently have.
[8:38] Ernest Shackleton video: "Setting sail from Plymouth on the 8th of August 1914, the Endurance became stuck in the ice flows before sinking in November 1915. With no chance of rescue, Shackleton planned a daring and dangerous rescue to sail a lifeboat to South Georgia. With five other crew, they launched the James Caird into the treacherous seas of the Antarctic, and against all the odds they reached South Georgia. Then, having to trek across mountain ranges, they finally reached help on the 20th of May 1916 before rescuing his crew on the 30th of August. Every one of them still alive."
[9:18] DA: So, at this rock that I sat in front of in the morning at Outward Bound when I was 16 years old, the guy gets up and gives these 9 points, these 9 lectures, that I've been actively living with in every part of my business. Whether it's to survive a crisis, whether it's to get through an event, it's whether how to get through the day in my team, these are the nine things I think that everyone should think about in terms of how they are approaching the world.
And the number one is never lose sight of the ultimate goal and focus on short-term objectives. So the idea is, how do you get to the day, how to get to the next moment, how do you survive till tomorrow?
[10:02] AS: First of all, this is Simon Sinek's point about understanding your "Why?". It can be your own personal "Why?", it can be the "Why?" of a meeting, but once you have that clear — and sometimes it's really hard to get that! The corollary of that is: once you have that goal it makes focusing on the short-term objectives to get it so much clearer. Once I realized that what I love to do in life is to facilitate connection between people in meetings — that drives everything I do. So that creates the short-term objectives that I, then, sit down every day and say what should I do today.
[10:42] DA: This is a leadership fundamental that has been, between Simon Sinek and everyone else; this is the main thing. So, number 2: Set a personal example with visible memorable symbols of behavior.
When I go out and I lead a group of people, if I'm not in the game with them they're not going to listen to me. If I'm not setting up things that that are goals and be smart about the behavior of the group then you're going to lose people right away.
[11:17] AS: What you're amazing at: I remember seeing you at meetings and you're running a major event, and I see you at lunch time and I see you going around and creating conversations at every single table with hundreds of people. You're modeling behavior. You're saying: I'm doing this, I'm leading this event but this is important, we're here to have conversations. You're modeling, and you can't expect people for example to take risks if you're not willing to show that you're willing to take risks too. Or to be vulnerable about a situation that's difficult if you are not willing to do that too.
[11:59] DA: You know, I learned this when I was working at the state department and we had a big event for David Cameron who is the prime minister, and I noticed that he got up and went to every single table, like you do at a wedding or a bar mitzvah or any kind of social.
I believe that CEOs are been terrible hosts lately, and they're not mirroring behavior. Or leaders are going to an event and they're not wearing their masks. So that is, to me, kind of an example of the person's not going to be with you. So, instill optimism and self-confidence but remain grounded in reality. You always have to be very optimistic, but at the same time you got to be realistic. We all know that behind the scenes of an event things go wrong all the time, but at the same time, to the crowd you got to say okay everything's going well when you don't notice it.
But you still know that you've got to get that person off the stage cuz they're taking up too much time, or this is not going according to schedule. So you have to be on both sides and this happens every day with leadership all the time, but you have to make sure that you're being honest.
[13:16] AS: And this goes back to the first point again; not only do you have to know what your ultimate goal is but you have to believe in it and basically want it to happen. It has to be congruent with who you are as a person. If those two things are satisfied then you're going to be optimistic about it. I mean it's not like "yes, I know I'm going to succeed" but you'll be coming from that place where it's like "I think we can do this and we're going to make it happen to the best of our ability".
[13:46] DA: This is the tenet of most entrepreneurs, because most people say their ideas suck and they'll never be successful. And so you have to be optimistic and you have to be self confident but you have to know that cash flow is king. Especially with what's going on today, what I'm seeing with entrepreneurs, their cash is running out so they have to pivot, they have to do other things, but the same time they can't lose the optimism.
So number 4 is take care of yourself, maintain your stamina, and let go of guilt. The idea is, make sure that you're in good health, that you are, instead of getting up every morning and just getting to work, that you should go do your meditation or get grounded, and also if you make a decision and it's not popular let go of the guilt; you cannot please everybody all the time.
[14:35] AS: That's right, well I think that this one is pretty self-evident to anyone who's been in the meeting industry for any length of time. Because we all work incredibly hard preparing meetings, and then, of course, at the event itself. Letting go of guilt is very important because we do make mistakes, we're not perfect, and as you say. We can't satisfy everybody. If you run a meeting of any size, there will always be a few people who say "I didn't like this, I didn't like that" and so on. And if you let that overcome the fact that 98% of the people who had a great time it's going to affect your effectiveness.
[15:13] DA: I've also heard stories today of people that have to let go people and furlough people and you're making these awful decisions, but if you're mired in guilt nothing will get done, you have to get over that, there's no way around it because it's survival.
So number 5 is "Reinforce the team message consistently; we are one, we live or die together" — now this cannot be more true than today. It also cannot be more true in every event that we ever do because we're managing teams and for short periods of time in some cases. Wearing that mask is saving other people's lives.
"Minimize staff differences, insist on courtesy and mutual respect": the idea that when we set up processes we've got to follow them. We have to make sure that there are protocols in place that allow us to create the discipline to have a day that works the way the last day worked in order to accomplish goals, and the idea of courtesy and respect is something that is just part of life, and this way if people understand the rules then there is a lot less problems.
[16:25] AS: This goes back to the modeling. David, you epitomize courtesy in every dealing I've had with you, and seeing you working with other people you epitomize courtesy & mutual respect. And that's going to affect and influence the people you are with.
[16:44] DA: I would say we're all not perfect. I'm certainly not perfect at this, but the idea is that we have to develop processes, so one of the things that I've actually done it well in this situation where we're in tight quarters with other people is: we're actually in a small group of people having a meeting every single day to figure out what we're planning on doing that day. So that there are certain norms that, even in a very odd situation, you can actually rely on as to create a new reality in a sense. And I'm sure that Shackleton did that every single day, in terms of making sure that his people were doing something on a regular basis.
This is one that I'd use all the time: "Master conflicts, engage dissidents, and avoid needless power struggles". My feeling is, the minute you look at how to turn a blind eye to conflict you're dead. That you have to confront it right away. It means making faster decisions. It means understanding what other people are thinking, to not get involved in the politics of the moment.
[17:51] AS: The piece of advice I really like in this is about engaging dissidents; it's something that I've learned over the years of facilitating and so on. You often have people who are like "No! I really disagree!" and maybe they're in a minority, you have to make a decision.
The most important thing you can do in those situations is make sure that those dissidents feel heard. You really need to listen to them, you may not agree with them, you may not end up doing what they want. But if they feel heard — we all know that we don't always get our way in everything we want — but if they feel heard, they're much more likely to not harbor resentment, and to say, "okay, I guess I don't agree but the majority thinks we should do this and I'll go along with it".
And then you've deescalated a potential conflict that otherwise could last for a long time.
[18:43] DA: Can you go through … I've learned from you, because you're a tremendous mentor to me, how you do it in a public space? You are able to have these techniques for allowing people of different opinions to actually be heard. Give one example of something that works.
[19:02] AS: One of my favorite techniques is what I use when you want to have a genuine discussion and you've got, maybe, hundreds of people in the room. There's no way that you're going to be able to hear from everybody, and you also don't want the discussion to be dominated by people who just want to talk all the time.
And I use something called Fishbowl for that, which allows people to have their say because anyone can come up and speak at any time in Fishbowl. But the social dynamics of it, the rules — which are very simple and explained at the start — make it almost impossible for even someone who would love to hog the spotlight, from staying in the spotlight for a longer than a reasonable amount of time. Again, I refer people to my books and articles about Fishbowls — one of the things I've mentioned — but it's an example of how to how to engage dissidents but not let them take over.
[20:11] DA: This is a skill; this is not just put yourself in a burning fire, running into a burning building. You need to know how to do this.
[20:21] AS: You do need to know how to do it, but the interesting thing is … I don't know how many thousands or tens of thousands of people I've run Fishbowl with. Some of those people take it and they see how well it works, and then they take it and go on. It's not like I'm the only person who can do this. A large number of people are perfectly capable of being part of a Fishbowl and saying "I see how that works! That was great, I like how that worked. I'm going to try that in my place of business or organization." And they can do it just as well as I can.
[20:57] DA: So here is the one that I believe is at the heart of what many people do other than people that are hosting meetings and when we have events. The idea is what Shackleton said: that you always have to find something to celebrate and something to laugh about.
And the idea is, even when Wuhan opened up a few weeks ago, even though it was precarious, they had an event to celebrate the opening. They did video mapping of all the buildings; if you see some of the videos on YouTube it's pretty incredible how our industry is part of leadership. And so when I see the idea of celebrating something, every major leader in the world knows that they have to do something when they achieve a goal. They need to pat people on the back, they need to show that they're caring about all the work that someone has done to create the end of the mission, and also to be human and to laugh and to show emotion. Because I think emotion, especially positive emotion brightens up everyone's day.
And I also think about what's happening every day in New York City at 5 o'clock. People are getting on their balconies and applauding, and they've been doing that in Italy and in France and other places. Our business is the business of leadership, and that is why it cannot be minimized. And that is why it is more important than anybody could imagine.
I always used to say that in our industry, for years, we were sitting at the children's table for Thanksgiving. And I believe that we are so much at the adult table from a strategic perspective. Every major leader: when you see President Obama give a speech like he did the other night, when you see the leaders of the world at ceremonial events, that's all about celebrating something, and that's all such a key part of what we do. So we cannot minimize our efforts in this world, and [it's] why what we do in the event / meeting / Festival business is so important.
The last two things I have: "Be willing to take the big risk". Now in every event that you ever have it's "oh, what are we going to do next year, what are we going to do to make this different". A lot of people fall back on "we did this this year; let's do it again next year". You know, the idea of moving to an unconference or changing the way things are structured, to confront people in different ways. We have to be thinking about this every day. Because what we do is events in the ephemeral moment, so we have to create ephemeral moments every time. And everything that Adrian does, different techniques, is risk taking in massive ways.
Talk about some of the things you have seen and how people have changed through that type of big risk.
[24:01] AS I want to acknowledge you first, David, because I see you again as the epitome of risk taker. You know, a big risk to one person may be a small risk to someone else. The crucial word is "risk" because every single person has a particular level at which they say, well, this is a risk to me. And it won't be the same for someone else. Throughout your career — building BizBash and all the things you've done — you have all these creative ideas. And you're willing to try 'em out all the time, you try things on. And just like me, I try new things all the time; some of them don't work.
[24:48] DA: Lots of them don't work!
[24:49] AS: Also, it's the continued risk taking. When I started running meetings 30 years ago I was terrified about being out on stage, a common thing. It's not like one day I wasn't terrified anymore. Went out and took that risk every day, and eventually it got better! I like to try new things, learn at every meeting I do. I learn new things, and I try to import them. And I have ideas and I try them and sometimes they don't work. That's how you learn.
[25:27] DA: There's one more that I left out and that is: always there is another move. And, to me, that is one of the most important things. Especially with today with so many people who are seeing their businesses completely falling apart. The idea of pivoting, to always make another move, there's always a way. And the way you up your game and survive and thrive is to be accompanied and see what's going on out there in the world. One of the things we've done through BizBash was to allow people to peek over the fence to see what other people are doing. And when you see what other people are doing you say, "oh, I can do that", "oh, I have a better idea than that".
So everything that we talked about today is here to make you think. And we want to make sure that this address today is for you. For you to think about your future and to put yourself through your own Outward Bound experience and get the confidence that you could do anything. Because, believe me, once you get through this there's not one thing that you will not be able to do. Adrian, do you have any final comments?
[26:35] AS: I think you've covered things beautifully; I've really enjoyed my time talking to you. I love this kind of spontaneous conversation that we've had from time to time and what it brings forth. Thank you very much for the opportunity.
[26:52] DA: Thank you, Adrian, and I encourage people to go read all of Adrian's books and, of course, I encourage everyone to go look at BizBash every day — you never know where we're going to be going. The world is changing radically; you want to see new ideas, we've got new ideas just for you. We're in the age of innovation, yes, we want to be safe, but it is remarkable how people are innovating and changing the world every single day. And we want to be a part of that and that is our mission, so thank you so much for the opportunity to speak to you. Thanks!
---