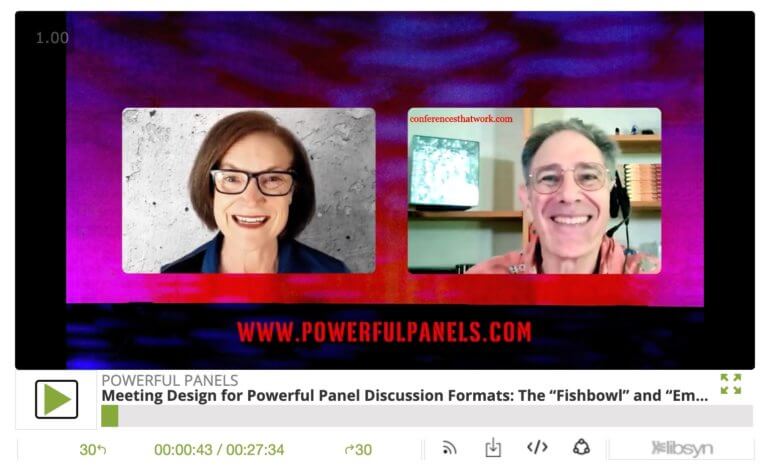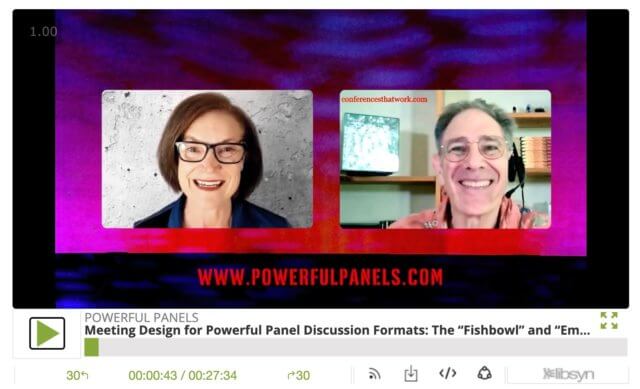 Here's my Powerful Panels interview with good friend and meeting panel doyen Kristin Arnold. During our 25 minutes together, we discussed various panel formats, their value, and how to structure and design powerful panel discussions into the larger context of meetings, conferences, and events.
Annotated timeline of the video
0:00 Introduction.
2:30 A brief history of meetings; why lecture formats are still so popular; how panels fit into the larger context of meetings.
5:30 When and how to use panels, and why.
8:00 Different panel formats.
9:00 The fishbowl—Adrian's favorite discussion format (which includes panels as a special case).
10:15 Adrian describes the fishbowl sandwich format, and how he used it to find solutions for an industry-wide problem with a group of several hundred people. Includes a description of pair share. How to know when a session is a smash hit.
14:00 Comparing the fishbowl to Clubhouse. How to run fishbowl in-person and on Zoom.
18:00 Kristin describes her version: empty chair.
18:30 Alternative seating arrangements for fishbowl.
19:00 Why you should use curved theatre seating.
21:00 How these formats satisfy the core purpose of meeting formats: creating great conversation with smart people that delivers valuable takeaways.
22:45 Using the Post It! technique to determine what should be covered during a meeting or session, and at what level.
24:45 Most important takeaway: Be curious about doing meetings differently. Now, there are better formats available for meetings than those we've always used. Don't just read about these formats, but experience them at a well-designed, well-facilitated/moderated event to truly learn how great a meeting can be.
---
We covered a lot in a short time, but there's much more to learn about Powerful panels and good meeting design!
If you liked this Powerful Panels interview, check out Kristin's other Powerful Panels Podcast interviews!
And check out the links in this post to learn more about the topics mentioned.
Bonus: More ways to create panels designed as if the audience matters.