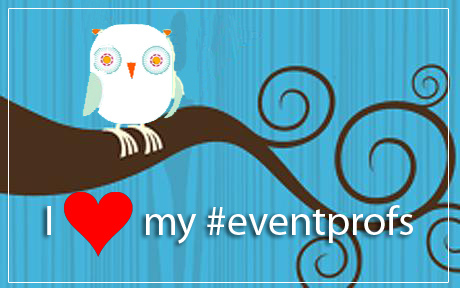 Yes, the #eventprofs chats are back! These popular, one hour, Twitter chats on a wide range of topics of interest to event professionals will be once again held twice-weekly: on Tuesdays 9-10pmEST/6-7pmPST and on Thursdays 12-1pmEST/9-10amPST/7-8amGMT starting on May 3, 2011.
Got questions? Here are some answers.
What is #eventprofs?
#eventprofs was founded in February 2009 on Twitter by Lara McCulloch-Carter. The #eventprofs chats were one of the earliest Twitter chats—find out more by reading Lara's history of #eventprofs.
Who will be moderating the chats?
Twenty(!) members of the #eventprofs community have each committed to moderating a chat every 6-7 weeks. Our current volunteers are:
Traci Browne
Midori Connolly
Susan Lynn Cope
Tahira Endean
Jenise Fryatt
Ray Hansen
Brandt Krueger
KiKi L'Italien
Melissa Lawhorn
Lara McCulloch-Carter
Michael McCurry
John Nawn
Carolyn Ray
Lindsey Rosenthal
Deb Roth
Greg Ruby
Paul Salinger
Adrian Segar
Kate Smith
Andrea Sullivan
Please thank these sterling volunteers at every opportunity! I have volunteered to act as a moderator manager, working to keep the chats scheduled as regularly as possible.
How are chat topics chosen?
Anyone can suggest and vote on possible topics for #eventprofs chats at our new AllOurIdeas page. We urge you to do so! The more suggestions, and the more votes, the better our chat topics will be. Moderators will occasionally use their discretion to choose chat subjects, particularly when there are topical events or issues to discuss.
How do I know what chat topics are scheduled?
There are two ways to stay informed about upcoming #eventprofs chats:
Can I moderate an #eventprofs chat?
We welcome offers to moderate chats. Please read the moderator instructions first. Check the chat schedule, pick a time, and send a description of your proposed chat to me.
I have a question that isn't answered here. Can you help?
I'll do my best. Email or tweet me!