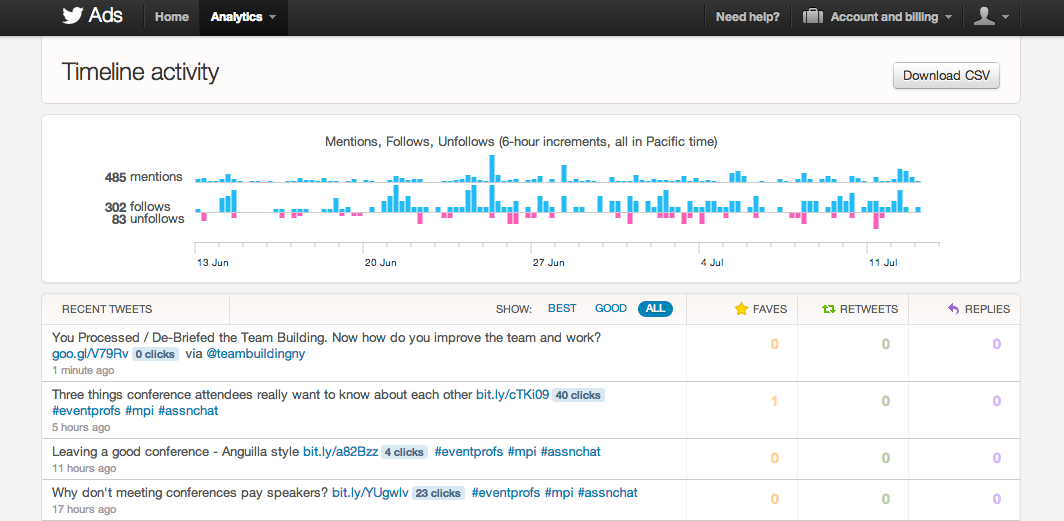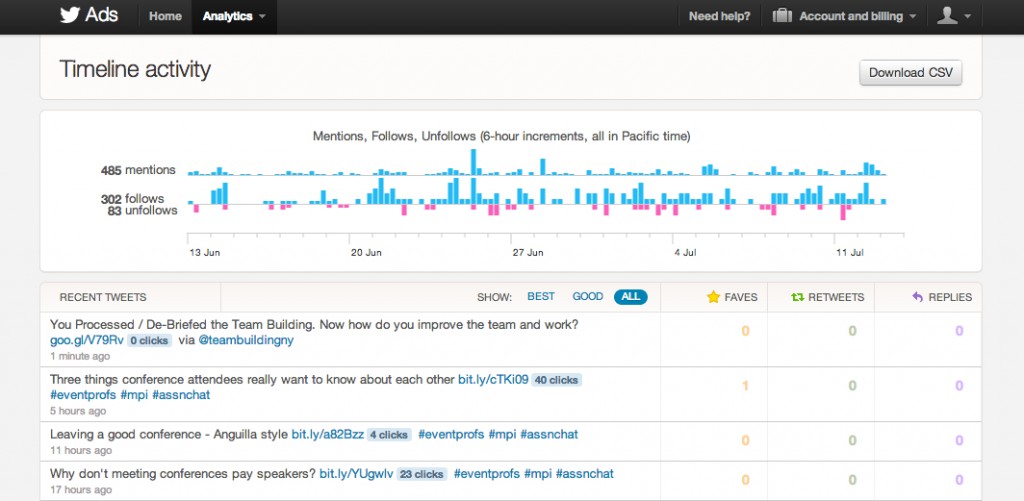 Last month Twitter quietly rolled out some very useful free analytics tools. I say quietly, because I've seen very little discussion of them online. Perhaps that's because they have not been made available to everyone yet. Whatever the reason, they have been eye-opening for me, so I'm sharing my initial impressions here.
Here's how to access Twitter's new tools. You'll find them on the Analytics menu on the Twitter Ads page, as shown in the above screenshot. This page requires you to turn off any ad-blocker you have running in order to load—fair enough!
If you see an Analytics menu (at the time of writing not everyone does) you're in luck. There are two options: Timeline Activity and Followers. Pick the former and you'll see something like the graphic above.
Timeline activity
The Timeline shows statistics about your last thirty days of tweets. What is most interesting to me is the number of clicks on any link included in a tweet. Traditionally, social media mavens tend to focus on how many times tweets are retweeted and mentioned, and obviously that's important. But I had no idea how popular some of my tweets were in terms of people clicking on embedded links. Much of my content is narrowly niche-focused, so I generally don't see a lot of retweets. But conferencesthatwork.com receives over two million page views a year, and those hits come from somewhere. What these Twitter analytics show me is that many people are clicking on my links, even if most of the time the associated tweets are not being subsequently retweeted. And, most important, I can now see which tweets were popular. This is valuable information!
Yes, these analytics has been available for some time via other mechanisms. All the URL shortening services provide similar statistics for individual shortened links. But in practice, you'd need to use a) a unique short URL for every tweet and b) only one shortening service. a) is cumbersome, and b) is impractical because some services that auto-generate tweets from posts, like LinkedIn and Google Plus, insist on using their own link shorteners, requiring manual amalgamation of clicks over multiple services.
The timeline of mentions, follows and unfollows at the top of the page provides a nice overview that can be helpful for noticing interest peaks, but I prefer to monitor this information using the excellent Birdbrain IOS app.
Followers
The Followers option displays a graph of follower growth plus some demographics on interests, location, and gender.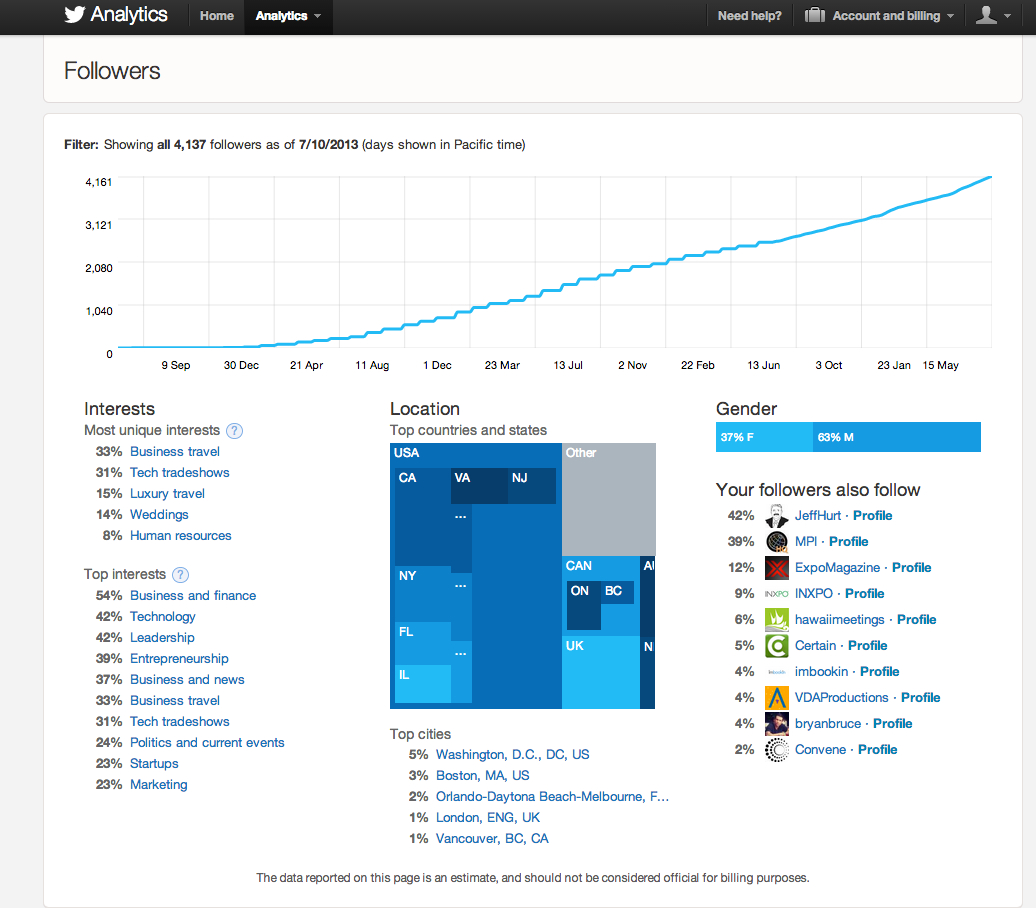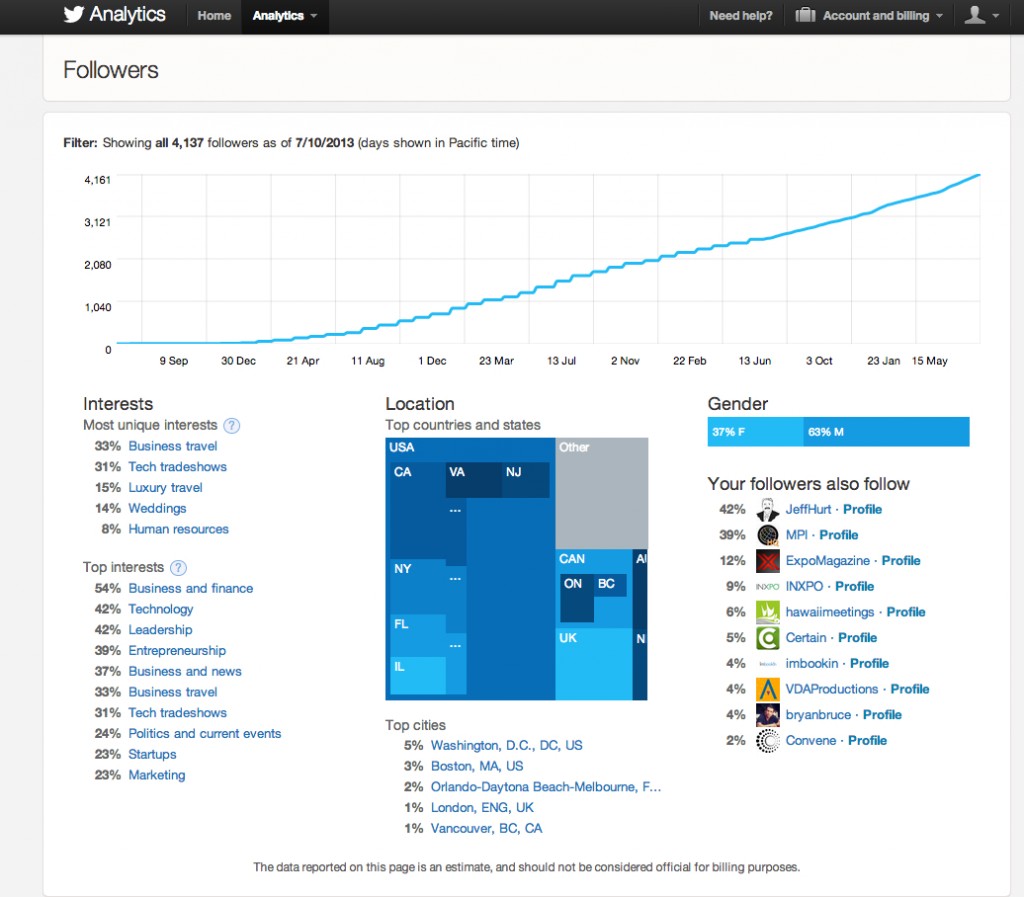 This is interesting but less useful to me, though you may find it valuable. It would be great to be able to drill down further into the location demographics so I could see my followers in, say, the Netherlands, and then be able to reach out to them when I was visiting.
Conclusion
For me the gold here is the clicks per tweet statistics. Although I don't write blog posts based on what I think will be popular, this information gives me a much better picture than I've had before of how interesting specific tweets are to others. Over time it should help me understand better how my tweet content and timing affect what people read, allowing me to reach more people with better-marketed content. For free, what's not to like about that?
Are these new tools of interest to you? How would you use them?