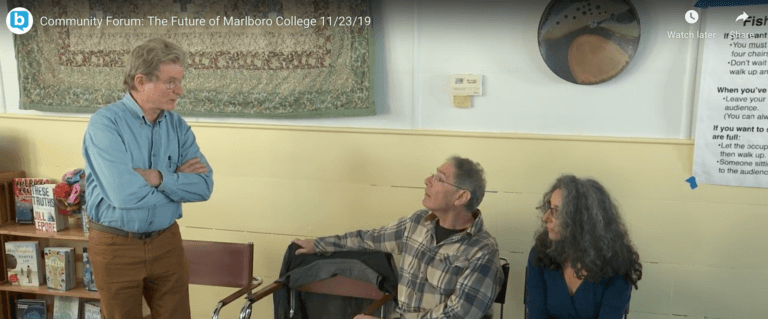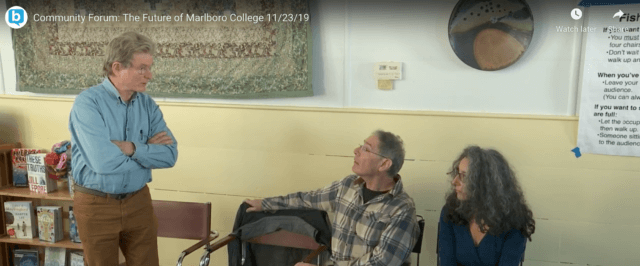 What's the best way to facilitate a community discussion? Recently, I had to answer that question at short notice. My task: design and facilitate a two-hour community discussion in response to a bombshell announcement made by the largest employer in my tiny rural hometown of Marlboro, Vermont.
[Update: Want to know how to do this online? See this post!]
The community was in shock. Consequently, I felt it was important to use a discussion format that:
Supported respectful dialog from a variety of constituencies;
Created an environment that was as safe as possible for people to share;
Minimized the likelihood that people would monopolize the meeting;
Allowed both short statements and controlled impromptu conversations; and
Was efficient.
I ended up designing (and moderating the first half of) a fishbowl format. To be more precise, I used what I'd call "half a fishbowl sandwich": an opening pair share plus a standard fishbowl. (All three of these techniques are covered in detail in my latest book Event Crowdsourcing: Creating Meetings People Actually Want and Need.)
The pair share
I ran a one-minute-per-partner pair share with this question. "What do you think about the proposed Marlboro College plan to close down the school and transfer the endowment and campus to Emerson?"
The fishbowl format
Now, watch this three-minute meeting video clip in which I explain how fishbowl works.
Here's the fishbowl rules poster used at the meeting.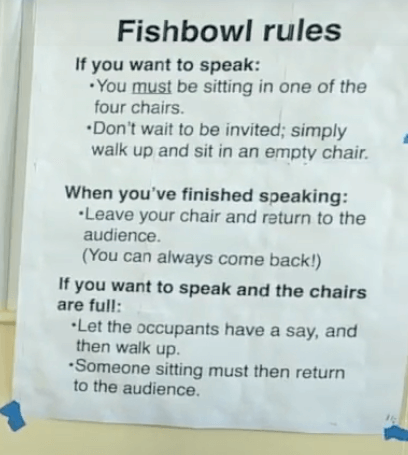 We listed two topics for the community discussion, and allocated roughly half the available time to each, with a short break between them. I facilitated the first topic, and a community member with mediation experience took over for the second topic so I could join the discussion as a participant.
Results
About 75 people attended the meeting (watch the video below to see them!) which ran for 2¼ hours.
Most community meetings in my town are done in "New England Town Meeting" style, where a moderator picks people from those with raised hands to speak. This approach:
May miss people who have something important to say.
Allows individuals to monopolize meeting time by speaking for a long time.
Doesn't support development of coherent conversations between a small number of people.
Our opening pair share allowed everyone to think and express their initial thoughts and feelings at the beginning of the meeting. This modeled the potential for contributing right at the start. It made it more likely that an individual would realize they had something they wanted to share.
The fishbowl, by allowing anyone to take a chair at any time, encouraged spontaneous and responsive sharing. (To see how well it worked, check out the video linked below.)
In conclusion, the feedback I received about the meeting process was uniformly positive. Both those physically present and those who watched the video agreed that the format allowed townsfolk to reflect and share their thoughts and feelings in a respectful and flexible way.
Find out more
If you'd like to watch more of the video, go here. This linked page includes an annotated timeline of the meeting.