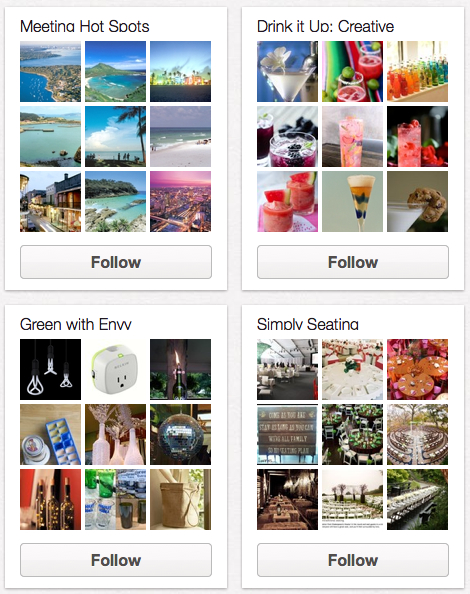 Stimulated by the March 13 #eventprofs Twitter chat, here are some relevant resources to get you started or learn more about using this suddenly-popular tool in the events profession.
Learning about Pinterest
Pinterest entry on Wikipedia
Pinterest: A Beginner's Guide to the Hot New Social Network on Mashable
56 Ways to Market Your Business on Pinterest via copyblogger
How to Get Free Traffic From Pinterest Search by Neil Patel
Pinterest Marketing Tips and Strategies on Authority Hacker
Pinterest and events
How To Effectively Use Pinterest for Events by Tuvel Communications
Pinterest and event marketing: Good companions? by Michael Heipel
Pinterest for Events by Daphne Bousquet
Why You Should Consider Pinterest as Part of Your Event Checklist by Arwin Adriano
Other articles about Pinterest
Why you shouldn't worry about Pinterest terms of service from the always informative TechDirt
Conference & Event Showcasing via Online Pinboards (LinkedIn group)
I'm probably missing plenty of other good resources. Share them in your comments!