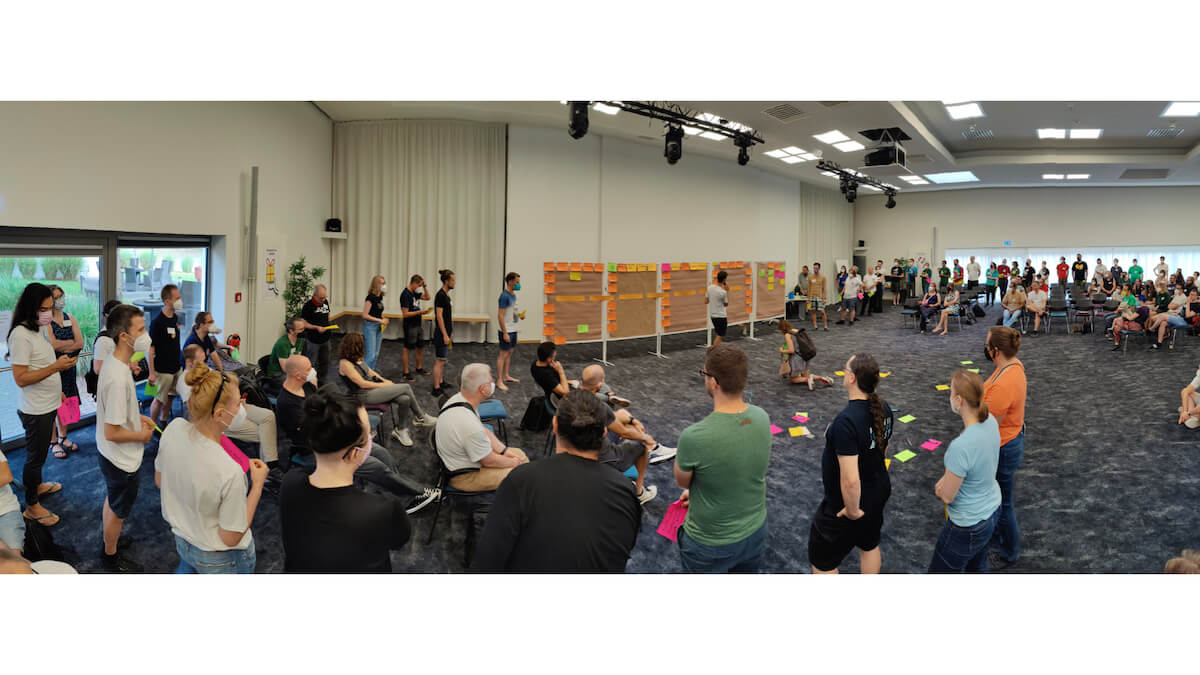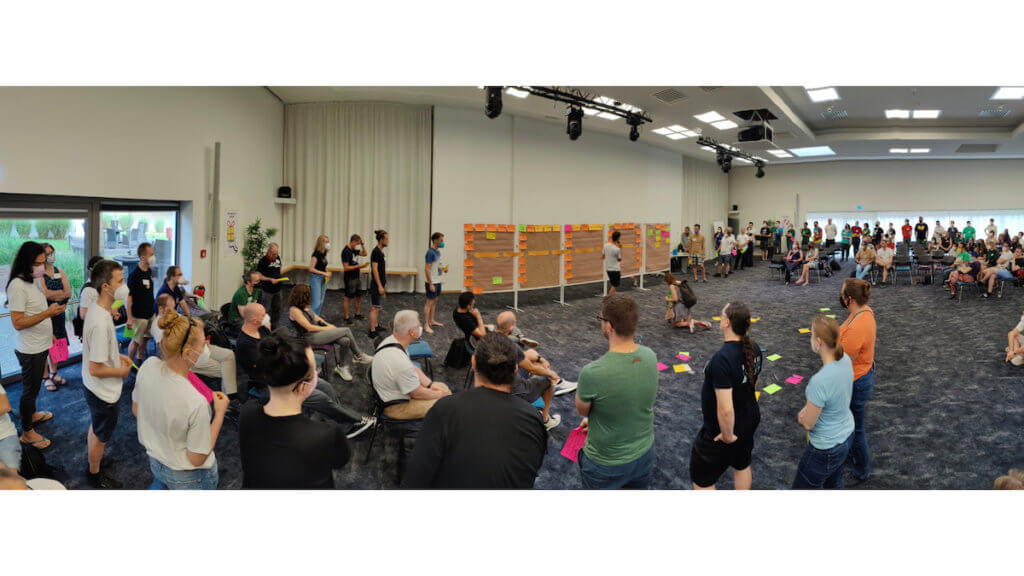 Software testers do peer conferences right! (They even call them a peer conference, rather than unconference, a term I don't like.) As evidence of software tester conference awesomeness, I offer three examples below. But first…
…a short history of the peer conference
I first designed and convened what I called a "peer conference" in 1992 for a group of IT managers at small schools that eventually became known as edACCESS.
During my 20+ years as an IT consultant and software developer, I got to know a delightful international crowd of software testers: those all-important people responsible for the impossible task of making sure that software works. After I talked about my meeting design work with pioneer tester James Bach at the 2004 Amplifying Your Effectiveness conference, the testing community somehow adopted the term peer conference for their get-togethers.
My code development days are long gone. I miss hanging out with the folks I got to know at these events. (Though I'm still in touch with some of them.) Regardless, peer conferences in the world of software testing are still alive and thriving!
And now…
Three examples of how software testers do peer conferences right
1. The 2022 SoCraTes peer conference
Lisi Hocke wrote a long detailed post about her first-timer experience at the 2022 SoCraTes (Software Craft and Testing) peer conference held in Soltau, Germany.
For a quick visual impression of the event, watch this!
Experience #SoCraTes2022 from Lena's point of view: pic.twitter.com/Lt5PU3rjT1

— Markus Tacker (he/him) 💙💛 🇳🇴 (@coderbyheart) September 1, 2022

Here are some illustrative extracts from Lisi's post.
Keeping participants safe
Feeling safe is an important psychological requirement for people in any situation, and conferences are no exception (1, 2, 3). Lisi shares another participant's experience:
Step 1 before entering #SoCraTes2022 ✅ Organizers really do make everything to make everybody feel safe. Code of conduct, inclusive language, Conference Buddy,photo policy.. pic.twitter.com/9V1S109OaO

— Martin (he/him) (@md42) August 25, 2022
Providing a welcoming and supportive environment for first-time participants
SoCraTes 2022 included a Foundation Day "with less people and hence a smaller crowd to get used to. A day covered with fundamental topics without them being too basic, so I learned a lot even with topics I knew about. A day where we had a schedule set in advance, which took away the uncertainty of what would happen. A day to get to know people a bit already."
Notice how this optional first day used more conventional session formats to make it easier for first-time attendees to integrate into the existing community.
"Over dinner, I realized I was not the only one joining this conference for the first time. Later on, we realized lots of people were new joiners indeed, based on recommendations they chose to give this conference a try. Was really great to see.

In the beginning, things were still a bit new, strange and even stiff; as it often is for me these days when suddenly seeing lots of people in real life. Within a short period of time I could loosen up, though. The more people I got to know, the more I relaxed and felt at ease."
A participation-rich session format — World Café — was introduced at the end of Foundation Day
The World Café supplied an appropriate introduction and transition to the Open Space format used during the rest of the conference.
"To set the scene, a World Café was hosted by the wonderful Juke, getting all of us connected to SoCraTes and each other. How it worked? We had three rounds, a new question each round. For each group, one stays at the same place while all others look for a new group to join. The one who stays welcomes the new people and shares what the previous group had talked about. Usually this is supported by taking notes and drawing on flip charts or similar means."
Open Space
SoCraTes 2022 used the participant-driven Open Space format to determine what sessions participants wanted to hold. Though Open Space is just one of the formats you can use to create participant-driven and participation-rich meetings, it's probably the most well known and is often an appropriate process to use.
"In short: we build the agenda we want to see! And that's what happened. It's fascinating how you can really trust in the system. The queues to briefly present the proposed topics were really long, and the emerging schedule looked amazing. So many awesome topics…"
Session leaders used a wide variety of participative formats
Check out Lisi's post for descriptions of many appropriate innovative session formats, including ask me anything, brainstorming, blind ensemble programming, the pipeline game, exploring feelings while reading code, a Code Retreat, and a retrospective.
Some closing insights
About listening and learning…
Today at #SoCraTes2022 I sat in a session and learned Scratch from a 11yo girl. And I was not the only one. Magic can happen people – you just gotta let it.

Also proves that no matter how junior, you can and will learn something from anyone if you only take the time to listen.

— Jan (@Jan0707) August 27, 2022
Phew, what an amazing time my first on-site edition of #SoCraTes2022 had been! ✨ So much to digest and follow-up on, lots of inspiration and confidence gained, and best of all: a newfound strong connection with this wonderful welcoming community. Thank you everyone! ❤

— Lisi Hocke (@lisihocke) August 29, 2022
"The entire conference felt like a version of the world that could exist. Many small and large customs help people to get along better with each other. It starts with the name tags alone: ​​take off the name tag if you're too introverted to talk to people right now. A red tape means you don't want to be photographed. The name tags are magnetic and hold the creative badges that people use to announce their pronouns – with a lot of artistic flair if you like."
—Eric, SoCraTes 2022 — a conference report [translated from German]
Compare the innovation and excitement at SoCraTes 2022 with just about any other conference you've attended. Can you see why software testers like Lisi think that peer conferences rock?!
2. The Unexpo Experiment
Here's another example from a software testing peer conference, TestBash Brighton 2018. The conference designers invented a way to create "highly engaging, interactive and fun" poster sessions. Check out my post that describes this "excellent example of how to invent, explore, evaluate, and improve new meeting formats".
3. A free guide to creating peer conferences
Want to create a peer conference, but don't want to buy any of my excellent books on this topic? (Hey, you can buy all three for just $29.99, but that's OK 😀.) No problem, the Association for Software Testing published an excellent free introductory guide to creating peer conferences. Learn more about it, and download it here.
Final thoughts
I love and respect the software testing community because its practitioners think carefully and seriously about how to design their conferences. And then they implement and test their innovative designs, discovering what works and what doesn't while also being open to the joy and excitement of the unexpected. A beautiful mixture of serious exploration, learning, and fun.
That's the way to improve meetings!
Image attribution: #SoCraTes2022 peer conference photo by Markus Tacker