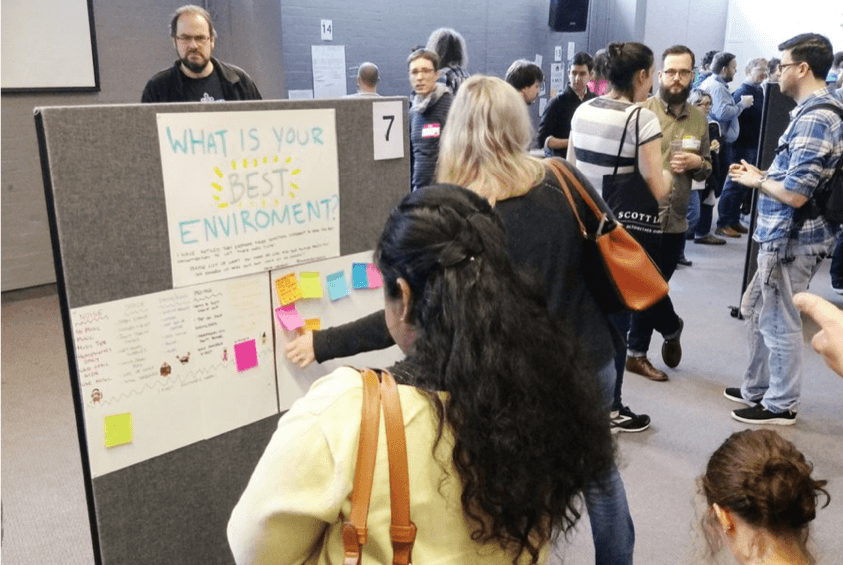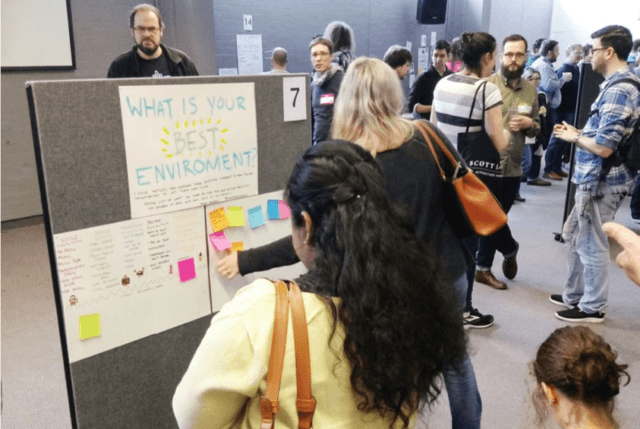 During my 20+ years as an IT consultant and developer, I fell in with a delightful international crowd of software testers: those all-important people responsible for the impossible task of making sure that software works the way it's supposed to. (Fun fact: the testing community often uses my term "peer conferences" for their get-togethers, due to a chat about meeting design I had with tester James Bach at the 2004 Amplifying Your Effectiveness conference.)
Software testers are especially conscious of the processes they use in their work. So it's not surprising that when they get together they experiment with meeting formats. A recent experiment is a good example of how creative folks can look at a 50-year-old meeting format, try out something fresh and innovative, and — this is so important — learn from the experience.
Here's the abstract of a long post written by Sarah Deery of The Ministry of Testing about their UnExpo experiment:
During the 3 breaks of TestBash Brighton 2018, The Ministry of Testing (MoT) trialled a new experimental conference engagement method named The UnExpo. The aim of the UnExpo was to boost the awesome community feels that are present at every TestBash and to provide a space in which software testers could converse deeply on topics of interest. Our results suggest that The UnExpo created an environment where software testers felt free to discuss their inner thoughts and feelings on the craft of software testing and their lives working in software development. We believe maximum feels were reached and attendees were highly engaged on a wide range of topics throughout The UnExpo. We intend to run a more streamlined UnExpo at future TestBashes and encourage other conferences run them too!
—Richard Bradshaw, Rosie Sherry, Heather Reid, Áine McGovern, and Sarah Deery, The UnExpo: A Novel Approach to Increase Conference Attendee Engagement and Maximise Community Feels
The entire post is well worth reading. It's a detailed and candid account of the development and testing of a meeting format. Here are a few extracts that illustrate the development and evaluation process:
"We received feedback from the community that they would like more engagement and structured opportunities to confer with other attendees during the breaks of TestBash."
MoT started with a core component of (any kind of) process improvement: soliciting and receiving feedback from prior experiences. Most meeting conveners concentrate on feedback about:
meeting content ("great speakers!"); or
logistics ("the food could have been better.")
They shy away from feedback that suggests the meeting format and processes should be changed or improved.
Identifying their Expo (trade show) as a place where engagement and conferring could be improved, they explored using some kind of poster session format:
Our hypothesis: if poster sessions can engage and encourage scientists to converse, they can do the same for software testers too.

However, we felt that the scientific poster session format was too rigid, passive and formal. To maximise the engagement and fun, we encouraged the software testing community to submit to run poster stands that were interactive. Posters could be on any topic attendees were currently interested in; be it technical topics or the human aspects of working in software development. Other attendees armed with post-its, pens and awesome tester brains would then walk around The UnExpo and interact with posters of interest.
Having developed an overview of what would happen during The UnExpo, MoT then designed a detailed implementation. This included:
logistical resources — a Poster Creation Station and appropriate room set; and
a schedule of when the posters would be made and installed for interaction during the three conference breaks. (See the post for full details.)
MoT then describes in detail what happened during the experiment — and they don't avoid critical observations:
The UnExpo set off to a shaky start during the first break of TestBash Brighton…
…it was a logistical pain for TestBash helpers to do the poster swap during the TestBash talks…
Nevertheless, the vast majority of the observations were positive. The post nicely conveys, with numerous pictures and quotes from participants, what the UnExpo experience was like.
The day after the event, MoT ran a Twitter poll for 24 hours. It received 58 votes, with 91% of the voters agreeing that The UnExpo worked.
Did the #testbash #unexpo work?

— Ministry of Testing (@ministryoftest) March 17, 2018
The post also documents more detailed feedback from Twitter, both positive and constructive.
Finally, the post's conclusion offers:
commentary on the UnExpo experiment;
a list of the format's benefits for individuals and the event;
a commitment to run UnExpos at future TestBashes; and
a description of planned format improvements.
Our findings support our hypothesis and suggest that poster sessions can engage and encourage software testers to converse with one another. We believe our tweaks to the poster session format led to highly engaging, interactive and fun conference break sessions where testers could have deep discussions around a variety of topics of interests…

We identified multiple benefits for running a stand at an UnExpo and attending an UnExpo:

Poster presenters got to practise their communication and presentation skills.
Those running stands were able to gather community feedback on their topic.
Posters acted as a handy medium enabling TestBashees to easily engage with others interested in the same subjects as themselves.
The UnExpo led to genuine connections and potential future collaborations being made.

…At future UnExpos, we will run a more streamlined format with a higher number of stands that will run all day. We will also have a small section of stands that are exclusively for those inspired folk who want to book a slot on the day, these stands will rotate each break. We believe this strategy will allow for attendees to continue conversations but also keep the energy and topics fresh!
My conclusion? This post is an excellent example of how to invent, explore, evaluate, and improve new meeting formats. To improve the quality and effectiveness of meetings, this is exactly the kind of focus and work we need!
Photo attribution: Samantha Cooper