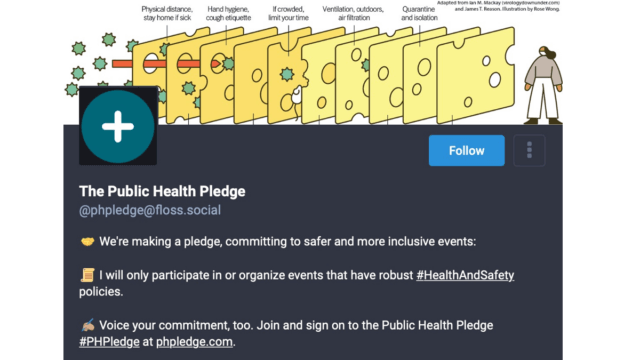 As I write this, we are entering the fourth year of the COVID-19 pandemic which has been responsible for millions of deaths and long-term disabilities. Many more people are going to die and contract Long COVID. In addition, most current events are still dangerous to attend for people with disabilities and certain chronic illnesses. Under the circumstances, it's shocking that the meeting industry has developed no widely-accepted standards for safer events.
But recently I learned about an effort to create and communicate simple, flexible standards for safer events: The Public Health Pledge.
"We're starting our day full of hope!

Sometimes it feels lonely being COVID-conscious in a world that's desperate to forget anything has changed.

But you are not alone. Far more people are concerned about COVID than let on. Sometimes they don't speak up because of social pressure or fear of retaliation from an employer.

Together, by speaking up and taking the pledge, we make it easier for others to use their voice and chip away at a broken status quo."
—The Public Health Pledge, February 1, 2023 Mastodon toot
Started by Josh Simmons, an advocate for free and open-source software and a community organizer, The Public Health Pledge is both:
A public pledge by those involved in attending and organizing meetings to commit to meetings that have robust health and safety policies; and
An ongoing effort to define an "Event Badging Standard": a set of simple but meaningful grades for health and safety protocols in place at any event to share with attendees.
The Public Health Pledge
The Public Health Pledge is short and simple.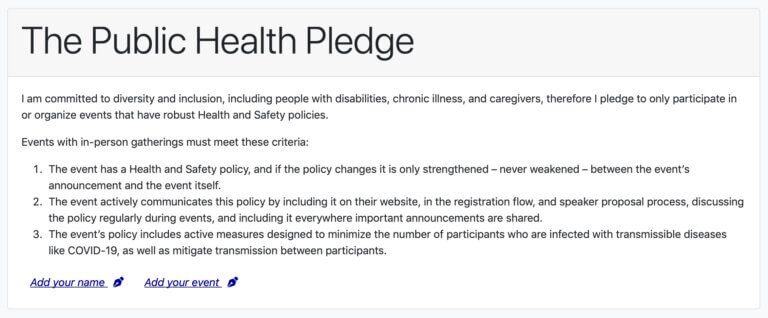 Notice that the active measures used at an event are not specified in the Public Health Pledge. That's the purpose of the other part of this initiative, the development of an Event Badging Standard.
The Event Badging Standard
The prototype Event Badging Standard includes six badges. Each badge represents a key health and safety category, and has a set of three possible grades that "indicate the quality of the protocols in place":
A "Robust Policy" grade indicates that the event's policies represent good practice as understood at the time this standard was written, and will be enforced.
An "Efforts Made" grade indicates that efforts are being made by the organizers, but there are factors that may increase risk for some attendees.
A "No Policy" grade indicates that meaningful policies have not been implemented.
The current categories include grading criteria for masks, vaccines, testing, ventilation, and alternatives, forming The Event Badging Standard. (The Alternatives badge covers policies for refunds, exchanges, and remote attendance.) I encourage you to view the details of what qualifies as robust, efforts made, and no policy in each category.
This is an evolving standard, and feedback is welcomed. Here's mine!
My feedback on the current [version 2023-01] Event Badging Standard
I like these standards. And we need 'em.
But the elephant in the room is the mask exception for "attendees who are actively eating or drinking".


Yes, this exception could be "robust" when outdoors or with excellent ventilation/filtering in place.
But in practice, event social activities are when most airborne infection occurs.
(Also, dancing while wearing masks, is rare in my experience, so I wonder if "robust" would apply to many events with an evening social with music.)
I would define "robust" masking as meaning:
EITHER making outdoor eating and drinking available
OR providing assurances of indoor air quality to ASHRAE recommendations (or international equivalents).
I have offered both options at in-person events I've designed/facilitated during the last three years. Many participants thanked me for doing this.
One small addition: having CO2 meters in key rooms and briefly explaining their readings at the event's start helps with this kind of transparency. [Note: Belgium now requires CO2 meters in all public spaces.] Perhaps add this to the ventilation grade?
I sent this feedback to Josh. He immediately thanked me and added these ideas to the notes for the next revision.
Why the meeting industry needs health and safety event badge standards
We've been (rightly) fixated on COVID as a serious threat to human health and safety since 2020.
But a new variant or a new pandemic can appear at any time. Consider, for example, H5N1 avian flu, which has killed over half the people who contracted it. The disastrous impact of the COVID pandemic would pale into insignificance if an H5N1 variant gained the ability to infect via airborne transmission.
Besides the health impact of pandemics on all of us, I believe that the vast majority of event professionals these days want to create events that are inclusive and welcoming of diversity. If you do, Gina Häußge explains succinctly why we must make our meetings safe places for all attendees.
"For the record, I'm of the opinion that we can't call our events inclusive and welcoming of diversity when we exclude people with disabilities or chronic illnesses (or their caregivers), who can't risk getting infected by an airborne pathogen that is still in a pandemic state, even though the collective consciousness has decided to mimic ostriches, put their heads in the sand and pretend it's 2019."
—Gina Häußge,  February 1, 2023, Mastodon toot
At a minimum, we owe our attendees clear information about the safety protocols we have in place at every event. Published event badge standards provide this information for attendees. What they decide is up to them. But at least such standards give them the information they need to make an informed decision.
To conclude: things you can do
Do you want to support safe meetings? Then add your name to the Public Health Pledge! (I have!)
And if you have an event where you want to use the Event Badging Standard, here's a guide to signing and promoting the pledge.
Finally, promote awareness of events that offer Event Badging information using the hashtag #PHPledge.
Your stakeholders, especially your attendees, will thank you!