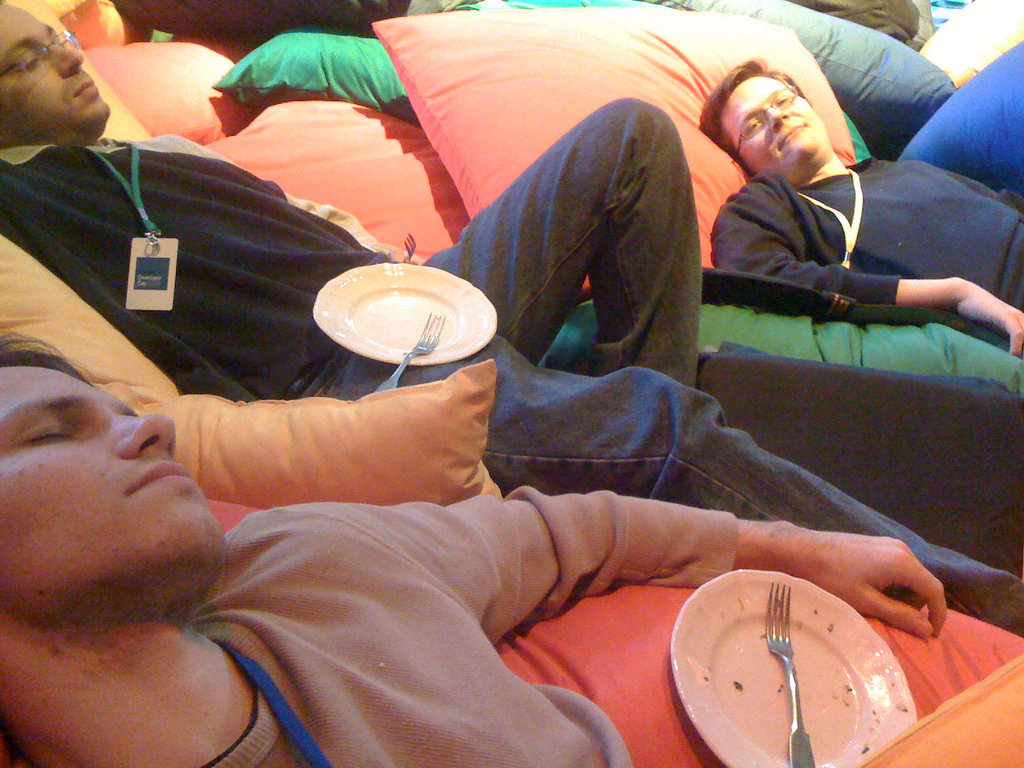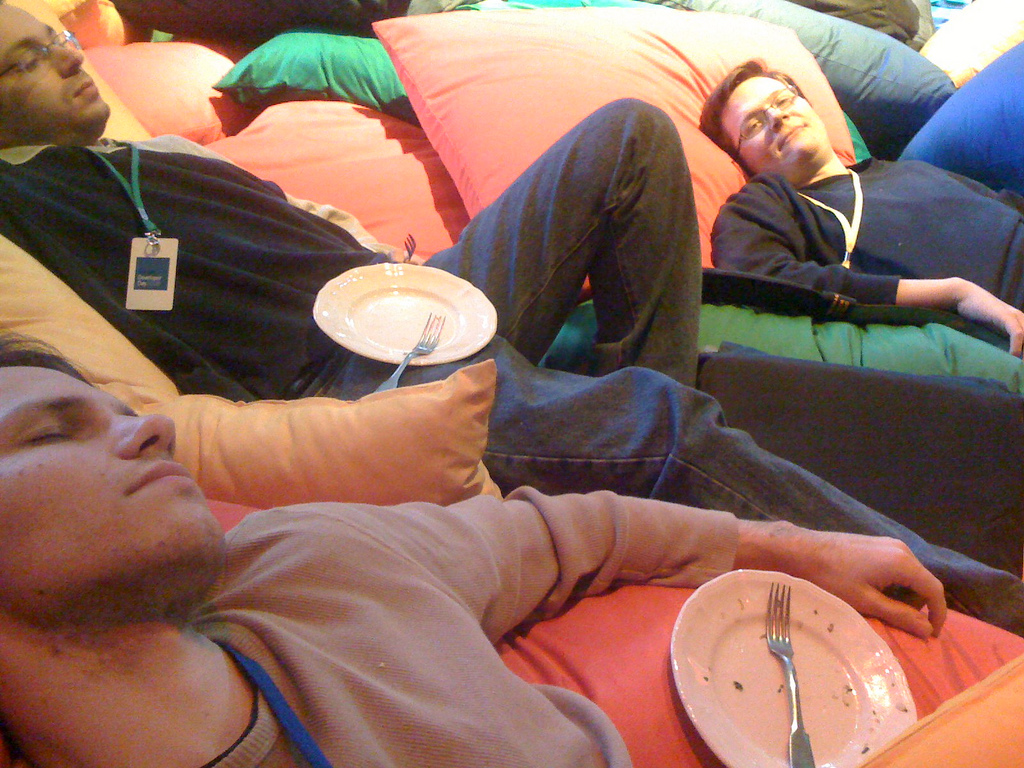 Conference organizers have an unfortunate tendency to stuff their programs full of sessions. It's an understandable choice; if participants have committed all this time and money to be present, shouldn't we minimize white space at events and give them as many sessions as we can cram in?
Unfortunately, filling every minute of your conference schedule does not lead to an optimum experience for attendees. We need white space; free time for attendees to do what they want and need to do. Here are some science-based, light-hearted, yet serious reasons why.
Biology
Yes, all of us need to use the bathroom every once in a while. The good news is that just about all event organizers remember this.
Physics
But what many forget is that Star Trek technology is not currently available; we cannot instantaneously teleport from one meeting room to another. At a minimum, breaks between sessions need to be long enough for attendees to walk leisurely between the two session locations that are furthest apart. But don't program the minimum; people also need time to check their messages (otherwise they'll just do it in the sessions, right?), get a cup of coffee, fall into a serendipitous conversation, etc.
Physiology</ v>
On average, conference session attendees sit 99.13% of the time.
OK, I made that up. But I'm not far off. And here's a cheerful graphic about the perils of sitting created by Jan Jacobs: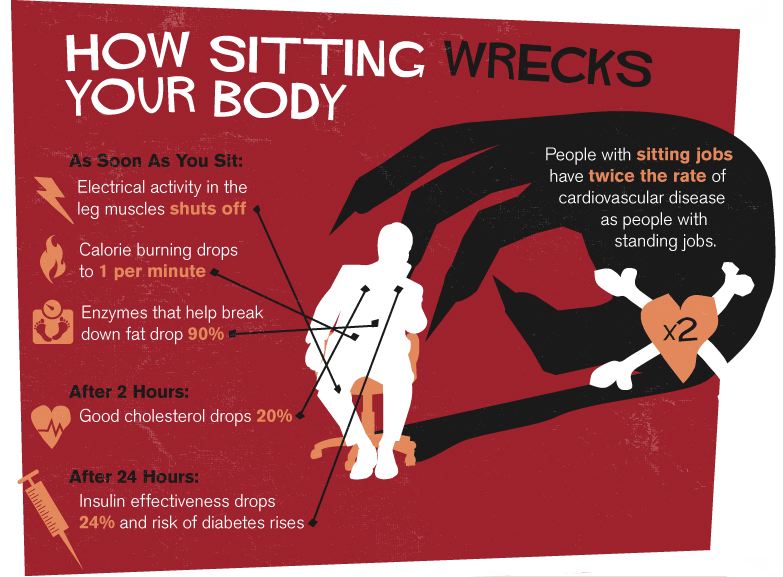 Give your attendees more time to stand up and move about between sessions (and during them, see below) and, who knows, they may live longer.
Social science
According to social scientist Dr James House, "The magnitude of risk associated with social isolation is comparable with that of cigarette smoking and other major biomedical and psychosocial risk factors." Why expose your attendees to such an unhealthy environment? We need to create conference environments that encourage and support connections with others, rather than leaving attendees to their own devices, and it turns out that conference mixers don't provide as good opportunities for attendees to meet new people as you might think. We need additional kinds of white space at our events.
Neuroscience
Neuroscience supplies the most important rationale for providing white space at your events. As molecular biologist John Medina describes in his book Brain Rules: Learning occurs best when new information is incorporated gradually into the memory store rather than when it is jammed in all at once. Brains need breaks.
We need white space not only between sessions, but also during them to maximize learning. Medina suggests that presentations be split into ten minute chunks to avoid the falloff in attention that otherwise occurs. (Back in the '70s, Tony Buzan, the inventor of mind maps, recommended studying in cycles of twenty minutes followed by a short break, a technique that has served me well for forty years.)
In addition, Medina tells us that multisensory environments provide significantly more effective learning than unisensory environments; recall is more accurate, has better resolution, and lasts longer. So make sure your sessions include multisensory input (participatory exercises, participant movement, smells, touch, etc.) and your conference locale provides a pleasant multisensory environment.
So, what to do?
How do we find a balance between providing white space during and between conference sessions and our desire to provide as much potential content and opportunities for our attendees?
During sessions it's important to provide white space between every ten to twenty minute chunk of learning, so that the learning that has occurred can be processed and retained. This is something that we should all be doing to optimize the learning experience at our events.
Between sessions it's important to include significant unstructured time. A ten-minute break between two one-hour sessions is the absolute minimum I'll schedule, followed by long refreshment or meal breaks. I am not a fan of providing intrusive entertainment during meals—eating together is one of the most intimate bonding activities humans have—for goodness sake, let your attendees talk to each other during this time!
I've saved my best advice for last. Instead of deciding how much white space should exist at your conference, let the attendees decide! At the start of the event, explicitly give people permission to take whatever time they need to rest, recuperate, think, etc. It may seem silly, but I find that if you publicly define the event environment as one where it's expected and normal for people to take whatever time they need for themselves it becomes easier for attendees to give themselves permission to do so.
[Thanks to Joan Eisenstodt for providing the initial impetus for writing this post! And check out Give me a break! for another viewpoint on the topics of this post.]
White space—it's not just for advertising any more! What's been your experience of white space at events? What suggestions do you have for improving its use?

Image attribution: Flickr user zavie.