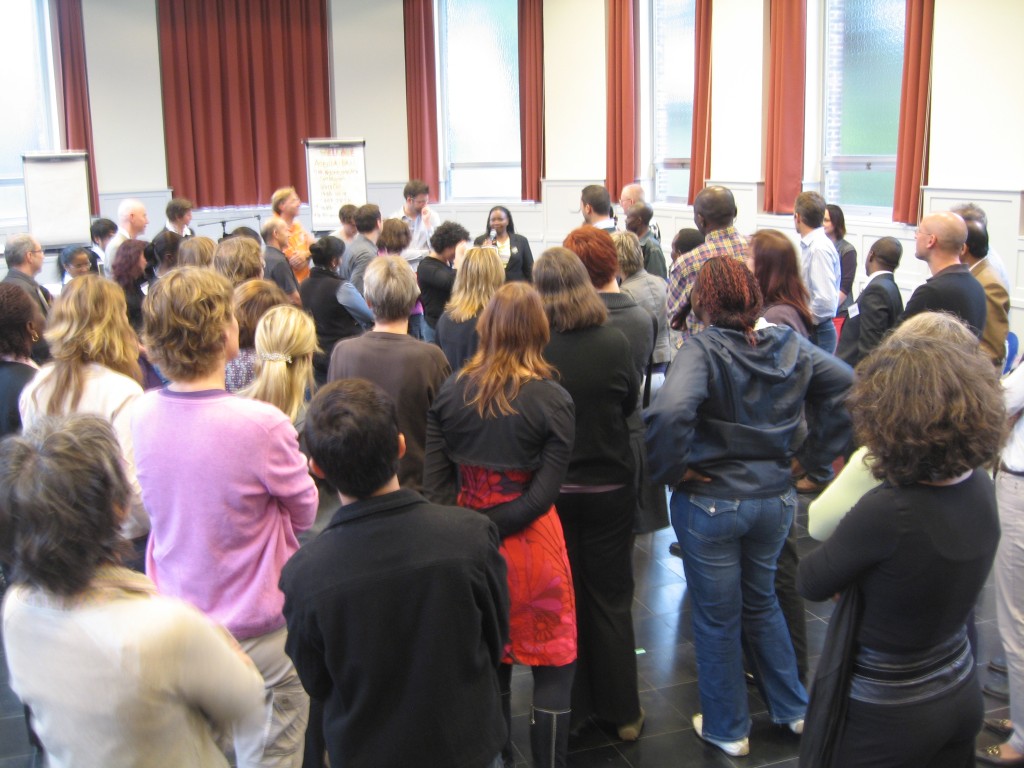 Here's the summary handout for my workshop on participation techniques you can use in conference sessions that I'll be leading at MPI's World Education Congress 2011. The notes at the end of the list contain additional resources for information on these techniques.
Technique: Setting ground rules ‡*
Brief description: Setting ground rules before other activities commence clarifies and unifies participants' expectations.
When to use: Start of session, workshop, or conference.
Helpful for: Setting the stage for collaboration and participation, by giving people permission and support for sharing with and learning from each other. Increases participants' safety and intimacy.
Resources needed: Paper or online list of ground rules.
Technique: Human spectrogram
Brief description: People stand along a line (one dimension) or in a room space (two dimensions) to answer session questions (factual or opinions).
When to use: Usually at the start of a session. Also use as an icebreaker before or during the three questions.
Helpful for: Allowing participants and the group to discover commonalities. Also use to pick homogeneous or heterogeneous groups/teams. Also use to hear a spectrum of comments on an issue and then view any resulting shifts in opinion. Gets people out of their chairs!
Resources needed: A clear corridor space between walls (one-dimension), or a clear room (two dimensions).
Technique: The three questions *
Brief description: Three questions answered in turn by every participant to the entire group within a given time limit, typically 1½ – 3 minutes.
– How did I get here?
– What do I want to have happen?
– What experience do I have that others may find useful?
When to use: Normally, right after ground rules have been set.
Helpful for: Learning about each participant, exposing topics and questions of interest to the group, uncovering formerly unknown useful expertise for the group to share.
Resources needed: Question cards and pens, circle of chairs. Do not replace cards with the three questions posted on a wall or screen.
Technique: Fishbowl *
Brief description: An effective technique for focused discussion. Works by limiting and making clear who can speak at any moment.
When to use: During any conference content or topic oriented session. Also use for conference closing discussion.
Helpful for: Keeping group discussions focused. A plus is that contributors need to move to and from discussion chairs, maintaining alertness and engagement.
Resources needed: Chairs, either set in two concentric circles or in a U-shape with discussant chairs at the mouth.
Technique: Personal introspective *
Brief description: A session where attendees privately reflect on their answers to five questions. All attendees then have an opportunity but not an obligation to share their answers with the group.
When to use: Towards the end of the event, usually just before the final group session for a short event. At multi-day events, sometimes held as the first session on the last day.
Helpful for: Reinforcing learning and concretizing changes participants may wish to make in their lives as a consequence of their experiences during the event.
Resources needed: Chairs, either set in small circles or one large circle, personal introspective question cards and pens.
Technique: Affinity grouping †*
Brief description: A technique to discover and share ideas that arise during the conference and group them into categories, so they can be organized and then discussed.
When to use: Can be used at any session to elicit and gain group responses to ideas. Also useful as a closing process if action outcomes are desired.
Helpful for: Future planning, and uncovering group or sub-group energy around topics and actions. Can be used to guide decision-making by the group.
Resources needed: Cards and/or large sticky notes, pens, pins or tape if cards used, walls for posting.
Technique: Plus/delta *
Brief description: A simple review tool for participants to quickly identify what went well and potential improvements.
When to use: Normally during a closing session.
Helpful for: Quickly uncovering, with a minimum of judgment, positive comments on and possible improvements to a conference or other experience.
Resources needed: Flipcharts and, optionally, ropes or straps.
Notes
‡ How to improve your conference with explicit ground rules and Two principles for designing conference ground rules.
† An expanded description of affinity grouping is available in The Workshop Book: From Individual Creativity to Group Action.
* See a complete description of this process in Conferences That Work: Creating Events That People Love, available from this website, Amazon, or any bookstore.
Other resources
The Knowledge Sharing Toolkit is a useful list of participative processes that can be used with groups.
Photo attribution: Flickr user choconancy