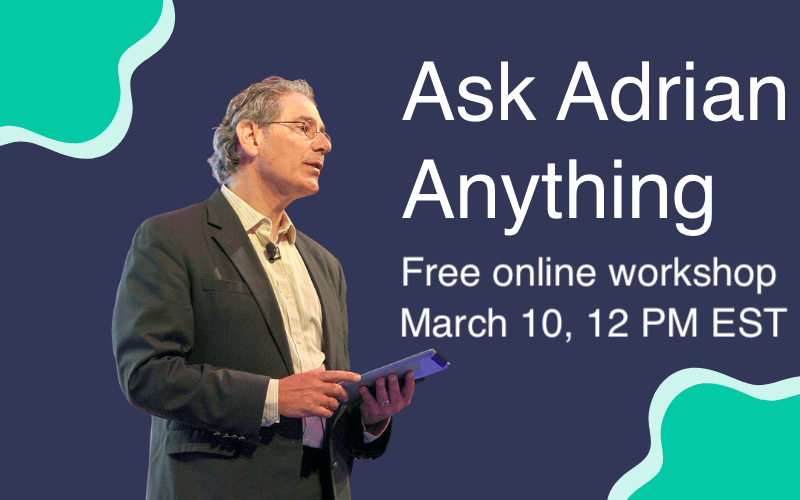 Here's a rare opportunity to ask me anything about meeting design and facilitation at a unique, free, online workshop. Join me next Thursday, March 10th, 2022 at 12:00 pm EST for Ask Adrian Anything (AAA): an online participant-driven workshop on the future of events.
Though the central core is the AAA session, this is an active learning workshop. During it, you'll experience some of the practices I use to support and build participant learning, connection, engagement, and community.
How long will the workshop last? That's up to you! I'm willing to keep it going as long as you have questions and concerns to share. When it's over, you're welcome to stay and socialize online, and I'll stick around for informal chats.
If you want to join us, it's important you're ready to begin at 12:00 pm EST. We'll open the workshop platform at 11:45 am EST so you'll have time to do the usual camera/microphone online setup boogie for a prompt start at noon EST.



We'll meet online, using Gatherly [1, 2], a platform designed for online social interaction and learning. [Apart from being a fan, I have no affiliation with Gatherly, and am donating my services.] The Gatherly platform will allow us to learn about each other and about top-of-mind issues, concerns, and questions through small group work, human spectrograms, and fishbowl discussion.
Ask Adrian Anything
This is an opportunity for you to experience one of my participant-driven workshops. You'll learn through doing, both about other participants and how to implement what you experience into your own events.
Experience a participant-driven online event.
Learn by doing participant-driven methods that increase event engagement, connection, and community.
Meet, workshop with, and learn from other event professionals.
Take this opportunity to ask Adrian anything about meeting design and facilitation.
Enjoy time after the session in an online social environment that closely mimics meeting in-person socials. You'll be able to find folks you'd like to talk with and hang out one-on-one or in small groups for public or private conversations.