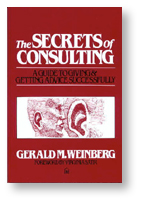 Jerry Weinberg's ten laws of trust are shared in his fantastic book, published twenty-five years ago and still in print: The Secrets of Consulting: A Guide to Giving & Getting Advice Successfully:
Nobody but you cares about the reason you let another person down.
Trust takes years to win, moments to lose.
People don't tell you when they stop trusting you.
The trick of earning trust is to avoid all tricks.
People are never liars—in their own eyes.
Always trust your client—and cut the cards.
Never be dishonest, even if the client requests it.
Never promise anything.
Always keep your promise.
Get it in writing, but depend on trust.