Say Yes!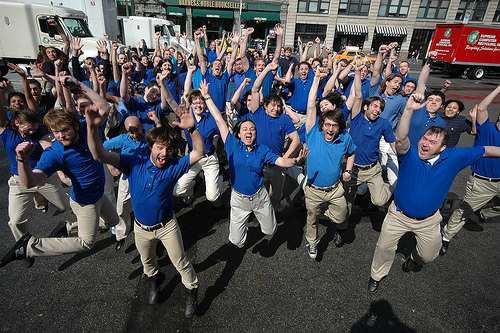 Thoughts triggered while rereading Patricia Ryan Madson's delightful, straightforward, and yet profound improv wisdom.
Patricia Madson's first improv maxim is say yes. Which reminds me of a harrowing incident not so long ago…
Will this closing session achieve closure?
I was facilitating the closing session of a West Coast peer conference using a fishbowl format that wasn't working so well. People were eager to talk, but instead of a conversation developing we were jumping disjointedly from topic to topic.
And then things got worse.
"Selma", a senior state official, began to speak. Listening, my heart sank as she shared that the conference had failed to adequately involve the significant numbers of minority and low-income attendees who were present. I felt shocked and dismayed. The conference organizers had made heroic and successful efforts to make it possible for a wide variety of people to attend, so Selma's verdict seemed like a serious indictment of the conference process we had used, a process for which I was responsible.
Looking around the room, it was clear that people were upset by what they had just heard.
Then things got even worse
Instead of responding to Selma's comments, John, the next person to speak, started talking about something entirely different. I felt the credibility of the session shrink rapidly toward zero. People were disengaging. We couldn't even face a difficult issue head on—instead we were going to avoid it and change the subject!
John finished, and I knew we were at a tipping point. And if, as an exercise, someone had described the situation and asked me what I would do, I would have drawn a complete blank.
But this wasn't an exercise.
What could I do?
Somehow, at that moment, I accepted the situation and acted from my gut.
"John," I said, my voice quavering a little, "please excuse me, but I feel we need to talk about what Selma just said. If we don't discuss the issue she's brought up, then I think we are all going to feel pretty dissatisfied with our time together today." I turned to Selma. "Selma, I want to hear more about how you think we've failed some of the attendees at this event."
That was enough for Selma and the group to enter an intense discussion of the issues she had raised. There was no more rambling conversation. And, though the resulting dialog was difficult at times, the tension in the room subsided as the participants shared and felt heard. The session became an authentic reflection on tough topics; a fitting end to a conference that had raised more questions than could be fully answered in the time we were together. And that was just fine with me.
I said yes
I'm proud about how I responded at the crucial moment. In Madson's words, I said yes to the situation I was given and responded from my authentic self. It wasn't easy for me. It would have been safer to not take a risk by saying nothing and letting the group ramble on disconnectedly. But when we say yes to the challenges that come our way, amazing things can happen. Try it!
P.S. If you're interested in the inspiring organizational and cultural consequences of saying yes, I wholeheartedly recommend Peter Block's great book on the subject The Answer to How Is Yes: Acting on What Matters.
Have you said yes at a difficult moment? Share that moment below!
Image attribution: http://www.flickr.com/photos/feastoffools/ / CC BY-NC-SA 2.0