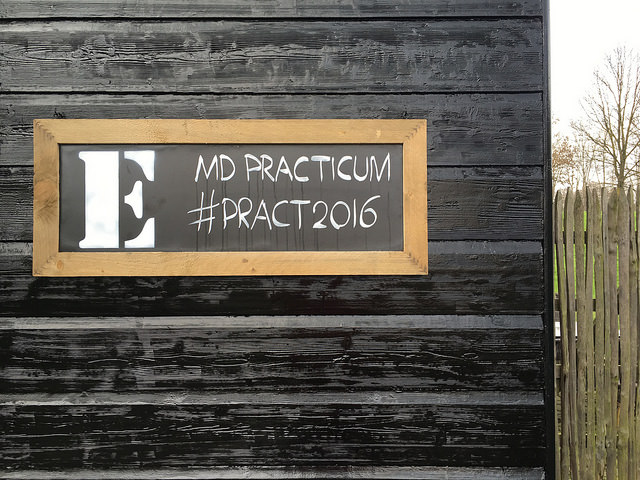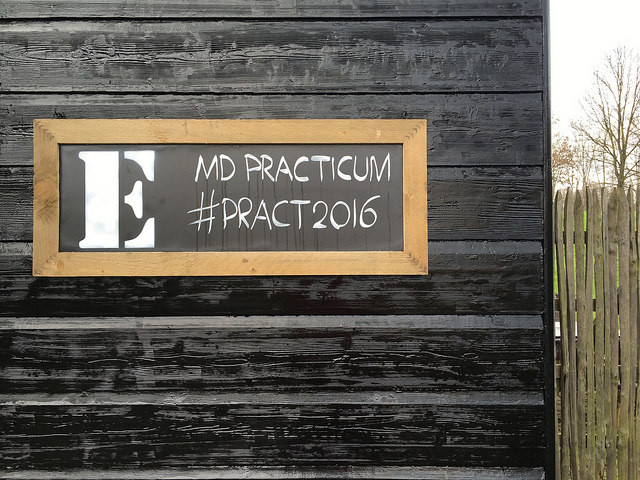 I've just returned from a wonderful 48-hour whirlwind of experiments and play with 30 meeting designers in Utrecht, The Netherlands. We came from Europe, South America, Slovakia, and the U.S. (me) to learn, share, and connect at the first Meeting Design Practicum, hosted by Eric de Groot and his merry gang. Here are nine learnings from the first Meeting Design Practicum.
Similar in spirit to the many EventCamps held around the world since 2010, the Practicum was a safe place for event professionals to experiment with techniques, approaches, ideas, and formats without the obligation and pressure of a "successful" outcome for a paying client. We met informally at an ancient Dutch fort, cooked meals together, did our own housekeeping, and quickly built an intimate community with connections that will continue to reverberate into the future.

I can't give a complete survey of everything that happened at the Practicum. For one thing, I couldn't attend every Practicum session because we often had to choose between simultaneous sessions. In addition, some of the important take-aways were already familiar to me, so I don't include them here. Rather, I'll share new insights that I made an impression on me during our three days together. I apologize for not attributing them to specific people; suffice it to say that every single participant brought important insights and contributions to our gathering.
Elementary meetings
One of the great concepts Eric & Mike van der Vijver introduced in Into The Heart of Meetings was that of modeling portions or an entire event on the familiar format of what they call Elementary Meetings—such as weddings, legal trials, birth celebrations, etc. The Practicum provided several examples of this.
Our journey through the event was mapped onto a large wall "tree", with our influences mapped onto the roots at the start. We added our learnings from the Meeting Design Practicum as leaves to the branches as the Practicum progressed.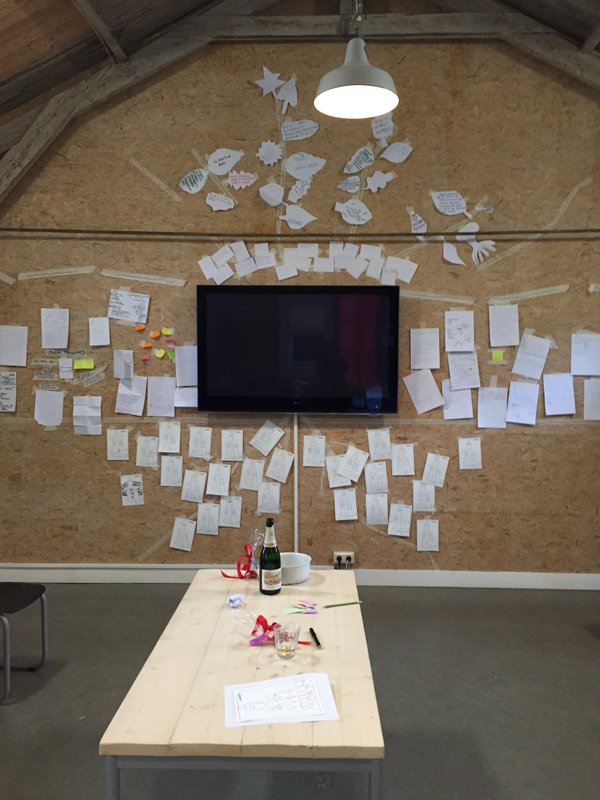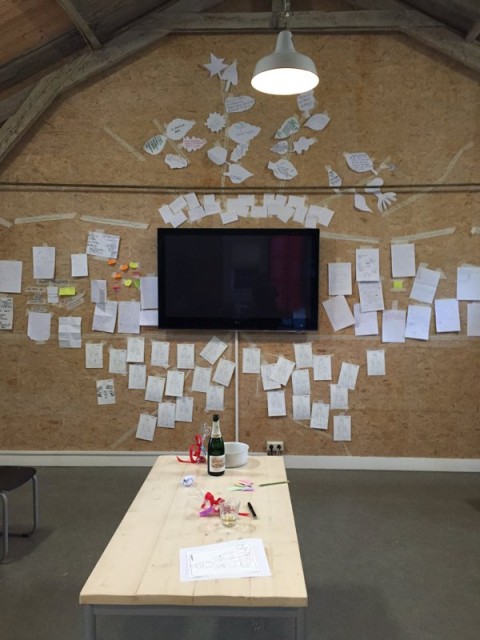 Participants had the opportunity to share a single short meeting design tip/trick. This was mapped onto the magic competitions of Asterix and Obelix where druids demonstrated their magic to the tribes. On several occasions, those of us offering magic disappeared into a small room, only to reappear wearing impressive druid beards. One at a time, introduced by a flourish played on a trumpet we shared our tips. At the end of the Practicum we chose the most useful tip. The winner, Victor Neyndorff, took home the golden snouieknife (sp?).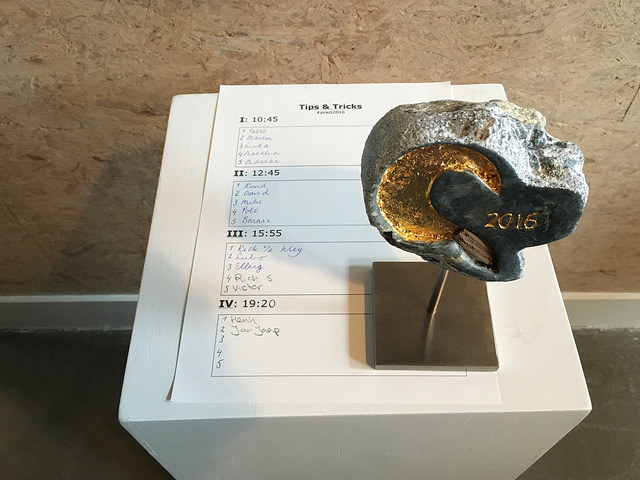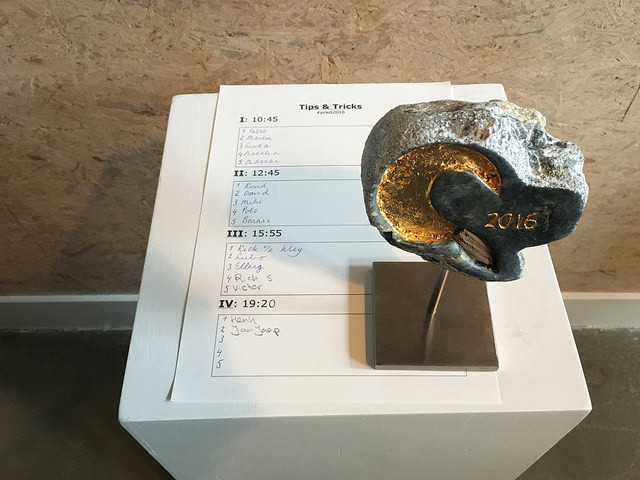 Gardening
Metaphors provide powerful ways to communicate, and I find them surprisingly difficult to discover. A delightful and effective metaphor for meeting design was shared early in the Practicum. Seeing the meeting designer as a gardener maps so many aspects of meeting design process onto the familiar act of gardening that enumerating the parallels is left as an exercise for the reader.
Objects
In 2007 – 8 I was a participant in a year-long leadership workshop held over a dozen weekends. For our last meeting we were asked to bring a personal object and share its meaning and relevance to what we had learned and our experience. I found this a moving and bonding experience, as we told our stories, each linked to an object that we held in our hands or placed at the center of our group.
The Practicum reminded me of this format, thanks to a session on using objects at events. We concentrated on using individual objects with attributes that evoked a desired event theme, message, or mindset. One interesting aspect of this approach is that you could use it to replace the common practice of saturating the event environment with theme/message decor. Imagine—no more branded cocktail napkins needed! Another interesting suggestion was the use of two or more interacting objects. (For example, a mirror ball together with lights held by participants.)
Improving a traditional presentation with closing Q&A
Instead of moving straight into Q&A after a presentation, provide a short time for participants to share possible questions in small groups. This helps introverts get their just-as-good-as-anyone-else questions out. It also provides a check for those wondering whether their question is a good one, or optimally phrased.
"Never trust a leader who doesn't dance at the event party"
I'll let this stand without comment, except to say my experience bears this out.
A good question for pair-share
"What motivates you the most?" An excellent question for energizing participants by reconnecting them with their personal passion.
Working with status-conscious leaders at events
Some leaders are heavily invested in their personal status. At events, they may insist on speaking at length to everyone, even though the audience may widely consider their talk is a waste of time. We discussed this issue at one of the four Practicum "challenge sessions". One possible solution suggested was to elevate the leader's status, for example, by adding a short well-produced video showing the leader to best advantage. Then the leader may accept more interactive and interesting formats, such as an interview by key participants with preplanned questions.
Relief from discomfort
My philosophy when facilitating is to bring participants as gently as possible into situations or experiences that may be uncomfortable, but are needed to satisfy desired outcomes. During the Practicum we went through "a Maori discussion format". We found an issue on which our group was roughly equally divided and, with the two groups standing facing each other, took turns arguing for our point of view using the format "YOU think that… WE think that…"
I found the format artificial and uncomfortable (not least because none of us had any idea of what the other members in our group actually thought). What was interesting to me was the next step. We all came together, sharing hugs and reconnecting across the groups, followed by a debrief where we all lay down and spoke about the experience when we felt we had something to say (rather like a Quaker Meeting). The relief felt after the "confrontation" was much stronger than if we had used a less confrontational discussion format. The experience made me think that there may be times when it's worth increasing the discomfort at some points of event process to improve post-discomfort bonding.
Escape Rooms
On the last evening of the Practicum, we piled into cars for a mystery outing. Our destination was revealed to be an Escape Room, or rather three Escape Rooms.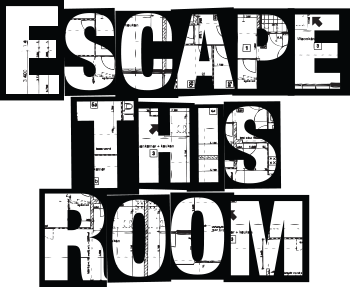 We had an opportunity to cooperatively solve (or watch others solve) a myriad of physical and mental problems in order to either escape from a room or, in my case, to compete against another team in an identical room. I had heard about these rooms but never experienced one before. For a group to solve the puzzles, members had to communicate effectively with each other. Our group worked fairly independently, calling out or showing findings to the other members as we found clues and objects needed to increase our score or unlock further puzzles. I heard afterwards that our competitors were less effective at listening to each other, which is why we ended up "winning". Video cameras watched us as we worked, though the staff told us that the video would stay private.
I had fun working with my six first-time teammates!
The Escape Room experience is an effective way to expose existing or potential communication problems in a group. It could be debriefed afterwards using video of the session. However, it might be a rather negative experience, as there's certainly potential for intra-team conflict. So I'm not sure if it's an optimum environment for team building.
Learnings from the first Meeting Design Practicum
I've shared nine learnings from the first Meeting Design Practicum that this unique event uncovered. As always, reading about an experience is a pale ghost of the experience itself. Just as important was the opportunity to reconnect and deepen relationships with old friends, and make some wonderful new connections. I hope that Eric and Co will do this again; I will be among the first to sign up!