There are many reasons why you should hold multi-day events.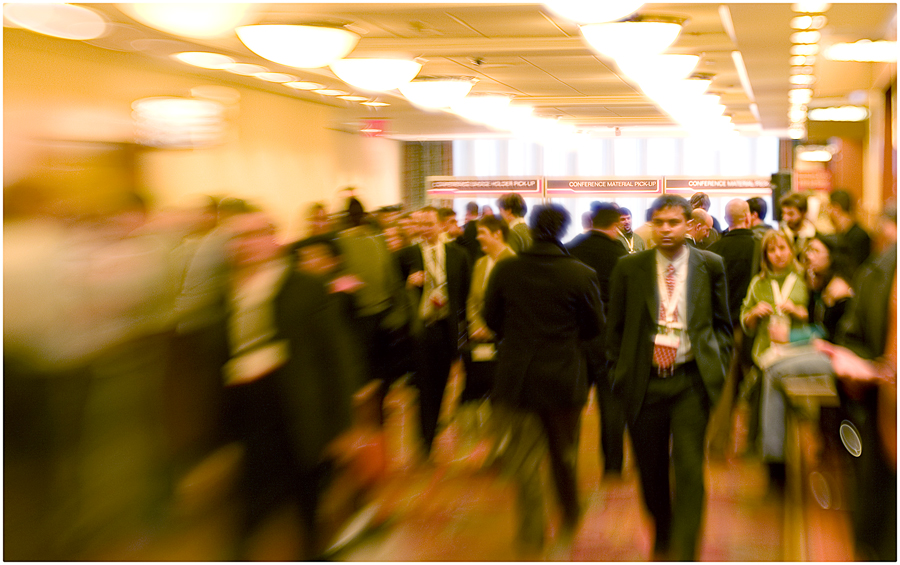 I have held a number of one-day conferences. One (very full!) day is the minimum time needed to process the essential components of a peer conference: the roundtable, some peer sessions, and a minimal spective. Frankly it's a rush to complete even these basics in a day.
—Conferences That Work: Creating Events That People Love, Adrian Segar

Occasionally, I'm asked to design one-day peer conferences. When I ask why the event can only be a day long, I hear answers like these:
"Our members are very busy and can't take more than a day off."
"Then we'd have to arrange for somewhere for people to stay overnight."
"Our conference has always been a single day."
"It's too expensive to make it longer."
"Our venue only serves lunch."
Here are six reasons why you should overcome these objections and make your conferences longer than a single day.
Making connections takes time
Research has shown that people attend conferences for two principal reasons of roughly equal importance: educational opportunities and networking. (Note: I believe networking is becoming more important.) Networking—making connections with people and building relationships with them—takes time. At a one-day event full of traditional presentation sessions, typically, the only opportunities for people to meet each other are during lunch and a couple of short refreshment breaks. That's very little time to network. Adding the dinner, evening social, and breakfast of a single overnight doubles, at a minimum, the time for connection available at a one-day event.
Getting there
A non-local attendee incurs fixed time and travel costs to get to and return from an event, irrespective of its duration. If your conference's value to participants increases with its duration—if not, why are you making it longer? —amortizing these fixed costs over a longer event reduces the hourly expense of attending.
Attendees who eat together bond together
Academics may argue as to whether the reasons are biological, cultural, or both, but few would disagree that people bond over communal meals. A one-day conference provides a single lunch plus, usually, two refreshment breaks. Add just an extra half day and we get three refreshment breaks, perhaps an evening social with munchies, dinner, breakfast, and lunch. That's a big difference!
Something magical happens overnight
In my experience, overnights during a conference facilitate processing of experiences from the days' events. This is especially important at the start of a peer conference, where the first half day exposes attendees to a large variety of ideas and resources. But the effect is useful at any event. Although we all appreciate time to consciously process our experience, there's growing evidence that short-term memories are turned into lasting long-term memories during sleep. I find that the rapid torrent of information shared during the first day of a conference seems to acquire shape and form in my mind overnight—the next morning brings clarity to the dominant themes and interests shared by the participants.
The above multi-day rationales apply to any conference. The following apply to peer conferences.
Reserving enough time for content
The standard Conferences That Work design employs four sessions that wrap around its content heart. For a fifty person one-day event, a roundtable, peer session sign-up, personal introspective, and group spective consumes more than four hours of traditional session time, leaving little time for the peer sessions. This has two consequences. The first is that a one-day peer conference has to drop the personal introspective. The second is that I won't run a one-day peer conference any more, and recommend that you don't either.
The minimum time I now recommend for a peer conference is a day and a half. Even at this length, there really isn't sufficient time to add traditional session like a keynote. But participants consistently report that it's long enough to provide excellent connection and community building time, as well as four sets of peer sessions tuned to their needs.
Peer session preparation
Many first-time participants are surprised by how well the vast majority of peer sessions are led and/or facilitated, when there's such a short time between the choice of a peer conference session topic and the resulting session. And the volunteer leaders/facilitators themselves are surprised and empowered by how well they fulfill their role, despite sometimes worrying beforehand whether they will do a good job knowing the limited time available to prepare. Even so, a longer conference gives leaders more time to think about their session, consult with other peers, and prepare.
What other roadblocks have you experienced when promoting longer events? What other reasons do you suggest for holding them?
Photo attribution: Flickr user coba.