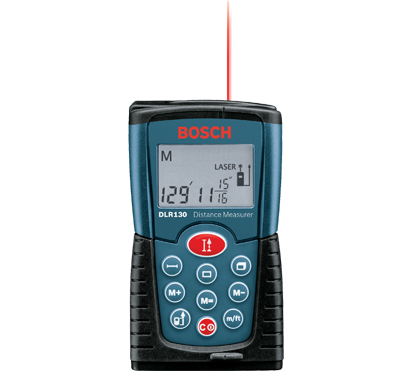 I have a new favorite site visit tool!
Surprisingly, many conference venues do not provide floor plans with room measurements for meeting planners. On a recent round of site visits, only one of seven facilities visited had this information readily available. Four of the venues had floor plans, but supplemented them with infuriating capacity charts showing the number of seats available for classroom, theater, banquet, boardroom, hollow square etc. sets. (Please, venue sales managers, read Paul Radde's refreshing book "Seating Matters" and realize that these room sets are not optimum for most circumstances.)
For event designs such as Conferences That Work, where room sets include large circles, horseshoes, table-less small group rounds and other configurations, I must have the basic room dimensions in order to plan what can happen where.
As a result a twenty-five foot tape measure has been part of my site-visit kit for many years. This tool, while cheap, is awkward to use.  Ideally, you need two people, holding each end, stretching out the tape, and moving multiple times to measure a large room.
So I was delighted, a few months ago, to discover a modern tool that's ideally suited to rapidly measure room dimensions, the Bosch DLR130K Distance Measurer, as shown above [Update May 6, 2017: The DLR130 model has been discontinued; the newer Bosch GLM 35 looks great too!]. The DLR130 unit uses a laser to measure distance; the DLR130K is a kit that includes the unit, a belt pouch, and four AAA batteries.
This little gem is smaller and lighter than my 25′ tape measure. In about a second, it measures distances up to 130′ [40 m.] within 1/16″, not that I need anything that accurate. By standing in the middle of a really large room and measuring the distances to the opposite walls, you can handle room dimensions up to 260′. The unit will calculate area and volume too if, for some reason, you need to. The batteries are claimed to last for 30,000 measurements.
The DLR130K costs around $90 [Update May 6, 2017: The newer GLM 35 sells for $70 without a case]. A high-quality 25′ tape measure costs around $20, so this is a more expensive tool. I think it's worth it.
Perhaps one day, every venue sales manager will supply room dimensions (I can dream). Until then, I'm bringing my new favorite site visit tool with me on every site visit.