How can we entwine content and connection during an online conference?
During a MeetingsCommunity (MeCo) discussion thread "Networking at conferences" last week, Sharon Fisher posted this.
Sharon's post
Hi all,

I am coming in very late to this conversation, but figured it's never too late to share. For the last two years, I have been pondering "why is there such a big separation between content and networking?" Why do we look at those things as two distinctly different offerings? Why are we not blending the two together and looking at holistic ways to accomplish both goals with the same solutions?

And at the same time we being tasked with making our meetings more engaging, so why are so few of us asking 'how do we make content/learning more engaging' – as opposed to looking at those two concepts as different things. We seem to look at engagement as entertainment, décor, seating, venues, etc. (ie: more environmental) but rarely consider other alternatives to making our learning engaging.

Now that we are in the virtual world, I think it's even more critical to stop looking at networking & engagement as something that happens outside of the sessions, and more as participation and conversation within the sessions. And exploring ways to blend education/learning/content with participation/networking/idea sharing/games so as to make our online learning more engaging.

Would love to hear from planners about how we might better integrate the 'content designers/speakers' into the engagement conversation. And to hear what you are doing in this online world to make your meetings more engaging.

Playing on…
As it happened, I'd just completed facilitating an online conference that I think did entwine content and connection. This was my reply to Sharon:
My response
"Hey Sharon,
As you may know, you broach a topic dear to my heart. Why so many continue to relegate content and networking (though I prefer the term connection) to separate activities is related to the human inclination to do things the way we've always done them at meetings. Since I just finished running and facilitating a three-day European/Asian online finance conference for senior executives that I designed (and I didn't have to travel further than the green screen studio in my attic!) I thought it might be helpful to share an outline of how we blended content and connection throughout the event.
Day 1
We ran the event mainly in Zoom, with a couple of other tools that I'll mention. On the first day we used a process I call The Three Questions, which I've used at in-person events for many years. It allows the participants to learn about each other, current content interests, and expertise and experience in the group. The session provides a mix of content and networking, simultaneously uncovering the content people want to cover and the people in the room who are resources for doing so. We split the participants into three breakout rooms for a more intimate session. We scribed the content choices publicly in a single Google doc, viewable by all three groups. Each session also had a scribe to record the expertise and experience of individual participants. From this data we built an inventory of the learning resources at the event.
When this session was over, we immediately introduced the attendees to another tool, Gatherly, which simulates an in-person social online in a simple but effective way.
When you enter the Gatherly "room" you see yourself as a named dot on a room map. Other participants appear as named dots. Click on the map to move next to someone and you join each other in video chat. Your dots become a circle on the map, with the number in the circle showing how many people are in the video chat group. Placing your cursor over the circle shows who's in the chat. Move next to the circle to join the group chat. (You can temporarily "lock" the chat to have a private conversation.)
Gatherly allowed people to meet people they'd heard share in the previous sessions and deepen their connection. We made it available at every break in the conference program.
We took the information gleaned from the opening session and a small group of us used an online whiteboard tool, Miro, to build a conference program for the following day, matching the content wants and needs with the appropriate expert leadership available.
Here's the initial Miro board containing the topics uncovered by The Three Questions and imported into Miro.

And here's the "working" Miro board after the small group had determined the peer sessions to hold.
Day 2
The second day's sessions were not lectures but interactive discussions and explorations, focused on the actual needs of the participants. At the start of each session, we used a simple design to discover what people wanted to learn. The results shaped the session in the ways participants requested. During the sessions, people discovered peers who had relevant knowledge to share, further increasing relevant connection. Gatherly was again available during the breaks and after the day's last session.
Day 3
On the final day, I facilitated a session that started with a trio-share.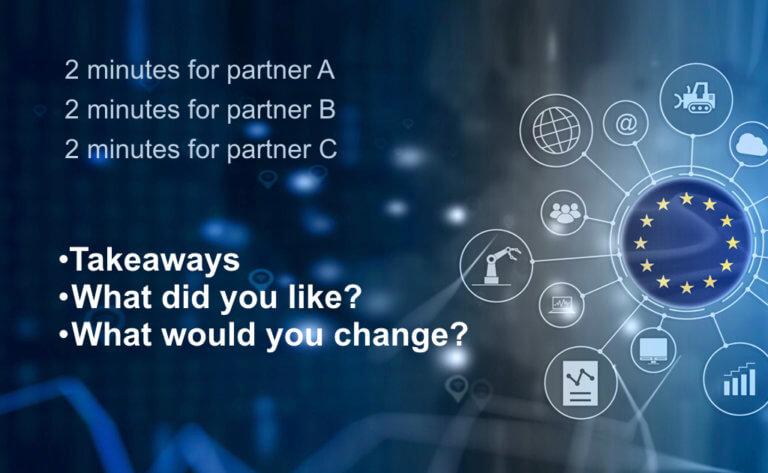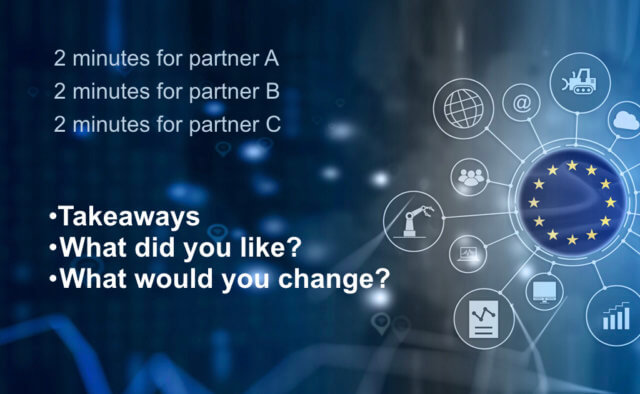 People were moved into breakout rooms in three's, where they briefly shared:
their takeaways;
the aspects of the conference they liked; and
those aspects they would change to make it better.
Then I brought them back into the main Zoom room. There they first shared their positive responses to the event, and then their suggestions for improvements. The latter gave us some great ideas for future meetings. The overall sharing during this session creates a public evaluation of the event and increases group social bonding. This makes future meetings more "can't miss".
After the usual closing remarks and thanks, we ended with a Gatherly social.
Post event, the main conference sponsor wrote. "Better than ordinary conferences – we have made more connections with senior people in the industry. When is the next one?"
I hope this example gives a taste of how content and networking can be organically combined throughout an event in ways that improve the meeting for all: participants and sponsors alike.
—Adrian Segar—"
Entwining content and connection during an online conference isn't hard, and the results are well worth the effort. If you have other suggestions for integrating these two core components of a successful event, please share them in the comment below!