Why do some learning experiences stay burning in our brains and others fade into oblivion? Transformational learning is the key!
I still vividly remember the first Event Camp held on February 6, 2010, in New York City. I learned so much at this one-day event, meeting many progressive meeting industry professionals for the first time and making what have turned out to be lasting connections and friendships.
And I believe that most participants experienced something similar.
Why did we have this shared learning and connecting experience? Was there a critical factor that made this meeting such a transformational experience?
Emotional connection
While reading J. Scott Wagner's wonderful book The Liberal's Guide to Conservatives — a must-read for liberals and conservatives who want to communicate better with each other — I came across a passage that answers these questions:
"It's easy to forget that inspiration is the only voluntary catalyst for transformation.

There's only one way I've found that our adult unconscious mind can consistently be inspired to shed…heuristics and biases and learn something challenging from someone else. It's actually miraculously easy, often: we experience a positive emotional connection together."
—J. Scott Wagner, The Liberal's Guide to Conservatives
Scott is not talking here about our routine day-to-day right-brain learning. Rather he is describing transformational learning, the kind where real change can occur in how we view the world and our experience of it. He says, and I agree, that a positive emotional experience of connection inspires transformational learning.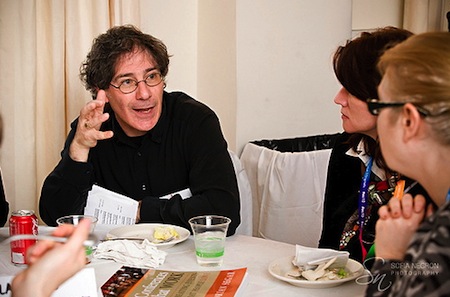 That's what happened at Event Camp 2010. We came together for the first time and discovered kindred souls who were thirsting to learn and share about how to make meetings better. And in one day, our positive emotional connection changed our preconceptions of what meetings could be.
The original participants at the first edACCESS conference, which I and others convened in 1992, felt the same way. The experience of this early peer conference led to an annual conference that's still thriving 31 years later. Over time it has become clear that the driving force behind the event's success has been how its design fosters participants' positive emotional experiences, creating and supporting opportunities for transformational change in how the professional attendees view and do their work.
Fostering learning experiences
Traditional meetings don't treat sessions as times to foster positive emotional learning experiences but as times to learn from lectures. So, at such meetings, positive emotional experiences are restricted to not-sessions-socials and not-sessions-entertainment. The official learning opportunities are segregated from exactly the kind of environments that can make them inspirational and transformative.
Paradoxically, we design special events to create positive emotional experiences — but special events don't focus on learning! Rather, to inspire transformational learning, you need to create conferences and conference sessions designed around appropriate positive emotional experiences that relate to the real learning wants and needs of the participants. Do this, and you'll discover how powerful, transformational, and unforgettable meetings can be!