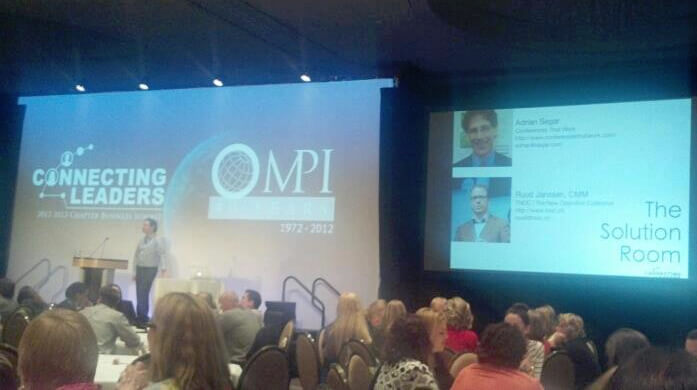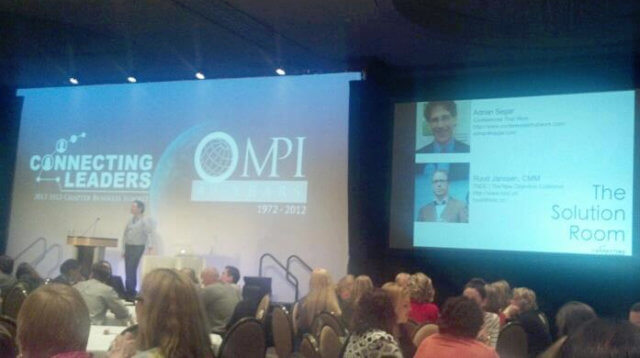 The Solution Room is rapidly becoming a popular meeting plenary. Invented at MPI's 2011 European Meetings and Events Conference, the session fosters active meaningful connections between attendees, and provides peer support and solutions to the real professional challenges currently faced by participants.
Participants rate The Solution Room useful and valuable. They really enjoy the opportunity to meet a small group of peers in a safe, intimate, and relevant manner, and be both a consultant and a consultee on a current professional challenge each group member chooses. Here are testimonials from an MPI session:
Unlike many participatory formats, The Solution Room scales beautifully, whether there are 30 or 1,000 people in the room. The resources needed are modest: paper-covered small roundtables, colored Sharpies, sound reinforcement, and a good facilitator.
Although the format was originally conceived as a closing session, I've found it to be a great opening plenary, especially if time or space constraints prohibit running The Three Questions roundtables. By ensuring that each small group contains a mixture of newcomers, experienced, and veteran professionals, first-time attendees get to know peers with industry experience (and the veterans often learn a thing or two from the younger folks at their table).
You can tell that Solution Room sessions are a success when they end — and no one leaves. Instead, the small groups go on talking about everything they've discussed; they don't want to stop sharing. I see a lot of enthusiastic business card swapping at the end. Participants tell me that they made valuable long-term connections through the meeting and sharing that took place during the session.
Want to learn  more about how to incorporate The Solution Room into your next event? You'll find everything you need to know to run The Solution Room in Chapter 34 of The Power of Participation. Or contact me — I'd love to facilitate a session for you!