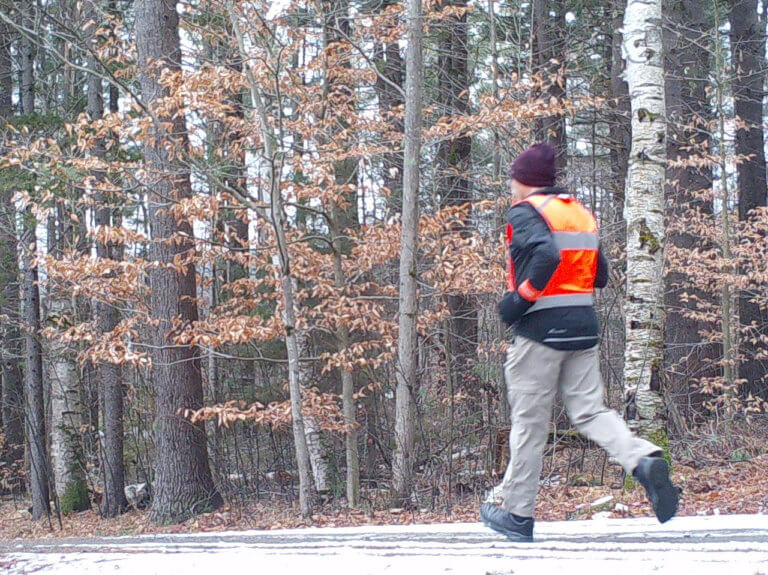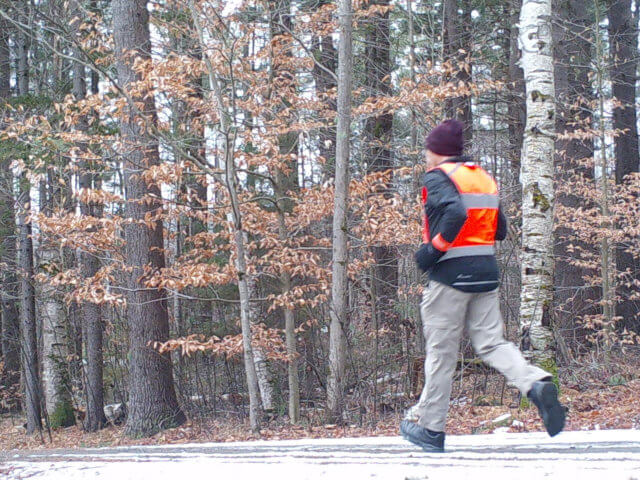 Exactly one year ago, at the age of 68, I started running daily for the first time in my life. Since then, I've shared a few things learned along the way. Today I thought: why not provide a seasonal guide to what I wear for running?
[Note: There are no affiliate links in this post (or on this website), and I have no connection with any of the sellers or companies mentioned.]
How far do I run?
If you're looking for advice from a grizzled running veteran who thinks nothing of a quick fifteen mile run before breakfast, you've come to the wrong place. I live in rural Vermont on a moderately hilly dirt road that's quiet enough for me to run a couple of miles daily. I see one or two cars a day, and two or three pedestrians a year. Pre-pandemic, I traveled fairly frequently for my work as a consultant on meeting design and facilitator of meetings, and would try to run a couple of miles every day, wherever I was. Over the last year, that's included Arizona (at 5,000′ elevation), the Caribbean, Boston, Estonia, Washington, D.C., France, New Mexico, and Texas.
Environment
Obviously, what you wear to run depends on where you live, and the associated weather.
Temperatures in Vermont range from 0 – 90 °F. My driveway and the road are plowed fairly reliably, so snow is rarely a problem (though ice definitely is).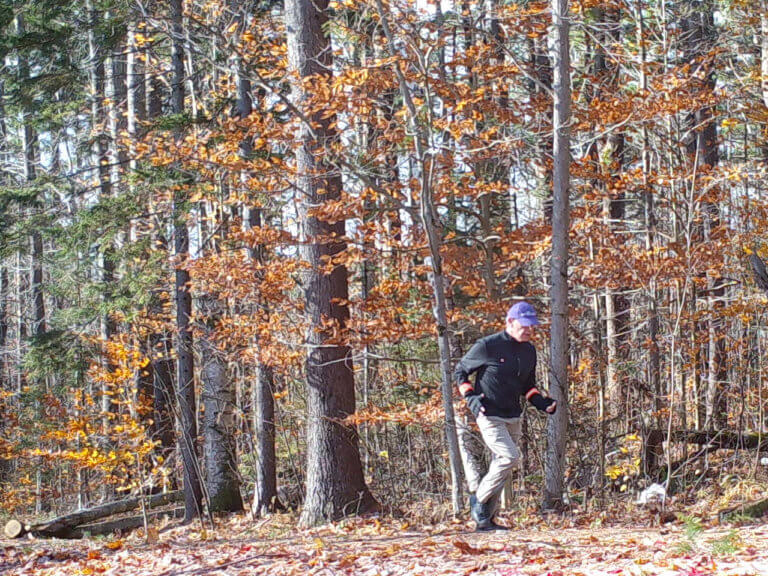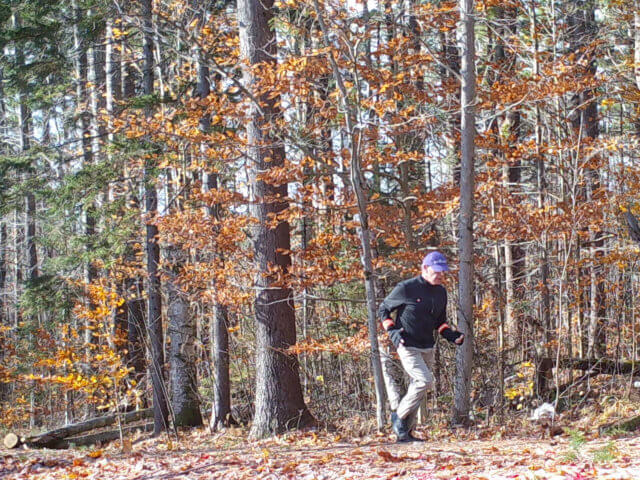 I've divided my running gear into three sections: year-round, summer, and winter. Despite the jokes about Vermont's five seasons (Almost Winter • Winter • Still Winter • Mud Season • Road Construction) we do have spring and fall seasons too. During these seasons I switch between the gear below as needed.
Year-round gear
All three items in this section are, to some extent, a matter of taste. For a casual runner like me, comfort is the most important consideration — I'm not trying to break any records or compete with other runners.
Underwear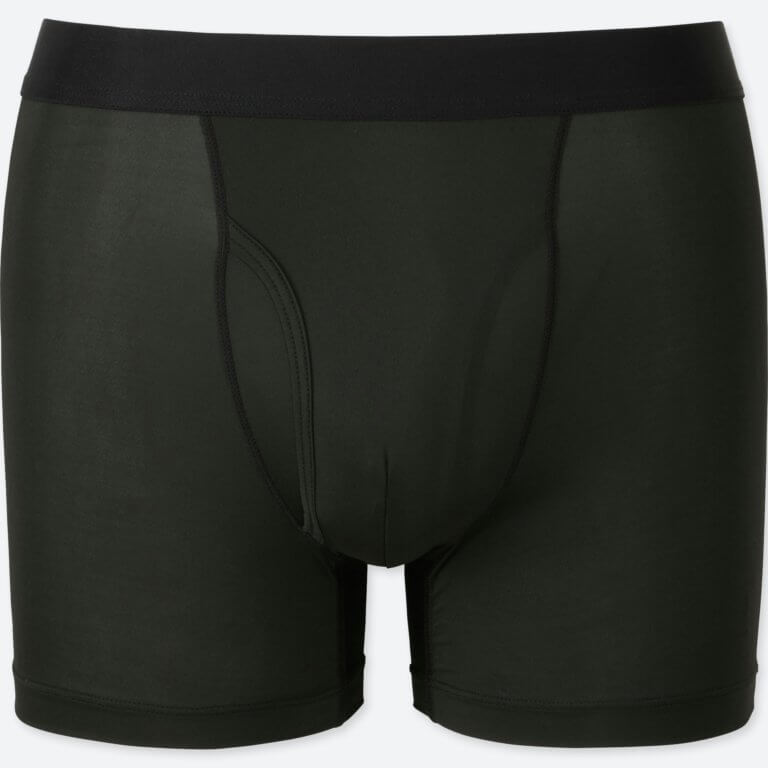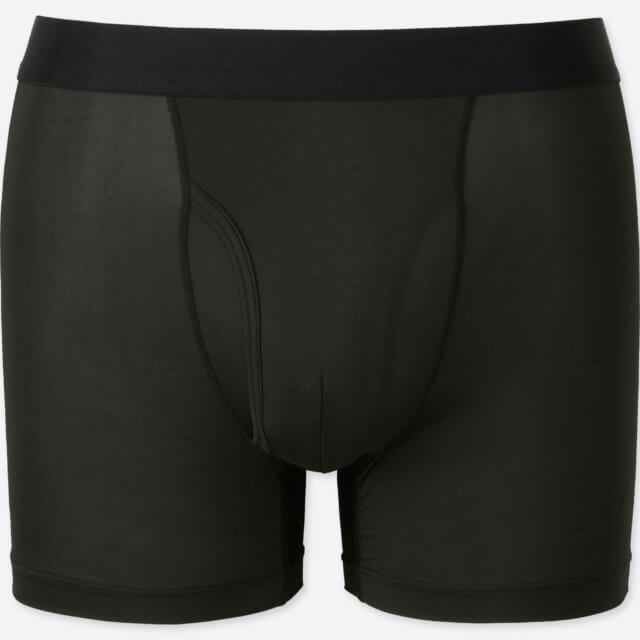 I'm a recent convert to high-tech fabrics for underwear, shirts, and tights. I love Uniqlo's underwear, not only for running but also for everyday wear. Why? It's incredibly lightweight and comfortable, and it can be worn several sweaty days in a row, drying out on a hook, rack, or line each day, before it needs a wash. I wear their Airism Boxer Briefs: one pair for running, and another for the post-shower rest of the day (~$15).
Socks
Wear what's comfortable for you. For me that's thick socks: long ones in the winter, short ones in the summer. I'm very happy with the inexpensive EnerWear Cotton Moisture Wicking Heavy Cushion Crew Socks (long) and Gold Toe Cotton Quarter Athletic Socks (short).
Those are just suggestions; buy what's comfortable for you.
Shoes
OK, many are going to be unhappy with what I am wearing. I have extremely wide feet (5E or 6E or XX, depending on manufacturer). Since almost all the fancy running shoe brands are not available in this width, I'm restricted to a few manufacturers. Major brands of extra wide shoes are Propét, Altra, and some New Balance models. Be careful if you have wide feet like me; many manufacturer's "extra wide" shoes simply aren't wide enough.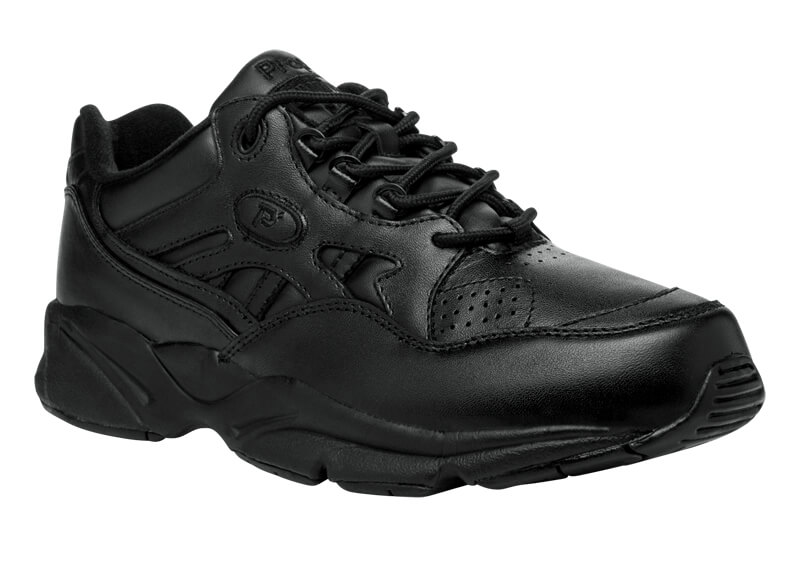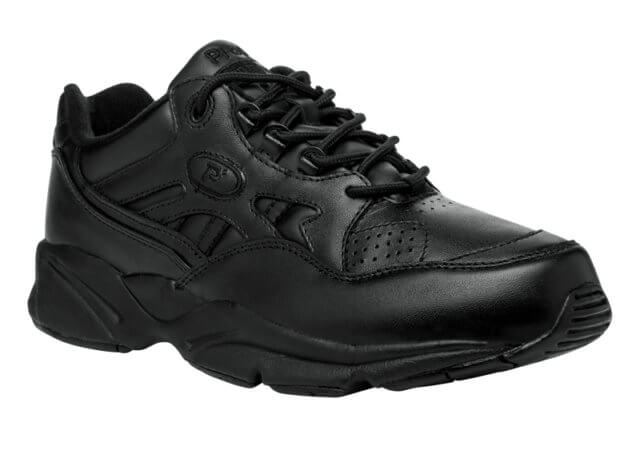 If you're still with me, my go-to shoe for walking and running is the Propét Stability Walker. Its 5E (XX) fitting is extremely comfortable, and the shoe holds up well for extensive walking and casual running. I've linked to the shoe on Propét's website, but you can buy them in numerous retail and online stores ($70 – $90).
Summer gear
T-shirts
I used to buy cheap cotton t-shirts. No more! For a trip to Australia in 2018 I splurged on some fancy Ably t-shirts. Now I rarely wear anything else. [No, they didn't pay me to write that.] All Ably clothing is treated to be odor-free and stain resistant, so less washing is needed, and the clothes look good even after wearing them for two or three days in a row. Their Tourist Pocket-less Tees have lasted me several years before the collar looks ratty. Expensive (~$50) but recommended!
Compression shorts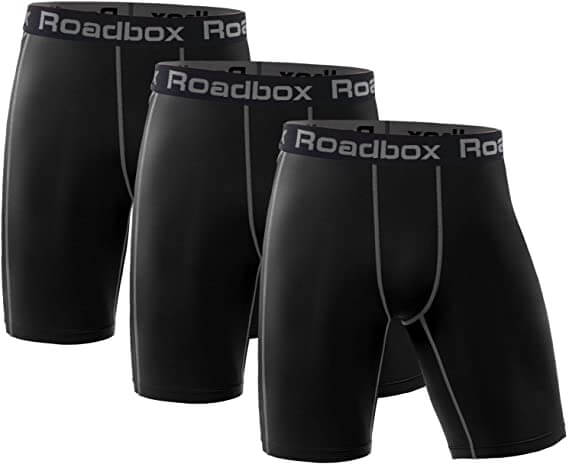 I'm a big fan of Roadbox compression shorts for summer running. They are made of moisture-wicking spandex, and far more comfortable than old-fashioned cotton running shorts. You can wear something over them if you want, but there's no problem wearing them in public with nothing on top (~$7).
Deerfly patches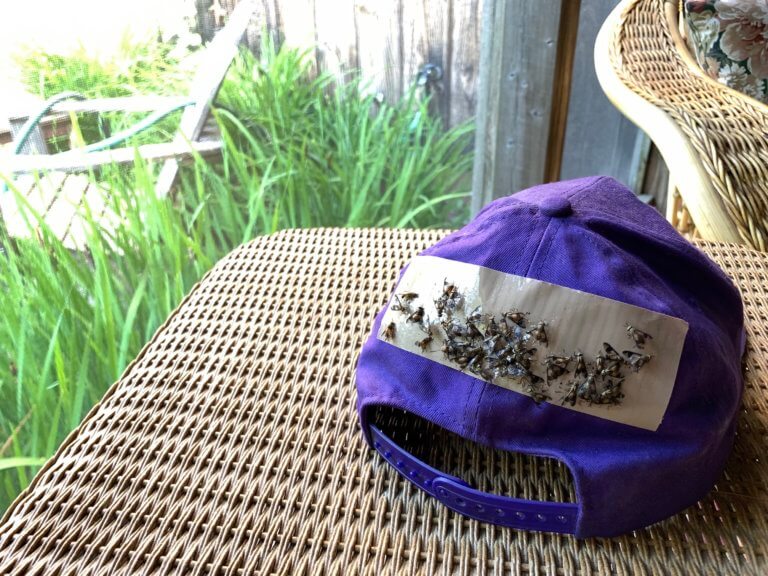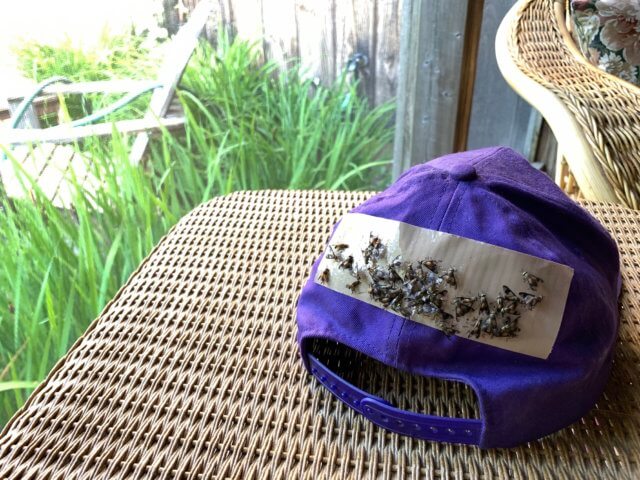 I don't run long enough in the summer to need a hat, especially since trees shade my regular route. Where I live, however, deerflies are a pesky annoyance between June and August, constantly whirling around your head and occasionally biting you. So I don a ball cap with an ingenious TredNot Deerfly Patch stuck on the back. The sticky patch attracts and catches the insects and is effective for a few days. Now I'm rarely bitten (~$1/patch).
Winter gear
Let's start at the top and work down!
Headwear
Hats
For temperatures down to about 20°F, any kind of hat will do. I wear a thin Igloo "waffle stitch" hat (~$10). It's comfortable and doesn't take up much room in a pocket, so I can take it off mid-run and store it if I'm getting too hot.
When it's really cold I wear a hat from a company that no longer exists — Perigee Sportswear in Minneapolis — which is not much help to you if you're in the market for a great cold-weather hat. But let me share why I like it, so you can find an equivalent. Since my ears get cold easily, this style of hat works well for me. It's a thick "trapper-style" polyester hat with long earflaps that can be velcroed together under the chin. If it's warmer, I can velcro the earflaps to each other at the top of my head. Ugly, but very functional.
Face mask
When it's really cold, I need protection for my face. This wouldn't be a hard problem to solve — except I wear glasses. As every glasses-wearing, cold weather runner/cyclist knows, most face masks have an annoying tendency to leak warm breath right onto your glasses, which promptly fog up.
Running when you can't see where you're going is a drag.
I haven't found a perfect solution for this. And I'm not alone.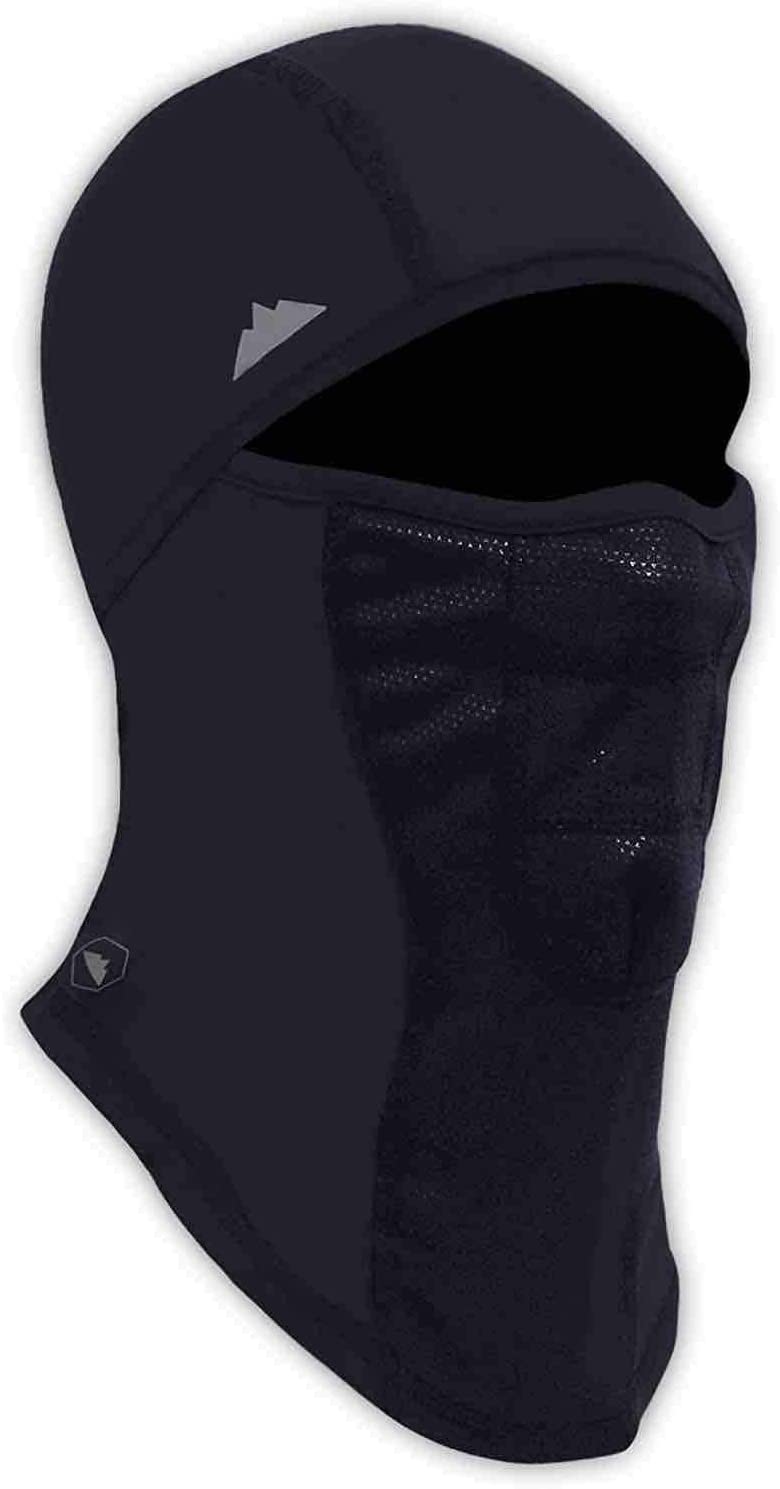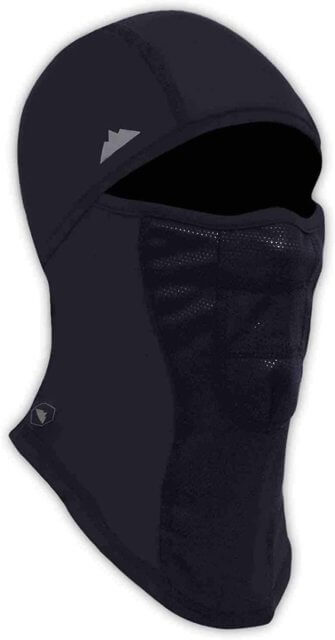 My eyesight isn't too bad, so one approach is to take off my glasses while running. If I do this, a Tough Outfitters Balaclava Ski Mask (~$10) works well keeping my face warm (together with my trapper hat mentioned above).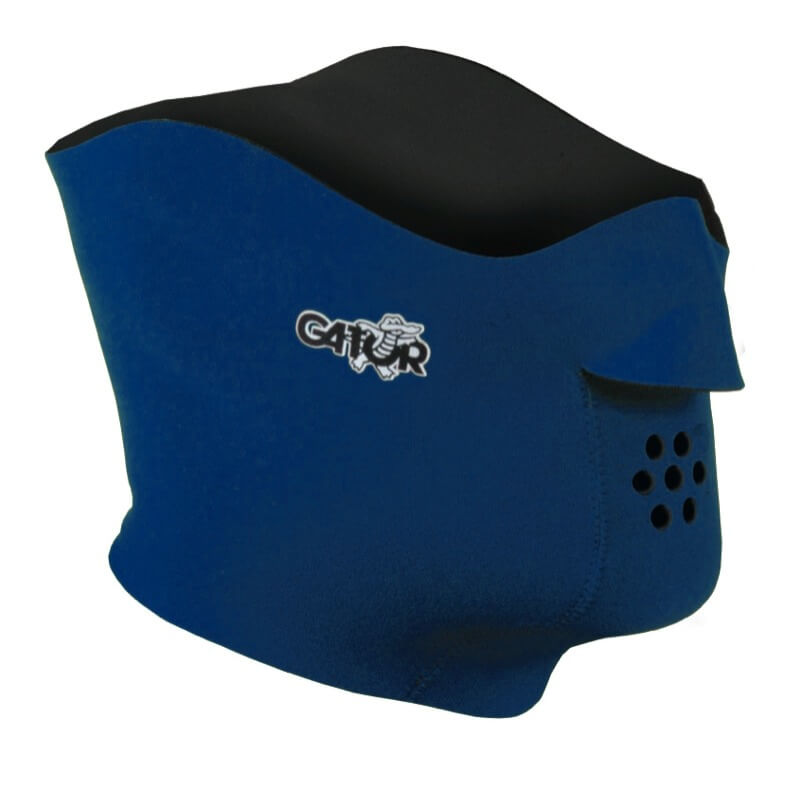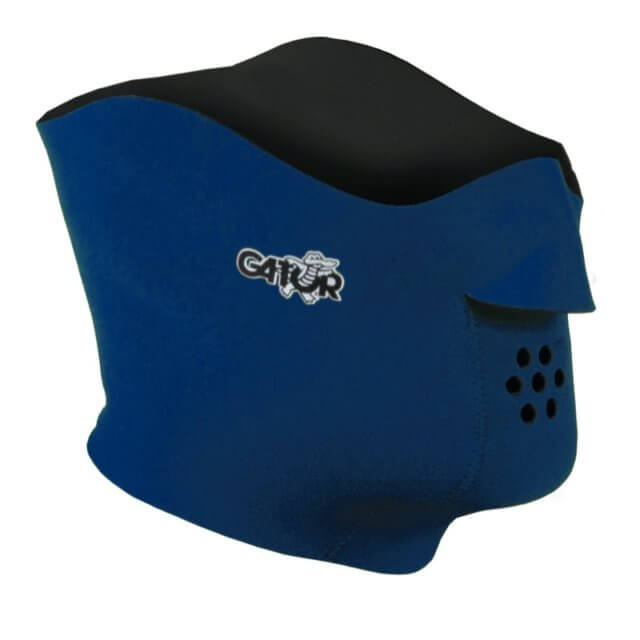 Under the circumstances, the best face mask I've found is the Gator Face Protector (~$15). The neoprene seal helps minimize the leakage of breath onto my glasses, but they still fog up more than I would like.
Torso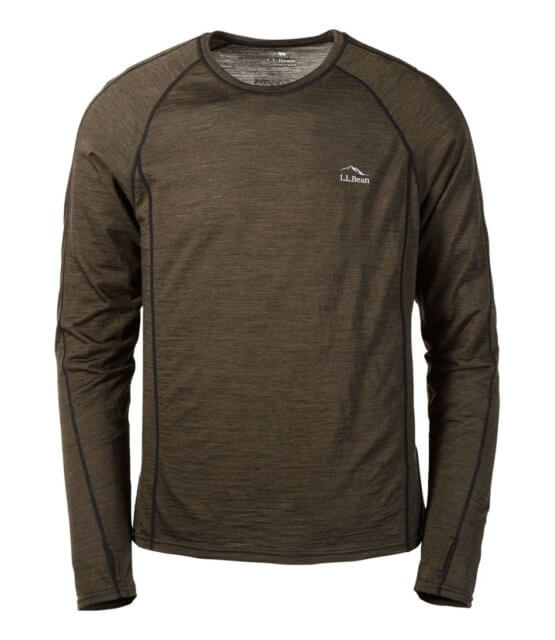 When it gets cold I like to wear a warm but lightweight long sleeved top, and I've been very happy with L.L.Bean's Men's Cresta Wool Ultralight 150 Base Layer, Long-Sleeve, either by itself, or, when it's really cold, as a base layer. It's very comfortable, and made of merino wool. Although the wool isn't treated in any way, the shirt dries quickly after a run and can be worn several days in a row before it needs laundering (~$60).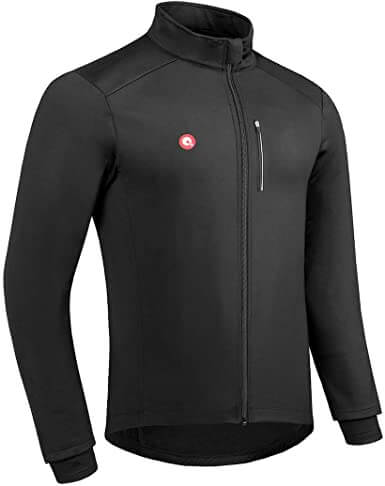 No matter how cold it gets where I live, the only outer layer I've ever needed to wear over the above shirt is a Przewalski thermal windbreaker jacket. This is a great product that is lightweight, comfortable, well ventilated, and, during my short runs, wind and waterproof (~$35). Highly recommended!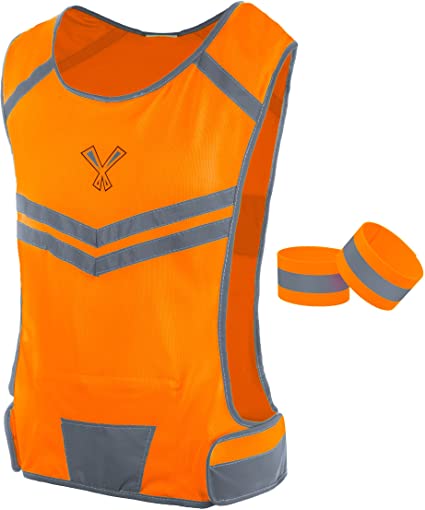 I run during the day, and there's so little traffic on our dirt road that I generally don't worry about cars seeing me. But, in Vermont we have this little thing called "hunting season". As I don't want to be mistaken for a deer, bear, or moose, I wear a 247 Viz reflective vest and armbands when hunters are about (~$20). And I usually keep the reflective armbands on my jacket, even when hunting is illegal. Just to be sure…
Gloves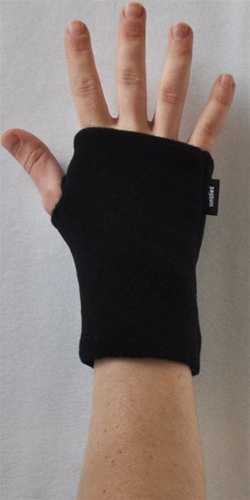 At my age my hands get cold pretty easily (well, far more easily than they used to). So I wear various combinations of hand coverings depending on the temperature. When my hands need a little help, I wear a pair of Wristies Short Wristies.
When it's a little colder, I add a pair of generic fingered gloves over the Wristies.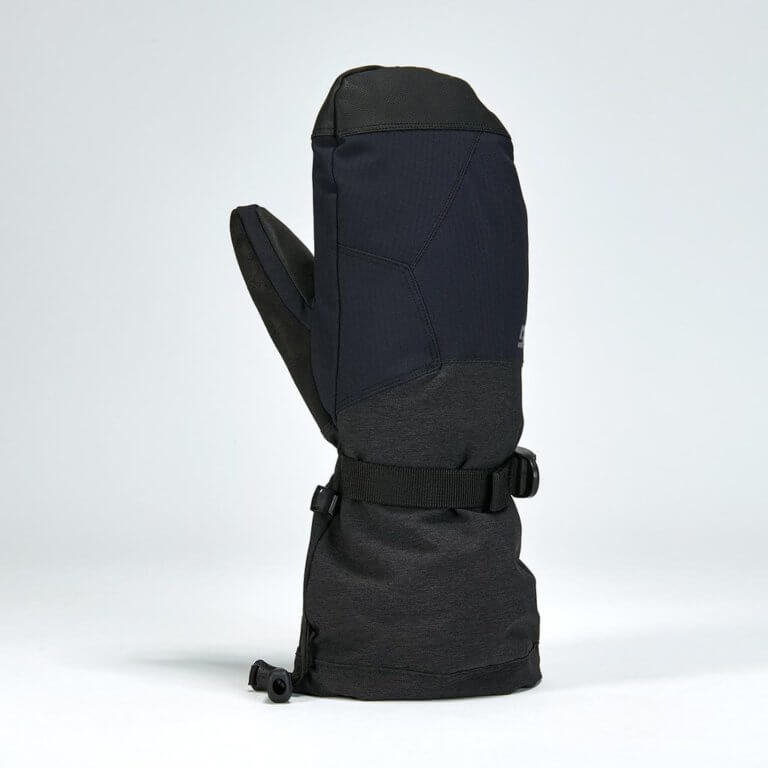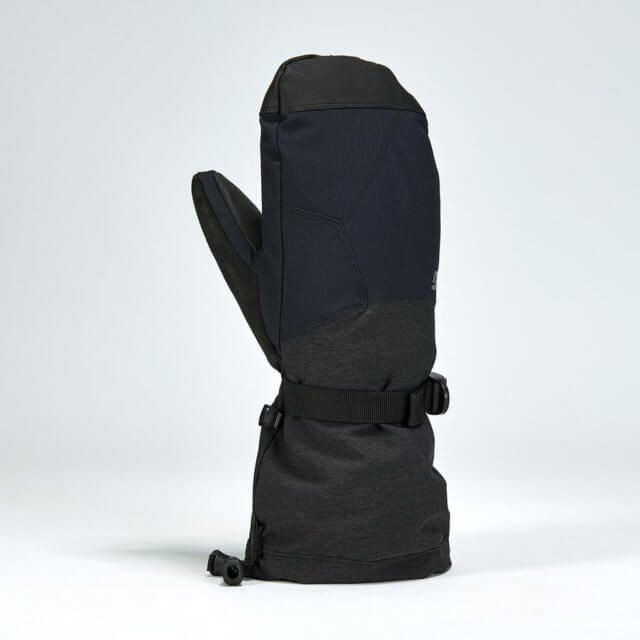 And when it's really cold I break out the big boys: a pair of Gordini AquaBloc® Down Gauntlet III Mitts (~$55). They do the job!
Legs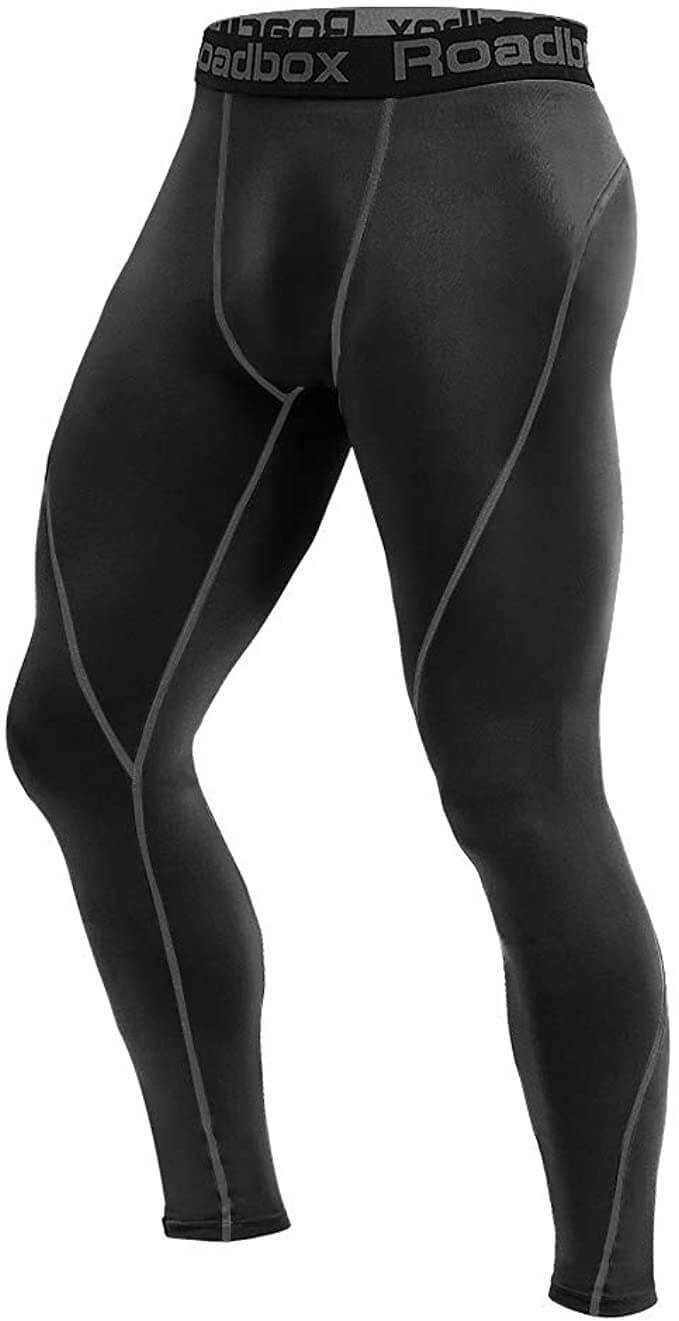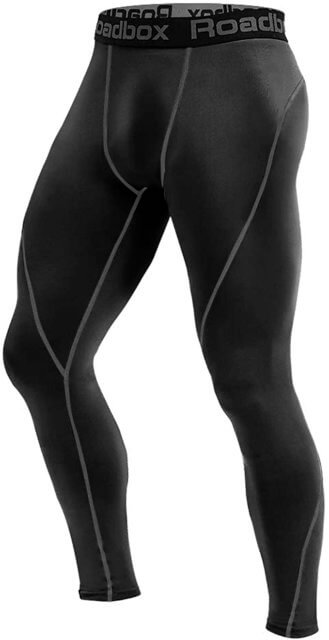 During the spring and fall I wear a pair of Roadbox compression pants, which provide for cooler temperatures the same comfort as my summer compression shorts (~$10).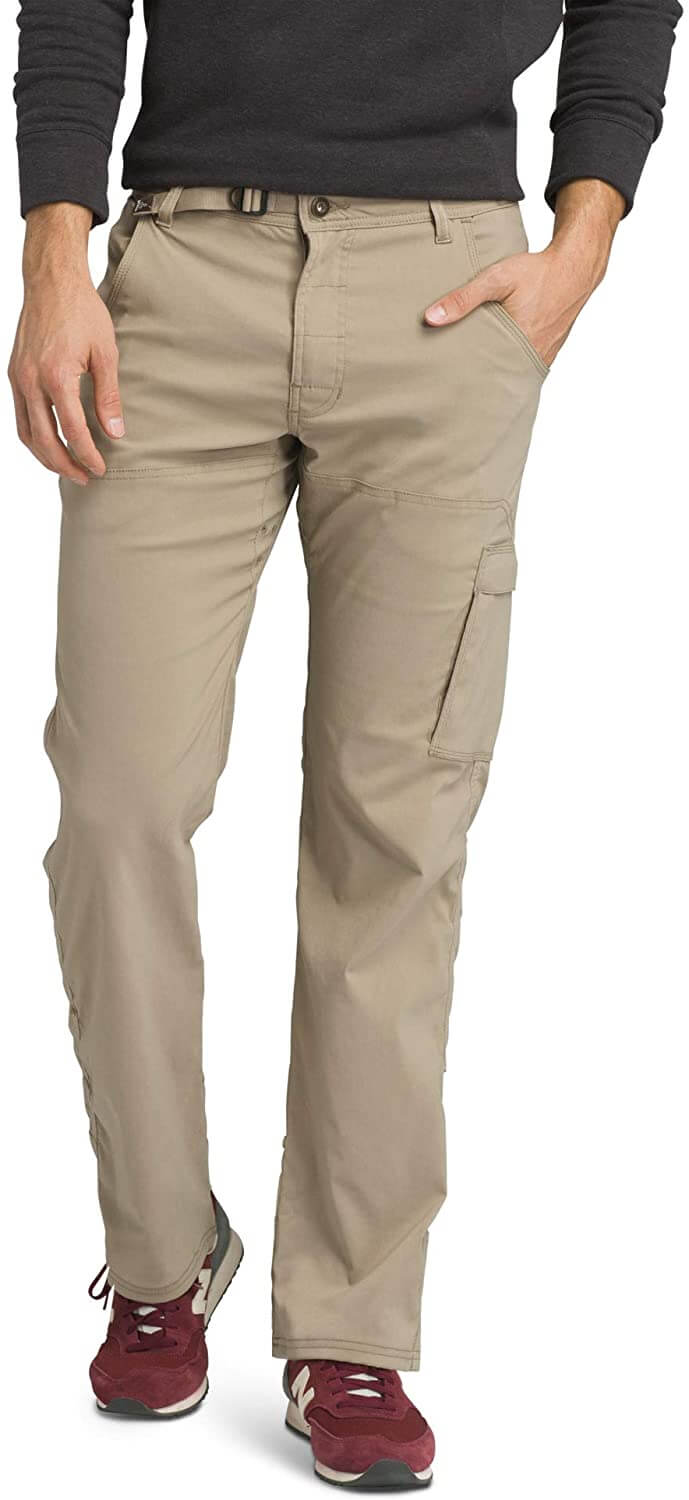 And when it's colder, I'll add another Australia trip find: prAna Stretch Zion Pants. These pants are 97% Nylon, 3% Spandex canvas, and have a water repellent treatment. They are not the most stylish pants in the world, but they are lightweight, made of incredibly tough fabric, comfortable, of course, and a pair of them lasts me for years. You can roll up the legs and keep 'em rolled up with snaps if you want, but I never do. I wear these pants (not the same pair) when I'm not running too (~$90; some colors and sizes cost more and some less).
Feet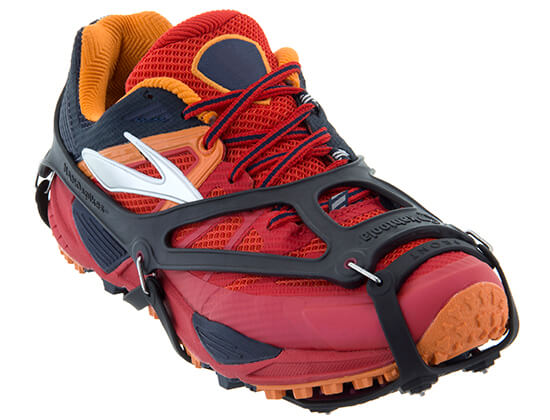 I've saved the best for last. These things are so good I've already written about them: The most important thing to wear for winter running. Read the post to find out why, if you run on ice or snow, you need a pair of Kahtoola NANOspikes. I keep a pair of my Propét shoes (see above) with these beauties strapped on all winter. Don't leave home and run without them.
Conclusion
Wow, that was a longer post than I expected! I hope this review has been helpful for anyone like me who wants some guidance on what to wear when running. And I expect that some readers will have their own suggestions on what to wear; perhaps items you've found to be superior, less expensive, etc.
I'd love to hear what you think! Please share your thoughts in the comments below.