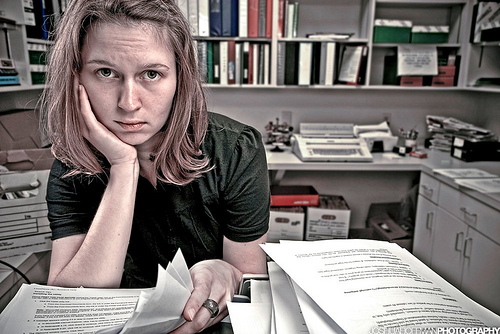 Over and over again, attendees report in conference evaluations that the predetermined program was a poor fit to what they would have liked to have happen. In my experience, the average participant gives lukewarm ratings to over half of the sessions available to them at a conventional conference. In other words, predetermined programs don't work.
How can we do better?
One obvious approach is to poll attendees before the conference. Nearly all conscientious event planners do this.
The problem is, asking your attendees for their input on the upcoming conference program simply doesn't work very well. Here's why:
Attendees are busy people
Attendees, like all of us, are busy people. How many of yours are going to fill out a long (or even a short) questionnaire about what they want at an event that's happening six months from now? Not many. Even if you force them to answer as part of the registration process, how much time are they going to spend to really think about the three most important topics they'd like you to offer? Sure, a minority of attendees will be conscientious and may give you some good ideas. But do you know if they represent an unbiased sample of your attendees? Do you want to base your conference program on their responses?
Six months is an eternity
Most food goes stale. (OK, Twinkies don't, but how many of us enjoy eating Twinkies?) Similarly, most conference topics have expiration dates. The topic that's hot now may be cold by the time your conference rolls around. So even if lots of your attendees tell you they're really into sushi now, it may be Cambodian Cha knyey when it's time to actually sit down for the conference meal.
What do you want to talk about now?
There's a world of difference between a response to the question "What do you want" when it's asked about the distant future and when it's asked about what you want in the next five minutes. At Conferences That Work, when the roundtable facilitator announces that, in five minutes, people will start to answer three questions out loud to everyone present, minds become wonderfully concentrated. That's when you find out what attendees really want. Not before.
Conclusion
I'm not saying we should give up asking in advance what attendees want in a conference program. Sometimes you'll get good suggestions for conference presenters or session topics that you can turn into valuable sessions at the event. But you'll rarely be able to create the bulk of a conference program that fits as well as one that's created at the event.
So, don't sweat about creating the perfect conference program in advance. Remember, predetermined programs don't work. Instead, relax. Use event crowdsourcing to ask your attendees what they want. Your attendees will build the best program possible themselves—and they'll thank you for the opportunity!
Image attribution: http://www.flickr.com/photos/joshuacraig/ / CC BY-ND 2.0