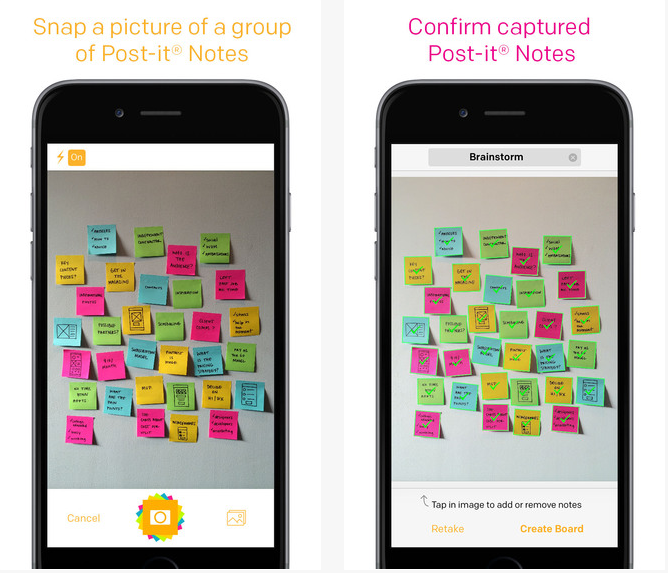 When facilitating, I often use sticky notes as a flexible tool that allows movement from individual work => small group work => a visual summary for an entire group. 3M has just released a useful free tool for iDevices running IOS 8, Post-It Plus, that organizes and documents the results of such activities, which otherwise tend to end up as untidy rolled-up sheets of flip-chart paper or hard-to-categorize digital photographs.
I ran a quick test of the app on a year-old flip-chart sheet with stick notes scattered hither and yon. Post-It Plus quickly identified all the notes (it superimposes a checkmark on each one it recognizes.) If a note is missed you can tap on it to expand it, and adjust the edges. Tap Done and the note will  be added to the collection. Once you've captured all the notes, you can create a Board that holds them.
But that's just the start. Each Board can contain multiple Groups. Tap and hold a note to move it to a new Group. When you've categorized notes as desired, you can name your Boards and Groups appropriately and share them via iMessage, email, Twitter, and Facebook. You can also save them to your photo library, or export them to pdf, PowerPoint, Excel, or as an image. If you link the app to your paid Evernote account, you can use Evernote's OCR capability to make all your notes searchable. Integration with other apps, like Dropbox, are also possible, though I didn't explore this.
Before digital photography, sticky note process was essentially an in-the-moment facilitation tool. Today, even though it's simple to capture images of a group's wall work, manipulating the ideas shown afterwards is tedious and rarely done (well, to be honest, I never have taken the time to do so.)
Post-It Plus makes further categorizing and analysis of notes post-session just about as simple as possible. The sharing and export functions make it easy to communicate uncovered themes to others. Use this app to extract more value from the rich information exposed by group sticky note process. Post-It Plus is a tool with great potential—and you can't beat the price!
Want to try out Post-It Plus? Download the free app here.