At a Marlboro Music Festival rehearsal last week, I heard the words entrance and layer used in a single sentence. And it made me think about meeting design.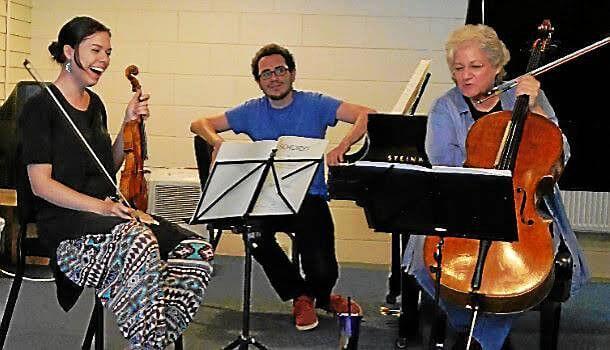 The rehearsal
On August 8, my wife and I attended a rehearsal of Beethoven's String Quartet, Op. 132 at the 2021 Marlboro Music Festival. Such free rehearsals give the casual audience an opportunity to hear world-class musicians play and learn together. They are very different from a formal concert, and surprisingly, in some ways, better!
After the start of (I think) the third movement, the players stopped, and I heard the cellist Marcy Rosen — "one of the intimate art's abiding treasures" — say:
"It's not an entrance, it's a layer."
—Cellist Marcy Rosen
They began again.
I heard the difference.
Instead of creating a transition, an entrance to the movement, they created a shimmering context, a layer.
And, me being me, I thought about what Marcy had just said in the context of meeting design.
It's not an entrance it's a layer
As spectators, our lives are full of transitions.
And meetings are no exception.
The session ends. A social begins. A chime marks the end of hallway conversations, and we walk to another room to listen to someone else.
When we're spectators, we notice transitions.
But when we are fully engaged in a meeting, we are just there, immersed in and responding to what is happening. We aren't looking at our watches or phones. We aren't thinking about where we'll go for lunch. Instead, we are in the moment, living in a layer of context.
The art and craft of the meeting designer
It's a meeting designer's job to create these contextual layers. Each layer is an environment that supports and enables full participation in and active experience of what's going on.
A good example of a key meeting layer is safety.
A layer of safety
We don't hold meetings in burning buildings, on rapidly melting ice floes, or in the middle of a sandstorm. Attendees want to feel safe. But even when our meeting venues are conventionally safe places, they may not feel emotionally safe for attendees to participate in what is going on.
A good meeting designer and facilitator knows this, and designs to create and support emotional safety for participants. For example, they may model participation throughout the event, and allow participants to opt out of any activity. They can also create a culture of listening, obtain agreement on group-wide covenants, strive to give clear instructions, and provide process that is comfortable for introverts.
Designs that incorporate optimal protective process provide an important layer of safety that maximizes participants' levels of comfort and their readiness to participate in the event.
Other important layers at a meeting
Other important process layers at a meeting include:
Incorporating event crowdsourcing which allows participants to design the event and sessions they want and need; and
The design of the conference arc, which includes everything necessary for participants to discover, learn, connect, and engage around the topics or issues that brought them together.
And the traditional layers that professional meeting planners provide:
Consistent quality of service and experience, e.g., food and beverage, decor, and production;
Reliable, timely, and clear information about the program, sessions, meals, exhibits, and socials.
A comfortable physical environment throughout the event.
Focus on layers as well as transitions
Sometime, meeting stakeholders concentrate on the transitions at meetings at the expense of the layers. It's tempting to focus on creating dramatic build-ups to peak moments, or how we will then move participants to an outdoor social. While a session or social is taking place, we may get a little breathing space. Our planning energy switches to preparing for the next transition.
Of courser, transitions during a meeting are both unavoidable and important. But unduly focusing on them at your event can lead planners to overlook the value of creating an environment that powerfully engages participants and builds significant connections between them.
By also focusing on the meeting layers I've identified above, you'll create an improved environment that will amplify value for participants and stakeholders throughout and after your event.
Image attribution: Journal Register Co.