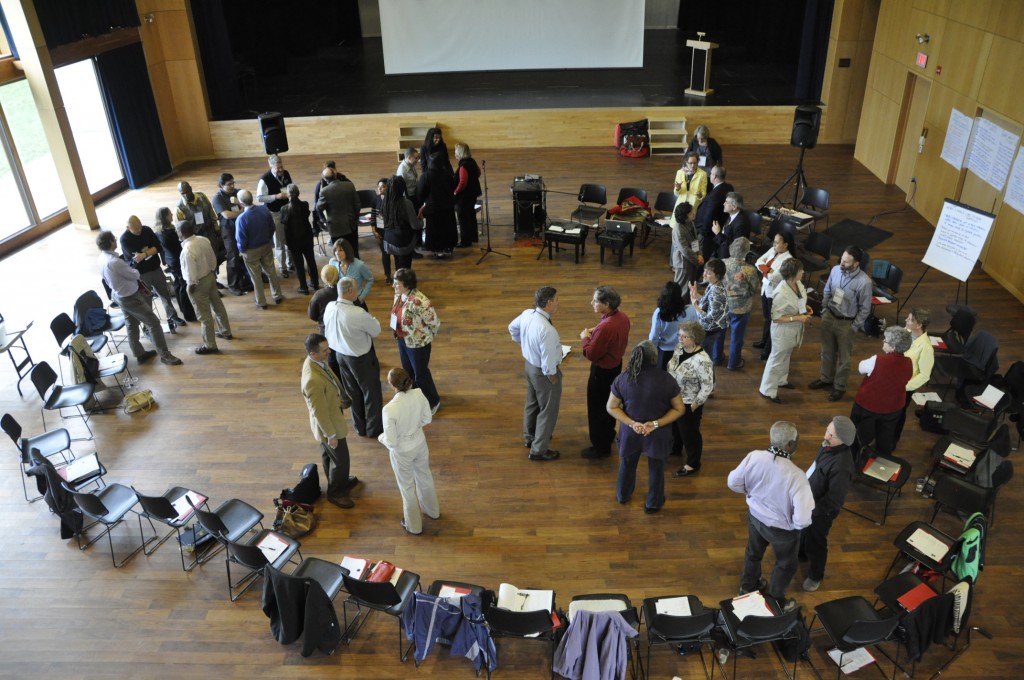 The Power of Participation.
Take a look at the above photo.
Do you routinely get this level of interaction at your conferences?
If not (and even if you do) you may be interested in my book, The Power of Participation: Creating Conferences That Deliver Learning, Connection, Engagement, and Action, which explains how participation enhances learning, sharing, and connection, and provides presenters and event organizers with a compendium of powerful low/no-tech participatory techniques that can greatly improve any conference session.
Here's the outline:
Part One
Eliminate Attendees At Your Meetings!

– Get on your feet!
– Meetings are a mess—and how they got that way
– Why participation is so important for today's meetings
– Active learning
– Connection
– Engagement and community-building
– Action
– Wishes
Part Two
Creating An Environment For Participation
– Introduction
– Badge design
– Meals
– The event space
– Seating
– Information display
– Safety
– Ground rules
– Play and fun
– Facilitation
– Small group selection
– Getting attention
– Timing
– Asking questions
– White space techniques
– The conference arc
– The conference metaphor
– Giving up control
Part Three
Participation techniques overview
– How to use this compendium of techniques
– Techniques glossary
– Techniques table
– Techniques by goal
– Techniques by conference phase
– Techniques by group size
Techniques for encouraging connection outside conference sessions
Openers
– The Three Questions
– Roundtable
– Human Spectrograms
– The Solution Room
– Post It!
Middles
– Small Group Discussions
– Pair Share
– Guided discussions
– Open Space
– World Café
– Fishbowl
– Affinity Grouping
– Participatory Voting
– Voting considerations
– Hand/Stand Voting
– Roman Voting
– Card Voting
– Table Voting
– Dot Voting
– Anonymous Voting
– Creating Learning Opportunities
– Short Form Presentations
– Case Studies and Simulations
Endings – Consolidating learning and moving to outcomes

– Pro Action Café
– Plus/Delta
– Personal Introspective
– Group Spective
– Closing Rituals
Resources
Buy it today!