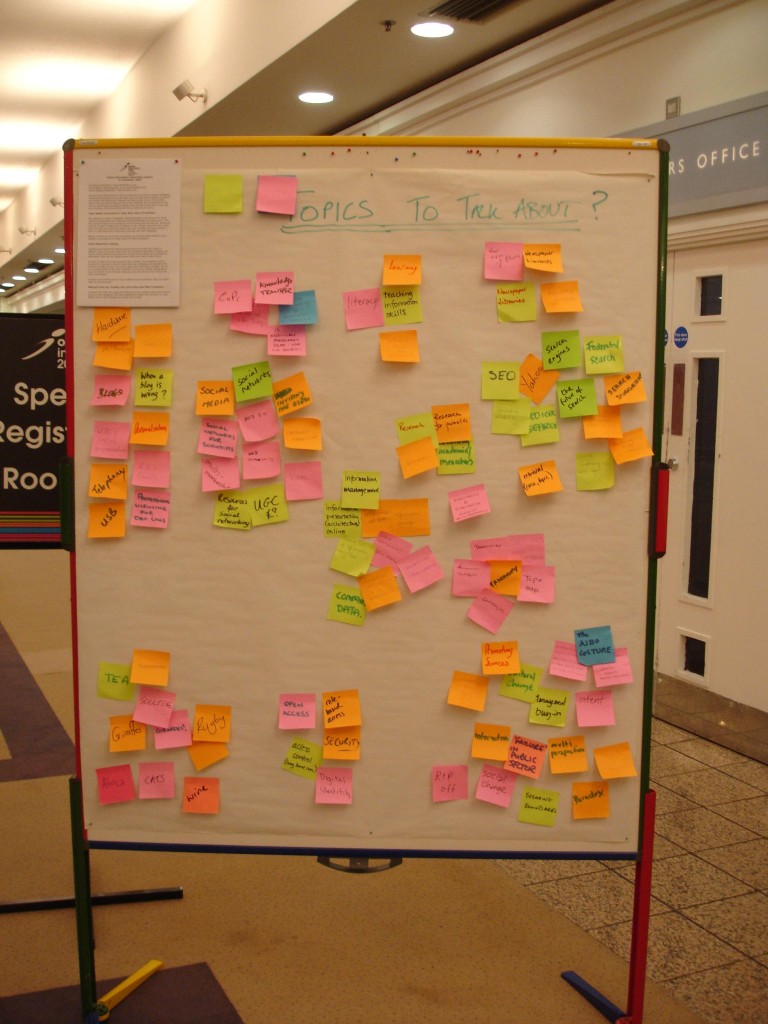 Ever wanted a way to find out what attendees want to talk about? Post It! is what you need. It's a simple technique you can use for:
All the attendees at an event.
Breakout groups discussing a specialty set of topics.
A single conference session.
If you're a conference presenter with an audience of less than 50 people, you can use Post It! to rapidly discover audience interests and to help decide what those present would like to hear about.
Alternatively, Post It! provides an effective and efficient way for a group to learn and reflect on its members' interests. If you need to process in more detail the topics uncovered, consider using the affinity grouping technique described in Conferences That Work: Creating Events That People Love (and my upcoming book too).
When
Run Post It! at the opening of an event, breakout group, or a single session.
Resources
It is surely no surprise that you'll need one or more sticky notes (e.g. Post-it® brand) for each participant. If you're using Post It! for a presenter tool at a single session, supply a single 2" x 3" note to each attendee. For a group display of topics, supply one to four 6" x 8" (preferred size) notes, or 3" x 5" notes if posting space is limited.
Make sure that you have sufficient pens available. Fine tip marker pens are best.
Finally, you'll need clear, accessible wall or notice board space where notes can be posted. Walls should be smooth and clean, as sticky notes don't adhere well to rough or dirty surfaces. If you're using Post It! as a presenter tool, the posting area should be close to where you are standing in the room so you can easily refer to it.
How a presenter can use Post It! to learn what attendees want to talk about
Before the session begins, give each participant a single sticky note and a pen. Ask the audience to write down the one topic they would like explored or question they would like answered during the session. Give everyone a couple of minutes to write their response and collect the notes as they are completed. As you collect the notes, browse their contents and mentally categorize their contents into broad themes. For example, some attendees ask specific questions, some may want an overview of your topic, and some may want you to cover one particular aspect. Once all the notes have been collected, briefly read each note out loud and add it to a cluster of similar notes on the wall next to you. You may find a note that is unique and needs to be placed by itself.
Once all the notes have been stuck on the wall, it should be clear to both you and your audience what the group is interested in. Don't feel obliged to cover everything mentioned. Instead, use the notes to make a plan of how you will spend your time with the group. Describe your plan briefly, and apologize for topics that you're not able to cover in the time available. Even if you don't cover everything requested, your audience will have the information to understand why you made the choices you did. If you're going to be available after the session is over, you can invite attendees to meet with you to talk more.
As you continue with your audience-customized session, you can refer to the note clusters to confirm that you're covering your plan.
How you can use Post It! to make public the interests and questions of a group
Before the session begins, decide on the number of sticky notes to give to each participant. The number will depend on the size of the group and the length of time available for any resulting sessions. Suggestions for the number of notes are in the table below.
| | |
| --- | --- |
| Size of group | Suggested number of notes for each attendee |
| 20 − 30 | 2 − 4 |
| 30 − 50 | 2 − 3 |
| 50 − 100 | 1 − 2 |
| 100+ | 1 |
Hand out this number of sticky notes and a pen to each attendee. Ask the audience to write down one or more topics they would like explored or questions they would like answered during the session, one per note. Tell them they do not need to use all their notes. Indicate the wall area where notes can be posted, and ask them, once they have finished, to post their notes on the wall. Give participants a few minutes to write their responses. During the note posting, it's natural for people to hang around the wall and read what others have written. Let them do this, but ask people to allow late posters to get to the wall.
Once you've posted all the notes, provide some time for everyone to take in the topics and questions displayed. You can then use this group sharing as a starting point for Open Space, Fishbowls, Plus/Delta, and other group discussion techniques discussed in my upcoming book.
There's no excuse for not knowing what attendees want to talk about any more!
Photo attribution: Flickr user edmittance