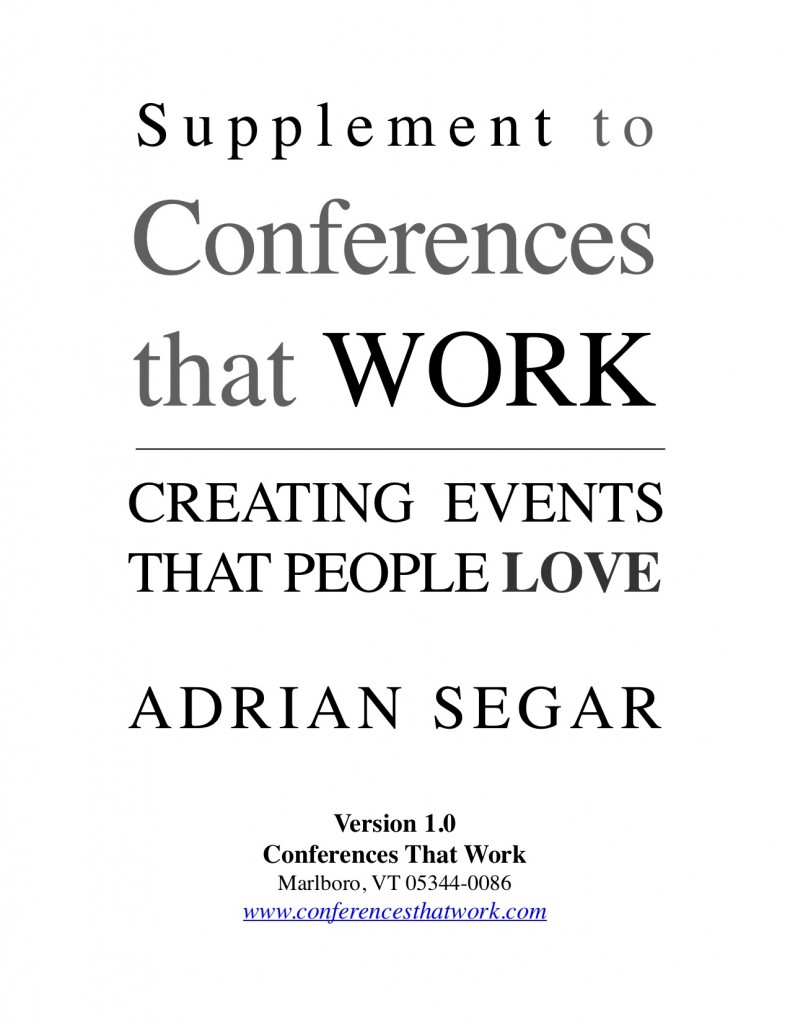 I'm happy to announce that a free 9,000 word update to my book Conferences That Work: Creating Events That People Love is now available!
Many improvements and refinements are included—the outcome of four years of feedback and experience since the book was published in 2009. Highlights include a long-awaited chapter on extending Conferences That Work to larger events, and important additions that make the established format (now tried and true for over twenty years!) even better.
Here's a list of the contents:
INTRODUCTION
CHAPTER 1 Why did I write this supplement?
CHAPTER 2 What's included?
CHAPTER 3 Acknowledgements
GENERAL CHAPTERS
CHAPTER 4 Avoid one-day peer conferences
CHAPTER 5 Running Conferences That Work with more than 100 participants
IMPORTANT IMPROVEMENTS
CHAPTER 6 Give people permission and opportunity to take a break!
CHAPTER 7 Break up roundtables approximately every twenty minutes
CHAPTER 8 Make peer session determination more efficient
CHAPTER 9 Improve personal introspectives by running them in small groups
CHAPTER 10 How to choose what to do at a group spective
OPTIONAL IMPROVEMENTS
CHAPTER 11 Include a first-timers session for repeat events
CHAPTER 12 Consider implementing a buddy system
CHAPTER 13 Use shared Google Doc for roundtable themes and plus/delta sharing
CHAPTER 14 Have people stand while speaking during the roundtable
CHAPTER 15 Use alternate colors when recording on flip charts
CHAPTER 16 Focused discussion = fishbowl — and an alternative format
ALTERNATIVE APPROACHES
CHAPTER 17 Consider using a conference app instead of a face book
CHAPTER 18 Consider running plus/delta with tape columns on the floor
CHAPTER 19 Use plus/delta as a tool for action
CHAPTER 20 Consider adding "Curious about?" column to plus/delta
MISCELLANEOUS TIPS
CHAPTER 21 Where to buy stiff 5 x 8 index cards
CHAPTER 22 A closing note about appreciations
The supplement, provided as a free ebook <pdf>, will be updated from time to time and the latest version will always be available for free on this website. Comments and corrections are always welcome.
Happy reading and best wishes!
-Adrian Segar-