Here's an excellent example of how to build a movement at a conference.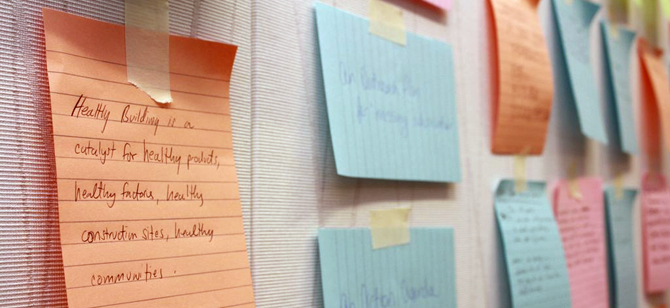 On Wednesday, I walked into our boardroom at USGBC for our Green Building & Human Health Summit and I got goose bumps.
—Rick Fedrizzi, CEO of the US Green Building Council
One of my greatest challenges and pleasures is creating "just-in-time" process that meets the evolving needs of an event. Here's a great example of how creative process was used to build a movement at a conference.
Last week I was invited to consult on a two day, one hundred participant "turning-point" summit for the US Green Building Council (USGBC) in Washington, DC. A much wider range of organizations were convening than at previous USGBC events in order to explore a major long-term expansion of the green building movement. So, good process was vital.
During the event we dreamed up a simple yet powerful exercise to uncover and communicate participant expectations for the meeting. I say "we", because at least three members of the summit working group contributed to what became an effective and dramatic way to expose and share what participants saw as successful outcomes for the event. Here's what happened:
What would success look like?
We designed the summit around a set of "shirtsleeve sessions". We began some short stimulating talks by expert "igniters". Next, participants divided into small groups to discuss three principle goals and formulate key strategies to address them. At a working group meeting at the end of the first day we had to decide how best to use thirty minutes that had been scheduled the following morning before the next shirtsleeve session. Someone proposed that we ask participants to share their answers to the question "What would success look like?" either from a personal or group perspective. The working group liked this idea. I suggested that answers be written on large sticky notes and displayed in a central location during the day. This allowed the group to view all the responses during breaks, rather than hearing just a few of them in the limited time available.
The participants liked this activity. Soon, a large grid of answers was posted on a lobby wall outside the breakout rooms, available for all to see.
During the afternoon, another working group member had the bright idea to review and categorize the sticky notes' contents. At a subsequent working group meeting we agreed that during the closing session she would briefly share seven groupings she had devised that covered just about all the definitions of success that participants had proposed:
The seven groupings
A "trail map" for the future. During the event, one participant said the meeting was more like a base camp than a summit. The metaphor stuck. We started thinking of our journey as an expedition that needs a trail map to be successful.
Inclusiveness. As the organization adjusted to working with a broader community of interest, issues of how to expand connections and social equity are important.
Public relations and messaging. Successfully framing USGBC's messages is key. This helps people understand that choices they make in their home and business can enhance their family's and employees' health.
Standards. How do we emphasize and integrate knowledge and actions that improve well-being into existing standards?
Definition and valuation of health and well-being. We need to define and value health and well-being in USGBC's and the related community's mission.
Research. What do we know, what are the research gaps, and how can we obtain funding to fill them?
Paradigm shift. How do we get to a place where the green built environment is synonymous with health?
Building a movement at the conference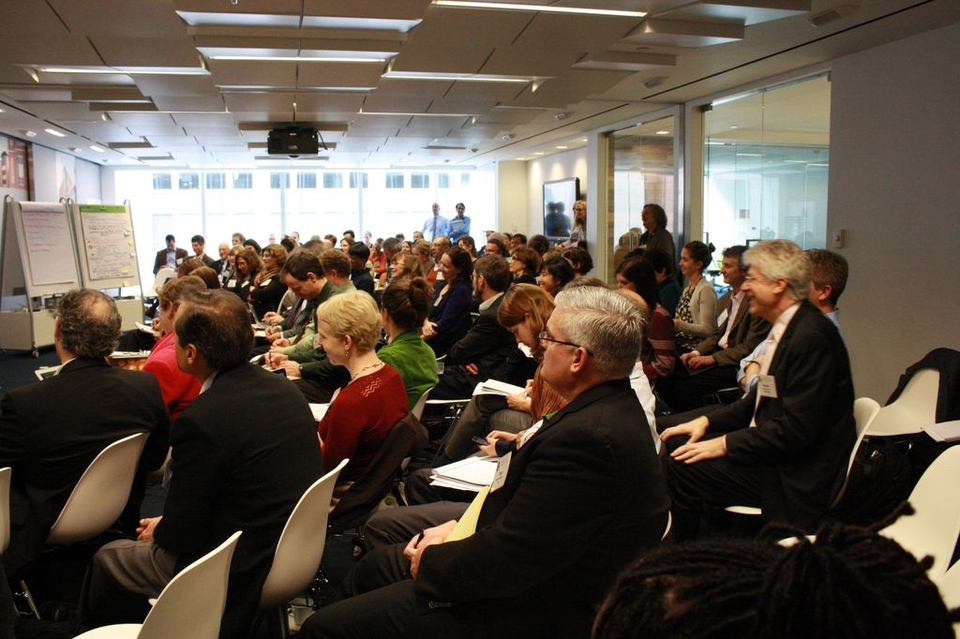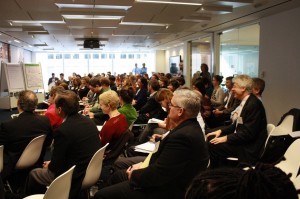 Providing summary feedback at the close of a "turning point" event is very important. Participants have put a lot of time and effort into their work together. They need to feel heard and receive assurance that what has happened will lead to significant next steps.
At the USGBC summit, the complexity of the issues and constituencies involved, plus the reality that not all key players were able to attend, meant that detailed trail map outcomes would take some time to formulate.
The sharing of participant's seven categories of success was, therefore, an important way for participants to feel heard and know that others shared their goals and aspirations. As a result, this simple focused sharing of major insights and common agreements became a key ingredient for "building a movement", a phrase heard frequently during the high-energy closing session of the summit. After offering a next step communications plan and an impassioned closing speech by Rick Fedrizzi, USGBC's CEO, many participants shared that the summit was a milestone moment in the development of green building.
Do you have examples of how to build a movement at a conference? Share them below!
Photo attributions: US Green Building Council