I'm happy to announce that my new book—The Power of Participation: Creating Conferences That Deliver Learning, Connection, Engagement, and Action—will be available for purchase in all formats and outlets on June 30. But you can save money by purchasing directly from me before July 1 at never-to-be-repeated prices.
[wp_eStore_cart_fancy1_when_not_empty]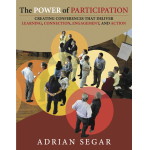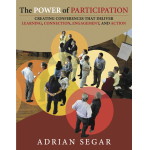 "This is a book that should be OPEN on every meeting planner's or event marketer's desk, and used every day."
—Paul Salinger, VP of Marketing, Oracle(many more embarrassingly good reviews below)
Smart presenters and meeting organizers are integrating experiential learning and peer connection into their events. This book tells you how to do it. Buy The Power of Participation to learn why it's so important to incorporate participant action into every aspect of your event, what you need to know to create a meeting environment that supports and encourages participation, and when and how to use this extensive compendium of specific, detailed techniques to radically improve your sessions and meetings.
The following prices for The Power of Participation are only available before July 1. On that date, this page will vanish like a dream.

Thirty minutes free consulting will be provided for any first-time purchase directly from this site.
Shipping paperbacks to U.S. addresses is included in these prices. Shipping paperbacks to addresses outside the United States will incur an additional cost, viewable for single copies once you have added items to your cart.
Combo (Best Deal!)
[wp_eStore_fancy1 id=10]
Paperback
[wp_eStore_fancy1 id=8]
Ebook
[wp_eStore_fancy1 id=9]
OR you can pre-order paperback copies (unsigned) online from Amazon's U.S. store for $27.95 plus shipping (will ship July 1).
Praise for The Power of Participation: Creating Conferences That Deliver Learning, Connection, Engagement, and Action.
"It may be a radical idea to turn attendees into participants, but in an environment of information overload and disconnection, we need it more than ever. The Power of Participation can transform how we act as workers, learners, citizens and 'participants' in our globalized world. This is a book that should be OPEN on every meeting planners or event marketers desk, and used every day."
—Paul Salinger, VP of Marketing, Oracle

"This book is a must for anyone who needs guidance in modernizing meetings. Finally we are moving into a new stage of post industrial meetings where all participants are valued, not only those behind the microphone. Well designed participation is key, and Adrian shows us the way. Buy it, read it and do it!"
—Eric de Groot, Meeting Designer and co-author of Into the Heart of Meetings

"No one should plan a conference without this book!"
—Naomi Karten, Author of Managing Expectations

"We have to start meeting like this! A treasury of proven techniques, clearly written, based on first-person experience and deep insights."
—Bernie DeKoven, Author of The Well Played Game, game designer, and fun theorist at deepfun.com

"Too many conferences are top-down, over-caffeinated, information dumps. Adrian Segar has figured out a different model: a participatory, community-driven event that yields benefits that last far beyond the conference itself. If you want to make a lasting difference with your group today, you owe it to yourself to read this book."
—Dr. Nick Morgan, President of Public Words and author of Power Cues

"Love The Power of Participation! It's a fabulous compilation of techniques to bring more interaction to your conferences. I'll be keeping this reference book handy whenever I design a meeting for a client."
—Kristin J. Arnold, CPF, CSP, founder of Quality Process Consultants, and past president of the National Speakers Association

"A must read handbook of the what, why and how to move passive conference consumer-based attendees to active engaged participants."
—Jeff Hurt, Executive Vice President, Velvet Chainsaw Consulting

"Adrian Segar's work is crucial for the evolution of the event industry. This book is a mandatory read for the modern event professional. Adrian shares a logical approach to changing our outdated event designs, and guides you with practical techniques towards a value centered model, where the clear winners are both the conference organizer and the attendee. It's time to shake up our conferences and make them more relevant and attractive. The Power of Participation provides the first step towards achieving conference success."
—Julius Solaris, editor EventManagerBlog.com and author of The Event App Bible, Social Media for Events and The Good Event Registration Guide

"Adrian wants to transform attendees into participants. And in this book, he shows you how to do it. As an organizer of professional conferences for the past decade, I wish I had come across Adrian's books earlier in my life. It would have made me more confident and competent."
—Sivasailam (Thiagi) Thiagarajan, Founder and Resident Mad Scientist, the Thiagi Group

"Adrian Segar's The Power of Participation is a catalog of tools for designing meetings. If you want to improve your meetings, keep a copy right there on your desk, always ready for instant access. Better yet, study the tools in his catalog so they're right there in your brain, always ready to build first-class meetings that everyone loves."
—Gerald M. Weinberg, The Consultants' Consultant, author of over 40 books, including classics The Psychology of Computer Programming and An Introduction to General Systems Thinking
---
The Power of Participation: Creating Conferences That Deliver Learning, Connection, Engagement, and Action
Publisher: Segar Consulting
Release date: ebook: June 2015 | paper book: June 2015
Page count: 322
Size: 8½ x 11
ISBN:978-1511555982
List Price: $27.95 (Paperback book) | $13.95 (PDF ebook) | $33.95 (Paperback book and PDF ebook combo)
The ebook and paperback/ebook combo are available only directly from the author.