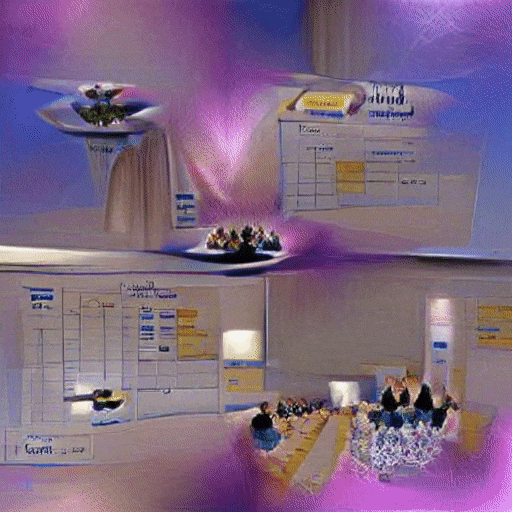 I've been writing about hybrid meetings for a long time; my first post was in February 2010. The COVID19 pandemic created an explosion of interest in hybrid meetings, and the marketplace and event professionals are still defining what "hybrid" means. (No, sticking a streaming camera in the back of the room does not make an in-person meeting hybrid.) It turns out that hybrid events offer rich design possibilities. To illustrate, I'll describe the objectives and subsequent design of two novel hybrid meeting formats. Both are unique, as far as I know, in that the in-person and online participants are the same people! Sounds crazy, yes, but stay with me!
The first novel hybrid meeting format was invented by Joel Backon back in 2010. The second is a design I'll be using in a conference I've designed and will be facilitating in June 2022.
1—In-person attendees participate in an online session!
Back when hardly anyone used the term "hybrid" for a meeting, let alone participated in one, I had the good fortune to participate in a novel session "Web 2.0 Collaborative Tools Workshop" designed by Joel Backon at the 2010 annual edACCESS conference. During the session, all the in-person participants had an online experience, followed by an in-person retrospective. The online portion felt eerie…
"Some participants had traveled thousands of miles to edACCESS 2010, and now here we were, sitting in a theater auditorium, silently working at our computers."
—Adrian Segar, Innovative participatory conference session: a case study using online tools, June 27, 2010.
Check out my original post for the details of the session, which explored the unexpected advantages of working together online even when the participants are physically present. The experience certainly opened my eyes to the power of collaboratively working on a time-limited project using online tools.
You can use this novel hybrid meeting format to explore the effectiveness of employing appropriate online tools to work on problems at an in-person event. Following up the exercise with an immediate in-person retrospective uncovers and reinforces participants' learning.
These days it's even easier to implement similar hybrid sessions at in-person meetings. Participants will learn a lot while exploring the advantages and disadvantages of collaborating online!
2—Crowdsourcing a program online the day before an in-person conference
As I write this I'm designing a one-day, in-person peer conference for 150 members of a regional association. As readers of my books know, running a peer conference for this many people in one day would be a somewhat rushed affair. Unfortunately, the association practitioners simply couldn't take off more than a day to travel to and attend the event.
Squeezing The Three Questions, session topic crowdsourcing, the peer sessions themselves, and at least one community building closing session into a single day is tough. In addition, the time pressure to quickly crowdsource good sessions and find appropriate leadership is stressful for the small group responsible for this important component.
To relieve this pressure I've designed a hybrid event that once again uses the same participants for both the online and in-person portions.
The online portion
The day before the in-person meeting, participants will go online briefly twice, in the morning and in the afternoon. During the morning three-hour time slot, participants can suggest topics for the in-person conference. We'll likely use a simple Google Doc for this. They will be able to see everyone's suggestions and can offer to lead or facilitate them.
Around lunchtime, a small group of subject matter experts will clean up the topics. Then, during the afternoon three-hour time slot, participants will vote on the topics they'd like to see as sessions the following day. The evening before the conference, the small group will convene and turn the results into a tracked conference program schedule that reflects participant wants and needs. They will also decide on leadership for each session. (Read my book Event Crowdsourcing to learn in detail how to do these tasks.)
Moving the program creation online the day before the in-person event allows participants to spend more time together in person. This choice sacrifices the rich interactions that occur between participants during The Three Questions. But in my judgment, the value of creating a less rushed event in the bounded space of a single day is worth it.
Conclusion
[Want to read my other posts on hybrid meetings? You'll find them here.]
I believe we've barely started to explore the capabilities of hybrid meeting designs. Including both online and in-person formats in a single "event" multiplies the possibilities in time and space. I'm excited to see what new formats will appear in the future!
Have you experienced other novel hybrid meeting formats? Share them in the comments below!