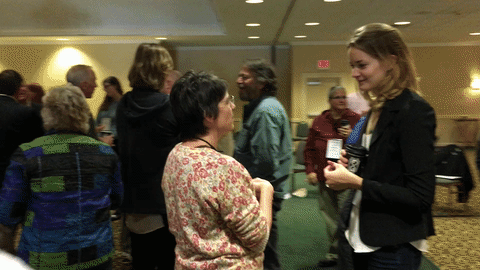 In less than three minutes, you can improve almost any conference sessions with pair share (aka think-pair-share). The technique is simple: after pairing up participants and providing a short period for individual thinking about an appropriate topic, each pair member takes a minute in turn to share their thoughts with their partner. (More details can be found in Chapter 38 of The Power of Participation.)
Pair share is not the same as conversation, because pair share gives each person an exclusive minute of active sharing and a minute of pure listening. This balance rarely occurs during conversation, because typically:
One party speaks more than another, and;
Whoever isn't speaking is often not fully listening to what is being said because they're thinking about something they want to say themselves.
Improve conference sessions
Pair share improves conference sessions by:
Resetting every participant's brain to a state of active engagement;
Providing structured opportunities for participants to share expertise and experience with their partner, and (if built into the subsequent session design) with others in the room; and
Modeling and supporting social learning during the session.
For pair share to work effectively:
Each assigned topic must be central to the session's purpose;
If the session is presenter-content heavy, hold a pair share roughly every ten minutes to explore and consolidate participant learning; and
Design the session to build on relevant expertise and experience uncovered by each pair-share.
I also like to incorporate a closing pair-share where partners each share three takeaways they've acquired during the session. I've found that when I use this in a session design like the fishbowl sandwich, participants inevitably stay around deep in conversation after the session is officially over. (That always looks and feels good!)
Finally, you can use pair share as a tool for introductions. Invite everyone to pair up with someone they don't know and have each person take a minute to introduce themselves to their partner.
Improve conference sessions with pair share: it's quick, simple, versatile, and effective. Use it!
How do you use pair share? Share with everyone in the comments below!