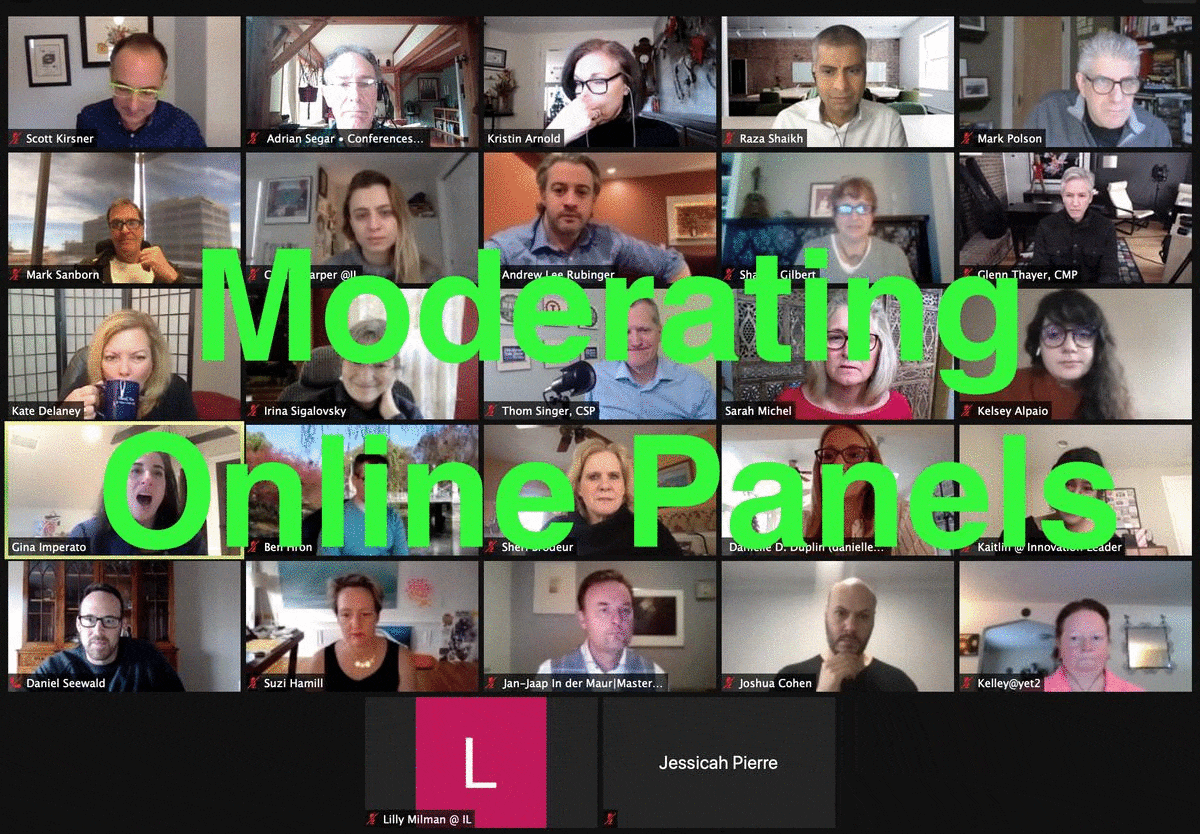 Last week I immensely enjoyed participating in a two-hour Zoom brain trust on moderating online panels. So good, it should be shared with a wider audience. So here's a treasury of good ideas and resources we uncovered.
Huge thanks to the conveners and leaders: my friend, team performance and facilitation expert Kristin Arnold, and corporate innovation leader Scott Kirsner.
As you'd expect if you know these folks, the session was very well organized and facilitated. No mean task for a vocal group of 28!
The agenda
Thank you Scott & Kristin for providing an agenda and (pretty closely) sticking to it! Here it is.
15 mins: Who's here; what sort of moderating have you been doing?

5 mins: Scott shares some recent learnings from virtual events.

10 mins: Kristin shares some recent learnings from virtual events, and a quick overview of what's in her book.

20 mins: Breakouts (in groups of 4). What are 1-2 of your online moderating pro tips? Capture these on a shared doc (Slido).

10 mins: How did that go? Report back and bio break.

30 mins: Is panel prep different in the virtual world? Speaker recruiting? Tools and techniques for engaging the audience. Debates on burning questions (like chat or no chat, prep call or no prep call, right length.)

30 mins: Additional Q&A and discussion time (if needed).
Acknowledgements
I usually put these at the end, but because this post incorporates large, sometimes verbatim, chunks of Kristin Arnold's excellent session notes I want to give her full co-author credit. Any errors and omissions are mine. Kristin's name appears many times in what follows; some of the comments are hers, some are her notes on what others said.
While I'm mentioning Kristin, the best resources I know on becoming a first-rate panel moderator are her panel-focused website and short but packed book Powerful Panels. Visit the former and buy the latter!
And now the ideas…
Some of what follows is verbatim; some is edited by me slightly. Editorial additions/comments are shown in red. When the contributor is known, I've added their name (with a link the first time they're mentioned).
Pre-event calls with panelists
There are two kinds of pre-event calls, though these categories can blur, and might be covered in a single call:
Connecting with panelists. This includes getting to know them, moderator education, defining panel and panelist scope, discussing potential topics and issues
Prep/production calls. This includes technical run-throughs.
"I call it a 'production call like you would have if you were going to be on The View or Live with Kelly and Ryan ."
—Glenn Thayer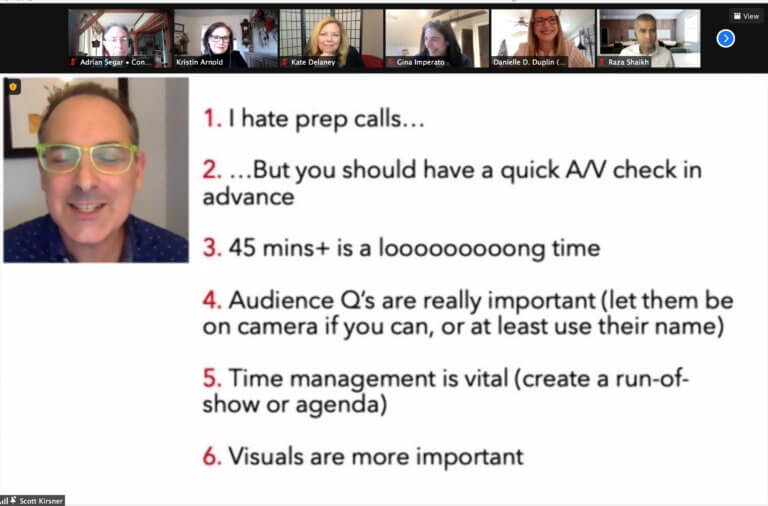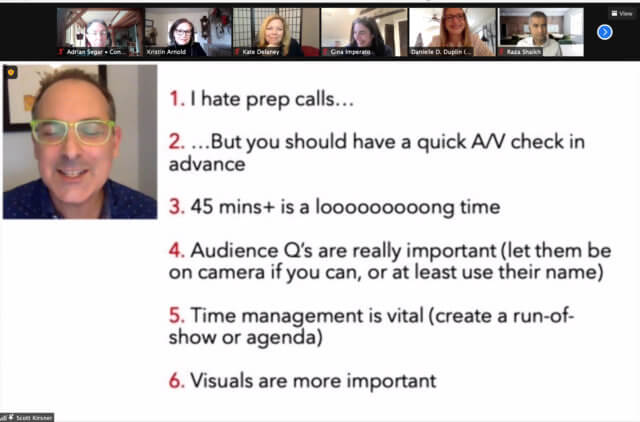 —Scott Kirsner's take
Pre-record panelists?
Restrict prerecorded segments to 5 minutes or less. —Adrian Segar
I think pre-recorded lessens the authenticity of the event . —Kelley Kassa
Pre-record sponsor remarks, then the moderator manages the time of everyone else. —Glenn Thayer
What about pre-recorded pitchfests with live founder for Q&A? I'm running a pitchfest tonight… We pre-recorded the pitches (they're two minutes long). —Glenn Thayer
Virtual Emcee (MC)
A virtual MC is a MUST HAVE. —Thom Singer
Agree, but MC should be more than security blanket. —Jan-Jaap In der Maur
For sure, I help drive the attendee experience and engagement and deliver on the networking value of the virtual event. Much more than a security blanket. —Sarah Michel
Breakouts
We always assign a breakout room "table captain" pre-hand for who will moderate the breakout room. —Raza Shaikh
Zoom now has the feature to set a room topic too. —Kristin Arnold [I think you're referring to Zoom Rooms, not Zoom Meetings. The latter has always allowed you to rename breakout rooms to a topic, issue, or group as desired.] • However, EVERYONE in the zoom room must have the latest version of Zoom downloaded or they won't see the room options/topics. —Sarah Michel
At what audience size do you find that "all mics open" breaks down? —Andrew Lee Rubinger • Haven't found a max yet. Did it up to 150 . —Jan-Jaap In der Maur
Integrate breakouts – put a panelist in each of the breakout rooms. —Kristin Arnold
On "intentionality": I determine the story arc I want told in the session. It's like a jazz performance – it's all improv, but there are waypoints to hit. —Andrew Lee Rubinger
IME, well-designed problem solver panels are great and audiences love them. —Adrian Segar
To help ensure that participants know what to do in breakouts, when the breakout rooms are open, message them with instructions, time available, etc. Have this prewritten elsewhere, so it can be efficiently pasted into the platform. —Kristin Arnold
Preparation
Do your research before you talk to the panelists. —Kristin Arnold
Curiosity is key. —Adrian Segar
Record prep call – use those recorded snippets for social media marketing for live event! —Kristin Arnold [Love this!]
Goal of pre-call that they feel comfortable enough that they could mock me. —Kristin Arnold
What questions, issues, what are you hoping to get out of this session at the beginning in the chat ? —Kristin Arnold
Know your moderator style. —Kristin Arnold
If you want to be interesting, you have to be interested. —Daniel Seewald
General panel wisdom
Pre-empt attendee objections. For example, reduce fears about being in breakout rooms with strangers. —Demoed by Scott Kirsner during our session
Engaging the audience is not the same as involving the audience (giving them a task to do). —Kristin Arnold
Ensure your audience knows you care…AND your panelist knows you care. Watched a Comicon panel with Charlize Theron. Initially, she wasn't engaged. Once the moderator asked questions that really showed she did her homework, she literally leaned in. —Kristin Arnold
I love completely crowdsourcing the panel… —Kristin Arnold [I often do this. See How a Fishbowl Sandwich Can Really Get Your Attendees Talking for more information.]
The best and most engaging moderated event I've seen was a workshop on "visual thinking strategies" at Innovation Leader's Impact conference, where the moderator of the discussion spent about 45 min having a group discussion about a Picasso painting. She just asked questions about what we saw and what we thought those symbols meant. It was genuinely like being in school — and I think that unusual dynamic made people excited. Then, after that discussion, she shifted to talking about how that could apply to business/corporate settings, and many participants said they were going to integrate what they learned in that session that day. —Lilly Milman
Use shared documents to seek feedback and capture insights from large groups. —Anonymous [During the session we used Slido to capture insights.]
Use object voting. For example: "If you agree, hold up something in your office that's blue. Neutral or undecided, yellow. Disagree, red." —Kristin Arnold
Interaction with panelists
Be about something, have a position, be honest about it. Push up against the walls. Be kind. —Kristin Arnold
Have the panelist give us a tour, give a demo, go get an object (from a trip you have been on). —Kristin Arnold
Give panelists an object and ask them to provide a greater meaning to it. —Kristin Arnold
Coach your panelists on how to use the camera and speak authentically . —Kristin Arnold
To share the questions with the panelists or not?
I almost always share prep questions with my panelists. Mostly because my panelists are tech people and not always the best speakers . —Kelley Kassa
Provide a loose framework of where we want to go….some potential questions. Any specific questions that need some vetting… —Kristin Arnold
I always try to email topics with the caveat that we'll ask follow-ups and make it conversational . —Kaitlin Milliken
I like giving the first question so they will be comfortable AND the last question, that can be recorded and edited into a social media snack. —Kristin Arnold
You have to really listen to what your panelists are saying…and make decisions on what to probe further . —Kristin Arnold
Ask panelists to bring one question to the panel to ask each other. —Kristin Arnold
Design for the audience & connections
There is NO panel without an audience. —Sarah Michel
In the midst of this global pandemic, people are attending virtual events seeking meaningful connections. We must design panels for that . —Sarah Michel
The moderator is a champion for the audience. Everything has to flow from the audience. How does this make them better people? —Kristin Arnold
IME, audiences love well-designed problem solver panels. —Adrian Segar
Interview the audience before it starts . —Kristin Arnold
Content is not king…it's context and connections . —Kristin Arnold
Drive to action…run a poll – who do you want to follow up with? —Anonymous
Platform
Get to know the functionality of platforms. Offer alternatives. —Kristin Arnold
Use an online poll to start the session. —Anonymous
Leverage chat. It's gold. Be on chat early and ask the audience to answer a question. Keep the chat open afterwards. I have a love/hate relationship with chat as neuroscience says that we aren't focused on the conversation . —Anonymous
Casual or Formal?
There is a whole business of a production studio in a box that gets sent to a panelist… —Anonymous
Some corporations don't want casual they want big production. —Anonymous
I've gotten the box sent to me for an event. Lots of rehearsals too. —Anonymous
I ask my clients what backgrounds/level of production they want… —Anonymous
More hybrid meetings in future
Small in-person studio audience and a much larger virtual. Curate the studio audience… —Sarah Michel
More ideas from breakouts via Slido
Love asking panel members (or speakers) to change their backgrounds when you want to shift the energy or when you go to live Q&A, etc.
Set up a shared "group notes" document where people can contribute their notes from the panel. You can even give a prize for best note-taker at the event.
Whatever goes wrong with A/V last time won't happen next time…relax over technical glitches. They are bound to happen.
Conversations don't have scripts. There's a road map of where I want to go but need to go with the conversations.
When clients are technologically not especially comfortable, ask for ONE thing to do vs. the world of possibilities .
Don't tell your clients everything you will be doing…as they will defend/say no.
Sometimes, a heads up might be appropriate so they aren't thrown off .
Ask panelists to stay for networking time between sessions. That way, the audience can meet them and have one on one conversations.
Have panelists ask each other questions – they usually have great questions for each other.
Fireside chats…work with speaker to cut into small pieces .
Every 6-10 minutes switch gears, do something different .
If an online gathering has less than 20 people, consider starting with introductions. Moderator calls on each name: 15 seconds maximum.
If you're not a subject matter expert, ask panelists in prep calls: What matters most right now?
What would you tell me about in an elevator?
Put a pillow in your lap if you have a little sound echo in your room .
When there's content that is very technical in nature, ask questions like "please explain X as if you're talking to someone completely unfamiliar with the topic". [Me: I often open by stating that I know less about the panel topic than anyone else in the room—but I do know how to moderate panels!]
Be punchy, concise. Less is more. Provide a digestible premise that people are interested in.
Pre-record segments – edit down into more focused conversation. Or cut at key points and stop to interact .
Use panelists as priming for large group discussions. [See my book "Event Crowdsourcing" and these articles "How a fishbowl sandwich can really get your attendees talking" and "The best way to hold a discussion online"]
To run fishbowl discussions on Zoom, have everyone turn their camera off until they have something to say. When they turn their camera on, they float to top of Gallery View That makes it easy for the moderator (whose camera is always on) to see who wants to talk. [See third link above.]
Use Zoom breakout rooms for "hallway" conversations after a panel. Put the panelists into one of those rooms after the panel is over so people can "meet" them. [Also consider using online social platforms for breaks and socials.]
Give frequent, small assignments: e.g. write down your biggest challenge. Use that as a start to the conversation.
When you do an A/V check, make sure panelists use the same equipment and time of day!
On Zoom train and teach all people to use the blue hand raise button instead of physically raising the hand . [Depends on group size; I prefer human hand raising if the group is viewable on one screen in Gallery view.]
Ask everyone to keep their camera on as a way of showing respect and being present.
Have a 2nd device ready…like your phone…in case of wifi or Zoom problems.
Pre-record sponsor segments.
Put into chat what you want attendees to do!
Ask people to talk about one favorite object from a trip.
Practice as much as you can and prep for props/interactive elements.
Using the visuals and doing things like physically leaning in can engage people and create intimacy.
Think about the audience first.
Resources
How to touch people when your event is online —Jan-Jaap In der Maur
Love Mural, having a quick and easy task to begin with to get everyone up to speed helps. —Caitlin Harper [I prefer Miro.]
Use a visual notetaker [aka graphic recorder]! —Caitlin Harper
If you wanna hear about Kristin's brilliance with the CAPS conference last week…. we interviewed her today on Webinar Talk Show about all their ideas and how they pulled it off. 35-minute interview. Watch it…cuz she had soooo many good points about being engaging. —Thom Singer
Slido for polling and capturing participant ideas/questions/etc.
If you'd like to see what a business partner and I started for people like me who want to PRESENT rather than PRODUCE, visit livestream-denver.com. This is a work in progress and not a sales pitch as we work almost exclusively with clients in the Denver area. —Mark Sanborn
How a fishbowl sandwich can really get your attendees talking —Adrian Segar
The best way to hold a discussion online —Adrian Segar
Anything you want to add, correct or, disagree with in this bounty of advice on moderating online panels? Share in the comments below!