Here are five meeting design books I especially recommend. Each gets a short overview, so you can figure out which one(s) will satisfy your wants and needs. In an outrageous display of chutzpah, I wrote three of these books. [If you decide to buy one of mine, read the conclusion of this post for ways to pay less!]
Into the Heart of Meetings: Basic Principles of Meeting Design (ebook or paperback)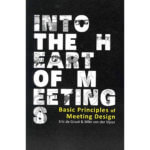 In 2013, Eric de Groot and Mike van de Vijver published this unique, extraordinary, and important book on meeting design. Into the Heart of Meetings takes the reader on a deep exploration of "the essential processes that take place during meetings and how to influence these processes through Meeting Design in order to obtain the best outcomes."
Rather than the usual "how to create great meetings book" approach of tying meeting design to the logistical challenges of the kinds of meetings we have all experienced, Eric & Mike correctly concentrate on the process of (non-routine) meetings: how to design in interactive meeting experiences and behaviors that create the meeting's desired and needed outcomes.
There are methods of meeting process design in this book I've seen nowhere else. (To get a taste, check out blog posts I wrote about three of them: 1, 2, & 3). Whether you're a meeting design novice or seasoned pro, you will learn really important things from this book. Buy it!
Intentional Event Design (ebook or paperback)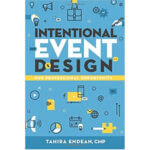 Amidst the myriad books on creating and running events, Intentional Event Design, by Tahira Endean and published in 2017, stands out. (And I'm not saying that because she's kind enough to mention two of my books and an event I designed and facilitated.)
This book is a modern, comprehensive, and eminently readable introduction to what Tahira calls people-centric, purpose-driven meeting design. Unlike older books, it covers the impact of digital technology (apps, online meetings, and social media marketing) on the meetings world, includes a healthy dollop of the relevance of learning theory to meeting design, and manages to squeeze in trade shows, accessibility, and wellness in a fairly short book.
Yes, other meeting industry books contain more detailed information about event logistics. Things like working with DMCs and writing RFPs. Tahira focuses on the important big picture issues, with a well chosen mix of detailed contributions from trusted industry sources. Intentional Event Design doesn't tell you everything you need to know to design an effective event. But I think it's a solid and accessible introduction to meeting design that's well worth reading.
Conferences That Work: Creating Events That People Love (ebook, paperback, or both)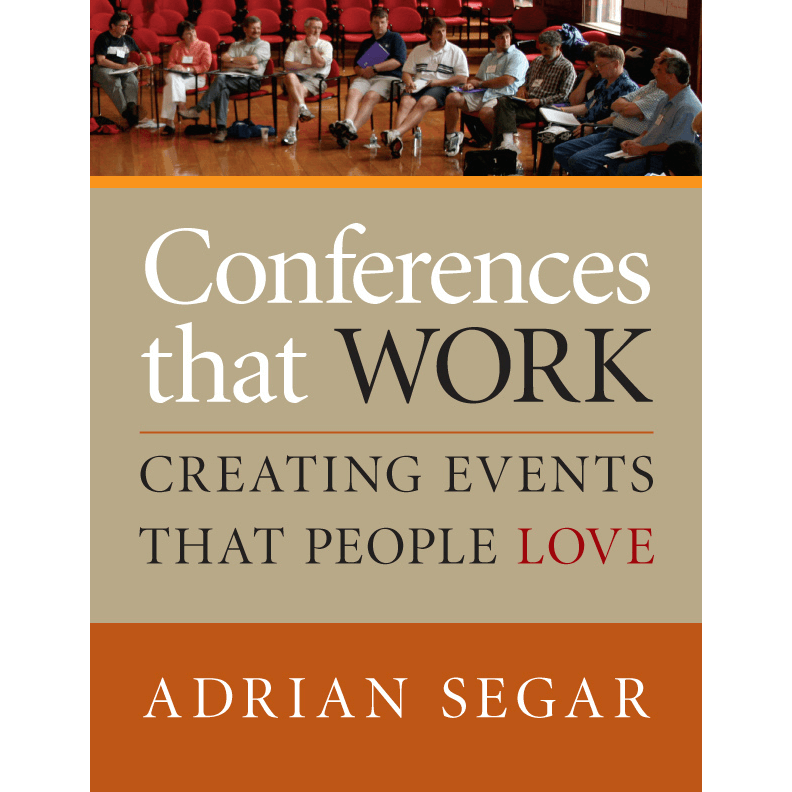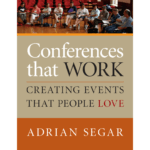 I wrote Conferences That Work, published in 2009, because in 1992, after decades of convening and running traditional conferences, circumstances forced me to invent a new kind of meeting. (The story is told in the book's preface.) During the next dozen years, I adopted the design for other events. Eventually, I realized that people loved the meetings it created.
In Conferences That Work I lay out four key assumptions that lurk behind the traditional meeting format. I show how they perpetuate a conference model that no longer well serves meeting stakeholders, especially attendees. The first third of the book is a powerful manifesto for participant-driven and participation-rich meetings, just as relevant today as it was 14 years ago.
Once the case for participant-driven and participation-rich meetings is made, the book goes on to provide a complete practical guide to preparing and running a peer conference. It has been praised as an exemplary guide to creating a small conference of any kind from scratch.
I've updated the book (twice) via a free supplement that can be downloaded here.
Buy this book if you want to:
understand why traditional broadcast-style meeting formats are obsolete;
learn the why and how of creating meeting process that truly engages and satisfies participants; and
possess a complete detailed guide to creating peer conferences.
The Power of Participation: Creating Conferences That Deliver Learning, Connection, Engagement, and Action (ebook, paperback, or both)
While Conferences That Work teaches how to design and execute remarkable conferences, The Power of Participation shows how to improve your meetings at a finer level — individual meeting sessions.
Today, making valuable connections is for many the compelling reason for attending meetings. Yet, time and time again, meetings relegate "networking" to meals and socials outside the sessions, filling events with lectures followed by a few minutes of audience questions.
The Power of Participation supplies conference presenters, organizers, and marketers with a comprehensive toolkit of simple techniques for creating participative sessions that involve the audience in their learning while simultaneously fostering meaningful peer connections.
Smart presenters and meeting organizers integrate experiential learning and peer connection into their events. This book tells you how to do it.
Buy this book to learn:
why it's vital to incorporate participation into every aspect of your events.
what you need to know to create meeting environments that support and encourage participation.
when and how to use an extensive compendium of specific, detailed techniques to radically improve your sessions and meetings.
Event Crowdsourcing: Creating Meetings People Actually Want and Need (ebook, paperback, or both)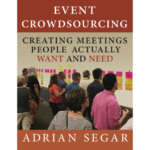 Finally, Event Crowdsourcing, which expands on a key portion of the material covered in The Power of Participation.
The book explains both program and session crowdsourcing: how to routinely create conference programs that reliably include the right sessions and the session content attendees actually want and need. There is some overlap between this book and The Power of Participation. But Event Crowdsourcing includes new techniques, plus significantly more critical details and enhancements. (The enhancements to my core technique The Three Questions, alone, justify getting this book.) If you want to create events that are far more responsive to participant wants and needs than the dominant unconference paradigm — Open Space — this is the book for you!
Conclusion
OK, you skipped here to see if you could save money. Fair enough. Here's the simple deal — the more of my books you buy, the more you save.
The best and most popular SKU is a set of all three books in both paperback and ebook formats, at a price that's less than buying the three paperbacks separately.
Prefer ebooks? Buy a set of all three at a good discount.
Finally, don't forget that first-time buyers of any book from my online store (even a single $11 ebook!) get thirty minutes of free consulting from yours truly at a mutually convenient time.