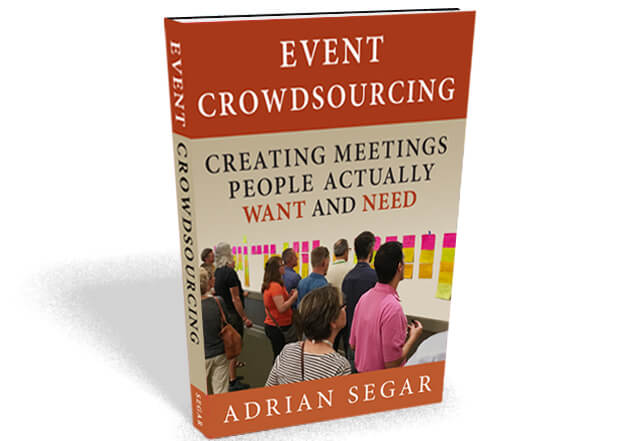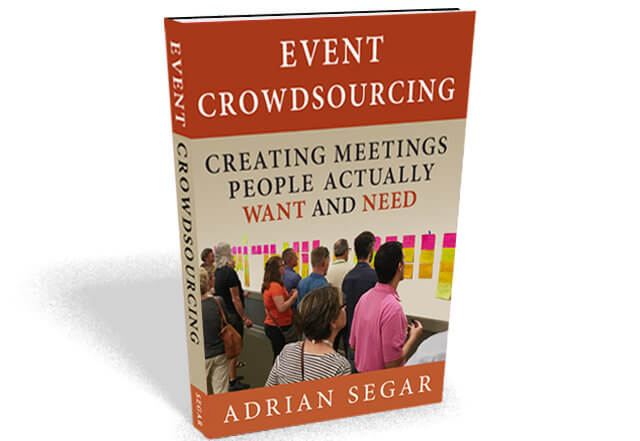 A big thank-you to the meeting industry luminaries who were kind enough to write testimonials for Event Crowdsourcing!
Here's what they wrote:
---
Liz Lathan
"It was page 4 where I decided to stop reading. I had to. I stopped reading and I texted 2 people, and Whatsapp'd another. I told them that they had to see this book. Then I kept reading. On page 7, I took a picture and sent it to my 3 compadres. Page 25 is where I shouted 'yes!' out loud on a plane.
Adrian's latest book Event Crowdsourcing is not only everything that is right about events, but it's a step-by-step how-to guide for you to do it yourself. The most amazing thing about crowdsourcing is that there's no 'right way' to do it for an event or meeting, and Adrian does a great job of outlining a framework for a variety of options that can be employed at events. We incorporate Adrian's methodologies into our program and find that the feedback from participants is so emotional, so genuine, so passionate about what they've experienced that we'll never give it up.
This book intelligently captures and describes the why and how of event crowdsourcing. Every event professional should read it and go to an event that employs crowdsourcing to drive its content, to experience the magic and bring it back to their events. Event Crowdsourcing should be a textbook in every event and hospitality program. All I can say is that I want to hug every page of this book. Go get it."
—Liz Lathan, CMP, co-founder, Haute Dokimazo: A Spontaneous Think Tank
---
Kristin Arnold
"People are far more committed to those things they've had a hand in designing — including events! Adrian Segar's Event Crowdsourcing gives you myriad ways to crowdsource your meetings, thereby engendering more engagement, involvement, and commitment to the event and the outcomes."
—Kristin Arnold, author of Powerful Panels and other books, and past president of the US National Speakers Association
---
Bob Marshall
"I've been railing against conventional conference formats — for example, the lecture — for years. Adrian's book explains why conventional formats fail, and the how-tos of a new approach which can correct many of the failings of those formats."
—Bob Marshall, organizational psychotherapist, and co-founder of the Rightshifting movement
---
Eric de Groot and Mike van der Vijver
"For meeting designers like us, Adrian's work is priceless. He meticulously documents all there is to understand about crowdsourcing, participation, peer-to-peer working, and empowerment of conference audiences. His unique views on these topics make it easy to recognize his training as a former physicist, his facilitation skills, and his belief in what we humans can achieve together. Adrian, once again, thanks!"
—Eric de Groot and Mike van der Vijver, meeting designers with MindMeeting, and authors of Into the Heart of Meetings
---
Will Curran
"Adrian Segar is a leader in crafting the future of meetings. Event Crowdsourcing is the go-to tactical guide for planners to allow attendees to create their own meaningful experiences. In a world where everyone is talking about why events need to generate connection and engagement, Adrian has written the how-to guide for you."
—Will Curran, founder, Endless Events, and #EventIcons, Event Tech, and Event Brew podcast host
---
Heidi Thorne
"Event Crowdsourcing is part bible, part rules of the road, and part cookbook for creating events people want and need.
Adrian's book is part bible because it thoroughly explains the principles and philosophy of crowdsourcing as they relate to events. This is vitally needed because I've seen so many events and programs that are a hodgepodge of crowdsourcing elements. Once you understand what crowdsourcing is and is not, you'll need to know what to do. Event Crowdsourcing offers detailed rules of the road for each type of crowdsourced event. Readers will be surprised at how much planning and preparation are needed, and the book offers numerous crowdsourcing 'recipes' to serve up satisfying outcomes for participants.
I've followed Adrian's conference facilitation career for over a decade, and can say that he is regarded as the thought leader in this space. After reading Event Crowdsourcing, I think you'll agree that this status is well deserved."
—Dr. Heidi Thorne, MBA/DBA, author and podcast host
---
Brandt Krueger
"Actually giving attendees what they want and need instead of what you think they want? What a concept! Adrian Segar has done it again. Event Crowdsourcing is chock-full of detailed descriptions of low-tech, low-cost solutions that get to the core concerns of meeting-goers from any industry. It's a must read for any meeting planner!"
—Brandt Krueger, technical producer, educator, speaker, and event technology consultant
---
Naomi Karten
"Adrian Segar's first two books — Conferences That Work and The Power of Participation — have had a resoundingly positive impact on the meeting industry. Now, meeting planners and meeting-goers can further benefit from his newest book: Event Crowdsourcing. This book, both a why-to and a how-to, is jam-packed with proven guidelines, techniques, and suggested scripts to help you design conferences and sessions that are what attendees want and need. It's clearly organized and beautifully written, and I'm happy to recommend it."
—Naomi Karten, author of Managing Expectations, Presentation Skills for Technical Professionals, and other books
---
David Adler
"This book unlocks the hidden power of high performance gatherings. Adrian has given us a formula that can change the world — a simple and powerful way to harness humanity's progress."
—David Adler, CEO and founder, BizBash Media
---
Event Crowdsourcing will be published in November. Pre-order your copy today!