Here's why PK (Pecha Kucha) is OK.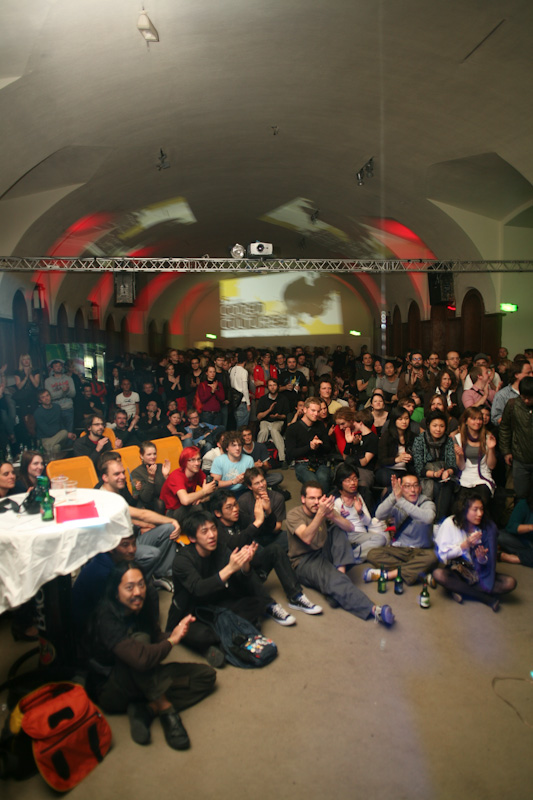 "Being architects and having been to countless lectures, we knew that once people start to talk about their work and have a mic in their hands they just go on about details forever…"
—Mark and Astrid Klein, the inventors of Pecha Kucha
I recently wrote about my enthusiasm for Pecha Kucha sessions at events. But there's one aspect of Pecha Kucha, which, at first sight, seems to fly in the face of some of my exhortations in this blog.
To recap, a typical Pecha Kucha session at an event consists of around an hour of back-to-back presentations, each 400 seconds long. There's no time allocated for questions during the session, and (unless people start throwing stuff) no participation during each presenter's time on stage.
So, if I'm such a fan of participation during event sessions, why am I promoting a session format, Pecha Kucha, that doesn't include any?
My defense is brevity. Because all presentations are purposefully short, I like to describe Pecha Kucha as speed dating for ideas. The Pecha Kucha design purposely and explicitly excludes formal Q&A during the session, with the clear expectation that presentations will spark dialogue outside the session.
In other words, unlike the claims of many a traditional presentation with an obligatory Q&A session tacked on the end, a Pecha Kucha event doesn't pretend to provide an interactive experience. Rather, a single Pecha Kucha provides a rapid introduction to a topic, an idea, or an experience that acts as a jumping off place for stimulated viewers to start learning more via engagement after the presentation. A single fifty minute session can expose attendees to multiple powerful, interesting, and entertaining ideas and viewpoints, and leave plenty of time during the rest of the event for captivated individuals to seek out presenters for further discussions.
Short, sweet, and to the point. That's why PK (Pecha Kucha) is OK.
Want to experience Pecha Kucha as applied to the world of event professionals? Then you owe it yourself to attend EventCamp Twin Cities next month (September 8-9, Minneapolis, MN) for our Pecha Kucha session, moderated by yours truly. Here are the scheduled presentations from a variety of event professionals!
Elling Hamso on "Event ROI for non-believers."
Brandt Krueger on "PowerPoint SchmowerPoint: The Next Generation of Presentations and Presentation Technology."
Lara McCulloch on "Stories, Sagas & Fables."
Lisa Qualls on "#EventsThatLast."
Lindsey Rosenthal on "Give Your Event a Charitable Makeover!"
Greg Ruby on "Foursquare for Events, Exhibitions and Destinations."
Adrian Segar on "Face the Fear—Then Change Your Conference Design!"