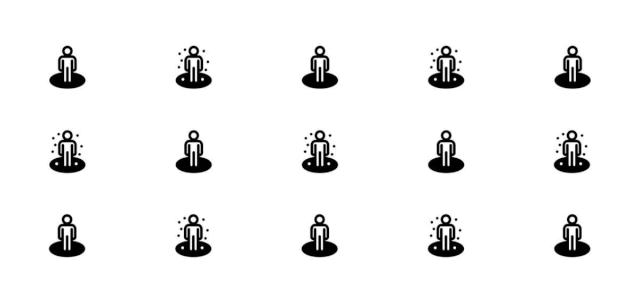 This is not an easy post to write. The pandemic's impact on lives and businesses has been devastating. COVID-19 has virtually eliminated in-person meetings: our industry's bread and butter.
In order to overcome the many significant challenges created by the coronavirus, the meeting industry has made valiant efforts to rethink in-person meetings. The goal? To bring people safely into the same physical space, so they can meet as they did before the pandemic.
Sadly, I believe such efforts are based on wishful thinking.
Wishful thinking
It's nice to imagine that, if we can figure out how to bring people safely together in person in a COVID-19 world, our meetings will be the same as they were pre-pandemic.
But until we create and broadly administer an effective vaccine (or we suffer the disastrous and massive illnesses and deaths that will occur obtaining herd immunity) they can't be the same meetings.
Moreover, there are two reasons why there is no persuasive use case for holding almost any in-person meetings in a COVID-19 world.
Why in-person meetings do not make sense in a COVID-19 environment
By now we know that in order to reduce the spread of COVID-19, people near each other must:
Wear face masks that cover the nose and mouth; and
Stay six or more feet apart.
Here's what that looks like at an in-person meeting.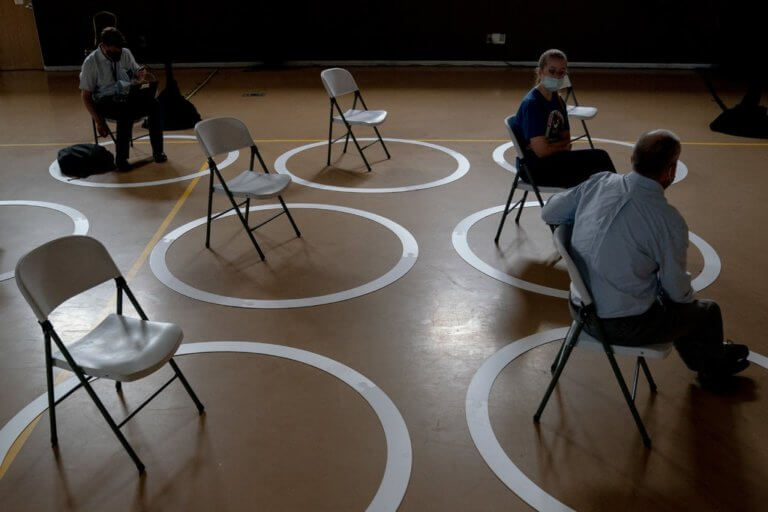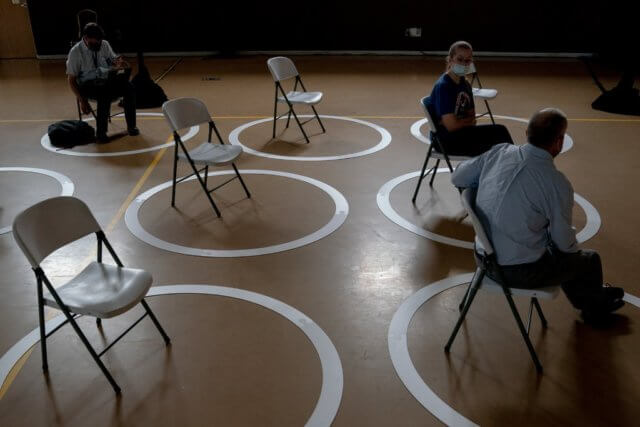 Let's set aside the significant issues of whether attendees can:
safely travel to and from events;
be housed safely;
move around an event venue while safely maintaining social distancing; and
be fed safely.
While difficult, I think we can do all these things. Well-meaning meeting industry professionals are understandingly desperate to bring back in-person meetings from oblivion. But they assume that if they can solve the above challenges, an effective meeting can occur.
But good meetings are not about listening to broadcast content
In doing so, they have reverted to the old, deeply embedded notion that, fundamentally, in-person meetings are about listening to broadcast content. Since the rise of online, broadcast-format content can be delivered far more inexpensively, efficiently, and conveniently online than at in-person events.
As I have explained repeatedly in my books and on this blog (e.g., here) assuming that conferences are fundamentally about lectures ignores what is truly useful about good meetings.
Among other things, good meetings must provide personal and useful connection around relevant content.
Masks and six or more feet separation ≠ connection
Unfortunately, you cannot connect well with people wearing face masks who are six or more feet away!
Why? Because we are exquisitely sensitive to body language and facial expressions. With everyone social distanced and faces half hidden, the normal cues of connection, such as microexpressions and subtle shifts in posture, are hard to read. In my experience, it can often be easier to read emotions and responses in video chats than socially distanced situations.
New tools for online connection
In addition, new online social platforms (two examples) provide easy-to-learn and fluid video chat alternatives to the in-person breaks, meals, and socials that are so important at in-person meetings. Do these tools supply as good connection and engagement as pre-pandemic, in person meetings? Not quite. (Though they supply some useful advantages over in-person meetings, they can't replace friendly hugs!) Are they good enough? In my judgment, yes! In the last few months, I've built and strengthened as many relationships at online meetings as I used to in-person.
A depressing conclusion
Right now, the learning, connection, and engagement possible at well-designed online meetings is at least comparable — and in some ways superior — to what's feasible at in-person meetings that are safe to attend in a COVID-19 world.
Now add the significant barriers and costs to holding in-person meetings during this pandemic. The challenges of providing safe travel, accommodations, venue traffic patterns, and food & beverage all have to be overcome. Even if credible solutions are developed (as I believe they can be in many cases), potential attendees must still be persuaded that the solutions are safe, and your meeting can be trusted to implement them perfectly.
My own example
I'll share my own example, as a 68 year old who, pre-pandemic, facilitated and participated in around fifty meetings each year. Since COVID-19 awareness reached the U.S. five months ago, I have barely been inside a building besides my home. I have only attended one in-person meeting during this time: a local school board meeting held in a large gymnasium with the fifteen or so masked attendees arranged in a large circle of chairs in the center of the room. I am not willing to fly anywhere, except in the case of an emergency. Everyone has their own assessment of risks taken during these times. But I will simply not risk my health to attend an in-person meeting at present. Especially when online meetings provide a reasonable substitute. I don't think I'm alone in this determination.
I do not think that the research initiated and venue upgrades made are a waste of time, money, and effort. There may well be a time when an effective vaccine exists and is being introduced. At this point, in-person meetings may be able to start up again without the critical barriers introduced by universal masks and social distancing.
Until then, I don't see a credible use case for holding significant in-person meetings in a COVID-19 world.
Image attribution: Erin Schaff/New York Times