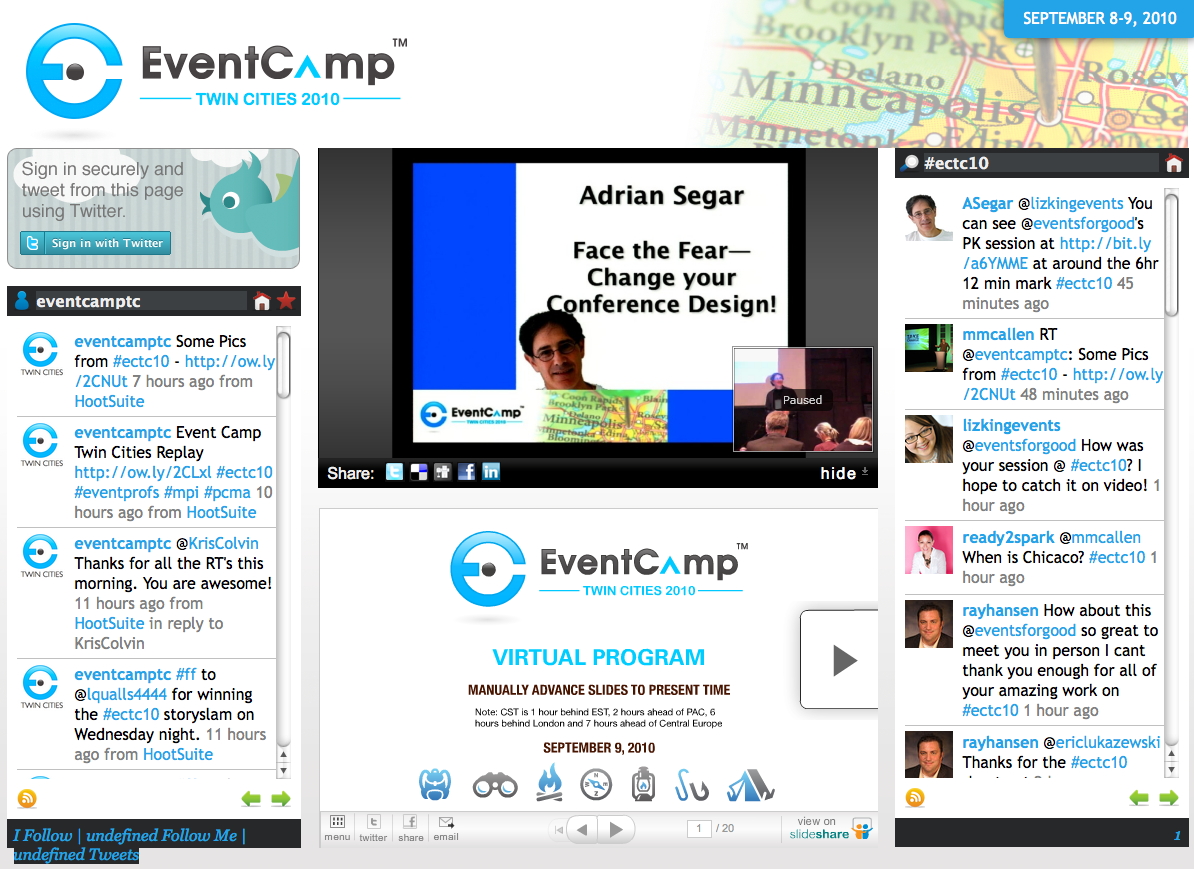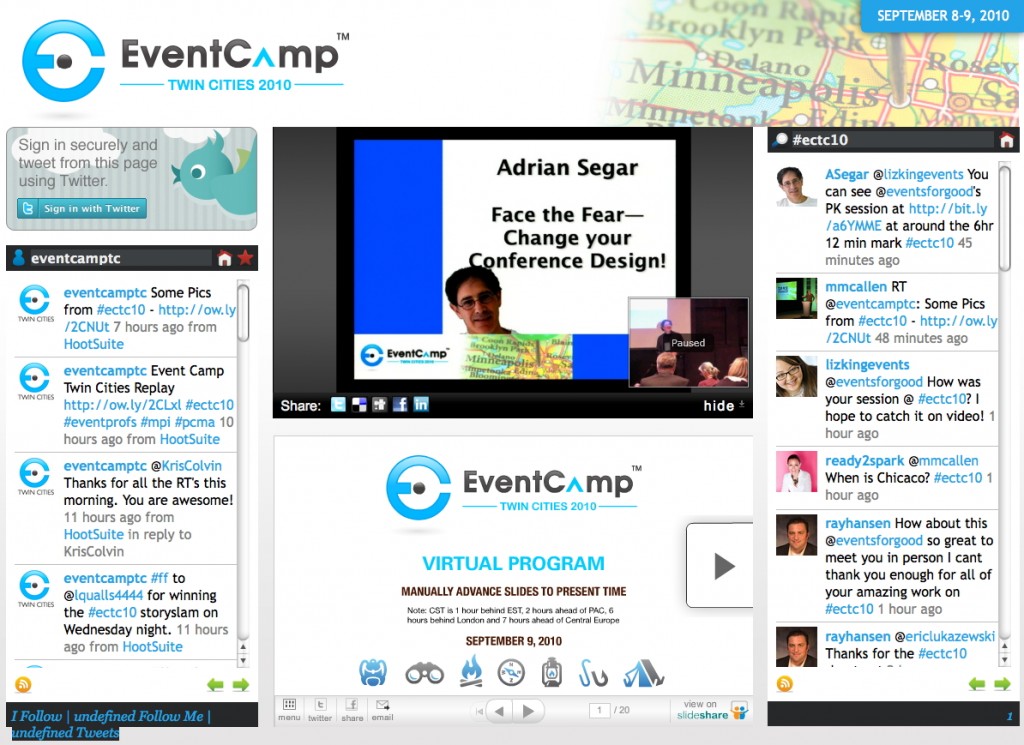 Want to see my 6 minute 40 second Pecha Kucha presentation Face The Fear—Then Change Your Conference Design! given at EventCamp Twin Cities on September 9, 2010? If so, download this PDF and then open the recorded stream (8 hours and 48 minutes!) of the entire event. Don't worry, you don't have to watch the whole thing! Simply move your cursor into the center pane (the one with my name and smiling face) and drag the progress bar that appears to the 6 hour and 27 minute mark. You'll be able to watch me give the talk in the small inset window, while following along with the slides in the PDF.
P.S. If you'd like to watch any or all the seven Pecha Kucha sessions, here's a list of them, together with the haiku(!) written to introduce each presenter. Scroll the progress bar to the time indicated to watch.
Adrian Segar: Introduction to Pecha Kucha – (5 hours 36 minutes)
Elling Hamso on "Event ROI for non-believers."- (5 hours 41 minutes)
Elling Hamso San,
bringing profits to events,
the ROI guy.
Brandt Krueger on "PowerPoint SchmowerPoint: Formatting Presentations for the 21st Century."- (5 hours 49 minutes)
A/V, presentation pro,
Knows how to coil a cable!
Brandt Krueger, Geek Dad.
Lara McCulloch on "Stories, Sagas & Fables."- (5 hours 56 minutes)
She loves to build brands,
Lara McCulloch-Carter,
by telling stories.
Lisa Qualls on "#EventsThatLast."- (6 hours 4 minutes)
This is Lisa Qualls,
Wife. Mom. Biz Owner. Loves sports.
Happy to be here.
Lindsey Rosenthal on "Give Your Event a Charitable Makeover!" – (6 hours 12 minutes)
Lindsey Rosenthal,
I plan events and fundraise,
Love to meet you all!
Greg Ruby on "Foursquare for Events, Exhibitions and Destinations."- (6 hours 19 minutes)
Sexy Greg Ruby,
He is a FourSquare addict,
Support Group he needs.
Adrian Segar on "Face the Fear-Then Change Your Conference Design!"- (6 hours 27 minutes)
Adrian Segar,
Beginning his fifth career,
Now designs events!
Have fun watching!
What do you think of the Pecha Kucha format for event sessions? Did you find the fast pace and short presentations refreshing? Should we have squeezed in some time for questions and answers?