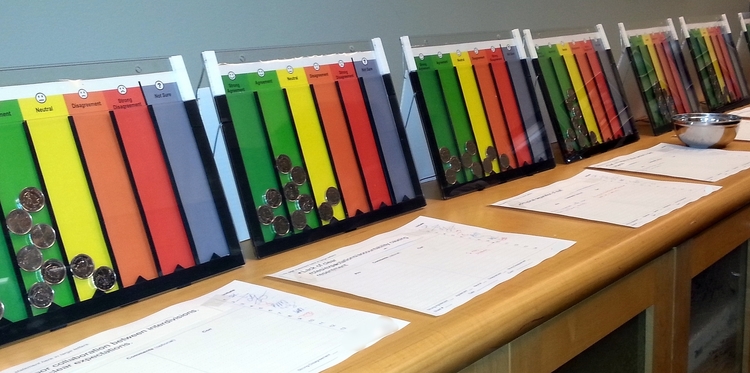 Jason Diceman is developing a novel tool for anonymous voting — Feedback Frames.
Unlike high-tech audience response systems, Feedback Frames are refreshingly low-tech (no computers, clickers, smartphones, power, or technical support required). One graphic explains the tool:


Although I tend to prefer public and semi-anonymous techniques for the participatory voting I use extensively in my facilitation practice, Jason's approach is a refreshing alternative to the complex (and typically expensive) high-tech ARS methods routinely used for anonymous voting at meetings.
Jason created an even lower-tech (free!) tool Idea Rating Sheets in 2004 (originally called "Dotmocracy") to "make it easier to find agreements in large groups". He has been a Senior Public Consultation Coordinator for the City of Toronto since 2010. Jason is working to crowdfund his invention. His FAQ should answer all your questions. Visit his website to learn more.