February 2, 2017 11:05 am - February 3, 2017 5:00 pm
RAI Amsterdam, The Netherlands
DESCRIPTION
For over 25 years, international conference and participation expert Adrian Segar has been designing and facilitating Conferences That Work: successful, innovative, highly interactive, participant-driven events that leverage attendees' expertise and experience to create just the conference that participants want and need. Now Adrian brings his expertise to Europe for this 1½ day workshop, a unique opportunity for you to:
learn how to make your conferences and conference sessions far more engaging and effective;
gain powerful meeting design insights; and
significantly increase participation and satisfaction at your sessions and events.
The workshop format focuses on active learning through direct experience of a multitude of participatory meeting techniques. Adrian will use cycles of technique experiences followed by debriefs, interspersed with short "theory bites" that cover important background knowledge and concepts. Techniques will be introduced in approximately the order they might appear during a typical participation-rich event. The syllabus below gives more detail on what will be covered.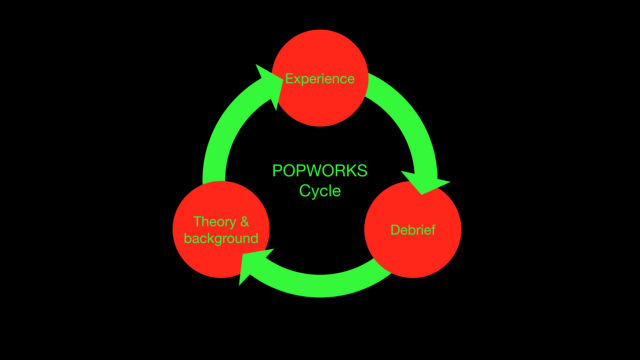 Adrian Segar will lead the workshop (with the help of participants from time to time). He has been convening, designing, and facilitating conferences for over 35 years, concentrating on participant-driven and participation-rich event facilitation and design since 1992. Adrian is the author of two popular books on event design and has run many participation techniques workshops in the United States and Europe.
This workshop is co-organized with my friends at Masters in Moderation.
Watch this short video to learn more about POPWORKS.
Adrian's book Conferences That Work: Creating Events That People Love has been described as "THE how-to manual" on creating events that truly engage and capitalize on attendees' collective wisdom and experience. His latest book, The Power of Participation: Creating Conferences That Deliver Learning, Connection, Engagement, and Action—described by Paul Salinger, VP of Marketing, Oracle, as a book that "should be OPEN on every meeting planner's and event marketer's desk, and used every day"—is a compendium of core participation techniques that meeting planners and presenters can use to significantly improve any meeting session.
Adrian is an acknowledged innovator and speaker on participant-led event design, and facilitates two popular opening and closing plenaries—The Solution Room and The Personal Introspective—at many conferences. He has presented at just about every meetings industry event, including Professional Convention Management Association's Convening Leaders, PCMA Education Conference, Meeting Professionals International's World Education Congress, IBTM, MPI Chapter meetings, the MPI Chapter Business Summit, HSMAI MEET, and FRESH, GMIC & NESAE annual conferences. Adrian has been named as one of the most innovative event professionals by BizBash Magazine, one of MeetingNet's Eleven Most Influential Online Personalities in Meetings and Travel, and has been quoted on the front page of the Wall Street Journal.
Testimonials from earlier workshops:
"I saw Adrian facilitating today, he's a wizard, amazing :-)." — Thorben Grosser, General Manager, Europe, EventMobi
" I have heard nothing but glowing reviews about your workshop with GaMPI. I am sick that I missed it. You left a lasting impression and helped our group a lot." — Stephanie Henriksen, former Director of Curriculum, Georgia MPI Chapter
" Your workshop was a breath of fresh air." — Participant at Adrian's 2012 EIBTM Participation Techniques Workshop
" I've been sending e-mails to clients apologizing for NOT coming by their offices and taking them to Adrian's presentation. I am so ashamed! I kept THEM from experiencing one of the most productive and informative workshops I have ever attended. It was great networking too!" — Kevin Priger
"Just came back from @AffordableMTGS in Chicago. @ASegar was the best facilitator/presenter…by far!" — De-de Mulligan, CMP, CMM, former Director of Education, Ohio MPI Chapter
"The attendees are still here talking to each other! That never happens!"  — Association education director, ten minutes after Adrian finished facilitating a national forum
"Events need engagement and participation, and Adrian Segar is the lead authority on the subject." —  Julius Solaris, Editor of Event Manager Blog
"…one of the very best facilitators I've ever worked with onsite."  — Mitchell Beer, President, Smarter Shift
Syllabus
The workshop will run from 13:00 – 21:00 on February 2 and 9:00 – 17:00 CET on February 3. Participants must be present at the start of the workshop, and full attendance is strongly recommended for the best possible experience. During the workshop you'll get to know and connect with the other participants around common interests, share your own useful experience and expertise, and, guided by Adrian, learn what you want and need to know from everyone present. Because the agenda is somewhat flexible, a precise schedule is not given here, but the following techniques and theory bites will be covered over the 1½ days.
Techniques covered
Some techniques will be experienced as components of others. This will help develop participants' tool chests of techniques that can be brought into service when needed.
The Three Questions
Roundtable
Human spectrograms
Crowdsourcing techniques
Anonymous, semi-anonymous, and public voting techniques
The Solution Room
Peer sessions
Fishbowls
Small group work
Personal introspective
Plus/Delta
Group spective
Theory bites
How covenants transform your event
Why incorporating participation is important
Why participation works
Experience versus listening
Emotion versus thinking
The gifts of listening and capture
Maintaining attention
Effective short form formats
Using white space at events
Planning versus improv
What you need to know about technology that you don't
Encouraging connections outside sessions
Environments that support participation (several sessions)
Finding and working with peer facilitators
Evaluation traps
Logistics
When: Thursday, February 2, 2017 at 13:00 – 21:00  and Friday, February 3, 2017 9:00 – 17:00 CET.
Where: RAI Amsterdam, The Netherlands. 8 minutes from Amsterdam's city centre and 15 minutes from Amsterdam Airport Schiphol. Map and travel information.
Cost: €895 (includes refreshments, Thursday dinner, and Friday lunch). Only 35 tickets available. The workshop requires a minimum of 20 participants, so please do not book nonrefundable hotels or flights until you are informed that the workshop will take place.
If you cancel your registration on or before January 2, 2017 your fee will be refunded less a €75 processing charge. No refunds will be given after January 2, 2017.
Hotel accommodation: The Amsterdam Hilton is offering a special rate to conference participants of € 189 per night (includes breakfast).
More questions? Contact Jan-Jaap In der Maur <Jan-Jaap@mastersinmoderation.com> for venue and accommodation questions, Adrian Segar <adrian@segar.com> for more information about the workshop.